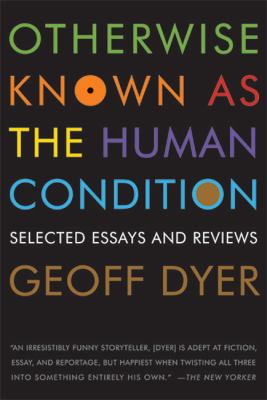 Otherwise Known as the Human Condition: Selected Essays and Reviews
by Geoff Dyer


Publishers Weekly In this new collection of previously published writings, Dyer (Jeff in Venice, Death in Varanasi) traverses a broad territory stretching from photographers such as Richard Avedon and William Gedney ("His gaze is neither penetrating nor alert but, on reflection, we would amend that verdict to accepting"); musicians Miles Davis and Def Leppard; writers like D.H. Lawrence, Ian McEwan, and Richard Ford; as well as personal ruminations on, say, reader's block. In a fond tribute to the power and beauty of Albert Camus's life and work, Dyer reflects on his own encounters with the writer's work in Algeria: "Coming here and sitting by this monument, rereading these great essays, testaments to all that is the best in us, is a way of delivering personally my letter of thanks." In a masterful essay on W.G. Sebald and Thomas Bernhard, Dyer writes: "The comic obsessiveness and neurosis common to many of Sebald's characters is like a sedated version of the relentless, raging frenzy into which Bernhard's narrators habitually drive themselves." Dyer's writing does what the best critical writing always does, encouraging us to view, read, or listen closely to art, literature, and music as well as to pay close attention to various cultural forms and their impact on our personal lives. (Mar.) (c) Copyright PWxyz, LLC. All rights reserved.
(c) Copyright PWxyz, LLC. All rights reserved
Book list Breath-of-fresh-air Dyer takes a traveler's approach to essay writing, going wherever fancy takes him and reporting on his experiences with an artful blend of keen observations and droll disclosures. He celebrates his freewheeling freelance writing life in a lively introduction to this far-roaming gathering of larky, whip-smart essays from 1984 through 2009. A striking selection of Dyer's exceptional photography criticism, including deep looks at Robert Capa and Ruth Orkin, is found under Visuals. Verbals collects literary essays about Don DeLillo, Richard Ford, and the literatures of boxing and war. In Musicals, Dyer considers jazz and Def Leppard, while among the Variables are a search for Camus in Algiers and a flight in a MiG-29 fighter. Charming and frank essays about being an only child, marriage, and self-defining, possibly self-defeating, habits reside in the Personals section. Dyer may seem blithe, but he is an erudite and penetrating thinker as well as a dazzling stylist. The light and the dark, the buoyant and the weighty, Dyer's incisive pairings of opposites make for a finely textured, many-faceted, and enjoyably provocative collection.--Seaman, Donna Copyright 2010 Booklist
From Booklist, Copyright © American Library Association. Used with permission.