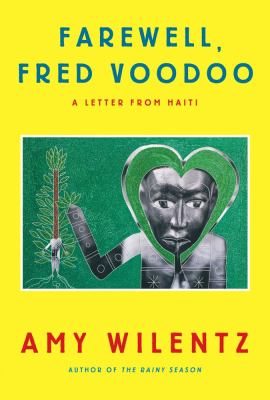 Farewell, Fred Voodoo: A Letter from Haiti
by Amy Wilentz


Library Journal Haiti has been marked by colonial oppression, revolution, dictators, and foreign occupation by American imperialism-to say nothing of widespread poverty, social and political turmoil, disease, and the crippling earthquake in 2010. Caught in the remarkable prose of Wilentz (The Rainy Season) the tragedy is told through the eyes of Fred Voodoo, Haiti's fictional everyman, a figure who fits invisibly in Haitian society but whose insight is unmatched. The author's fluid and engaging narrative delves into Haiti's history and focuses on the current plight of a nation of ten million living in stark poverty. Sean Penn, "Papa Doc" Duvalier, Jimmy Carter, and dozens of other personages appear across her pages, as do the voodoo priests and the Tonton Macoutes, Duvalier's personal police force. VERDICT Tragic, ironic, humorous, scary, and fascinating, the book is a remarkable achievement and a must read for those interested in Caribbean affairs. An overwhelming positive recommendation.-Boyd Childress, formerly with Auburn University Libs., AL (c) Copyright 2012. Library Journals LLC, a wholly owned subsidiary of Media Source, Inc. No redistribution permitted.
(c) Copyright 2010. Library Journals LLC, a wholly owned subsidiary of Media Source, Inc. No redistribution permitted.
Book list Zestfully candid, award-winning journalist Wilentz began her love affair with Haiti in 1986, and she has been exploring the country and its unique culture, history, and torrid relationship with the U.S. ever since. The catalyst for this ripping inquiry is what Wilentz observed during her sojourns in the wake of the horrific 2010 earthquake. Attuned to all the irony of her white outsider status even as she draws on her deep knowledge of Haiti's strength and struggles, she picks her way through the heartbreaking ruins and wretchedly inadequate camps, listening to post-quake hip-hop in the midst of chaos, blood, and misery and taking stern measure of international do-gooders. Wilentz is fierce in her criticism of missions of self-aggrandizement rather than aid and the pornographic aspects of media coverage. Writing with brandishing intensity, wit, skepticism, and indignation, Wilentz exposes systemic corruption, attends a voodoo ceremony, considers zombies and dictators, and marvels over everyday survival. She profiles two seriously committed and effective American heroes, physician Megan Coffee and Sean Penn, while her portraits of Haitians instruct and humble us.--Seaman, Donna Copyright 2010 Booklist
From Booklist, Copyright © American Library Association. Used with permission.
Publishers Weekly In this bracing memoir, Wilentz (The Rainy Season: Haiti Since Duvalier) revisits Haiti, as she describes a complex nation, following the cataclysmic 2010 earthquake. The world's first black republic is neither French nor completely Caribbean nor a protectorate of the United States, but rather, Wilentz writes, something akin to French West Africa. Readers get a stimulating immersion course in Haiti's culture, history, and political machinations. She introduces a fantastical cast of characters who inhabit the many layers of Haitian society and those individuals who flocked to the island following the earthquake, burdened with motives ranging from the base self-promotion or redemption of sundry celebrities such as Kim Kardashian or Charlie Sheen to those who came to help such as Doctor Coffee, whom Wilentz calls "an all-purpose medical phenomenon." Though many pontificate on the country's unrelenting despair, poverty, and corruption, Wilentz's remarkable narrative strives to alter these perceptions. She writes, "But in fact, this depression and hopelessness come from experts who don't understand Haiti, don't acknowledge its strengths (and don't know them), don't get its culture or are philosophically opposed to what they assume its culture is, and don't know its history in any meaningful way." An unsentimental yet heartfelt journey to a country possessing the power to baffle some, yet beguile others. (Jan.) (c) Copyright PWxyz, LLC. All rights reserved.
(c) Copyright PWxyz, LLC. All rights reserved