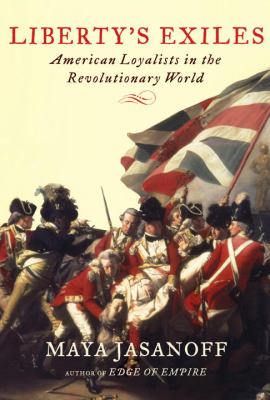 Libertys Exiles: American Loyalists in the Revolutionary World
by Maya Jasanoff


Choice Jasanoff (Harvard) calls this the "first global history of the loyalist diaspora," but greater value lies in her meticulous tracking of a few families and individuals (some prominent, some not; Indians and slaves, paupers, landed aristocrats) as they scattered across the planet in the years following the American Revolution. The loyalists--reviled or ignored by US historians and only lately rehabilitated--are limned as real people with a variety of motives and fates. Their role in the founding of Canada, Sierra Leone, and the Bahamas, as well as the history of those who settled in Britain or remained in the US, has been more thoroughly examined in other works. Jasanoff pulls together these stories via the ties of family and friendship that overcame distances from Jamaica to Nova Scotia to Bengal. The loyalists had much in common with the "patriots": they prompted London to reorganize the empire as a more liberal democracy. A useful cast of characters begins the book, and comprehensive notes end it. The author has done her homework and reduced a vast, complex, and fragmentary story to its essence. Summing Up: Highly recommended. Upper-division undergraduates and above. T. S. Martin Sinclair Community College
Copyright American Library Association, used with permission.
Book list As well as a war of independence, the Revolutionary War was a civil conflict in which the losers, white, black, and Indian loyalists, paid dearly. Facing retribution from the victorious patriots, tens of thousands fled the new U.S. to havens in the British Empire. Jasanoff positions her history as the most comprehensive treatment of this topic; accomplished as scholarship, it appeals to general-interest readers through her narrative accounts of several refugees' fates after mass evacuations in 1783. And it will strongly appeal to black-history readers because of Jasanoff's sifting of abundant documentary evidence generated by Britain's wartime promise to emancipate slaves who fought in its ranks. Free black loyalists arrived in Nova Scotia, where racial tension impelled some to settle in Sierra Leone, while enslaved black loyalists suffered even harsher consequences, their white loyalist owners forcing them to relocate to Florida, the Bahamas, and Jamaica. Wherever loyalists started their lives anew in Britain, Canada, India, and even Australia Jasanoff dramatizes their travails in this discerning social and political history of an overlooked side of the American Revolution.--Taylor, Gilbert Copyright 2010 Booklist
From Booklist, Copyright © American Library Association. Used with permission.
Library Journal In this lucidly told and engaging work, Jasanoff (history, Harvard Univ.; Edge of Empire: Lives, Culture, and Conquest in the East, 1750-1850) examines the loyalist diaspora following the American Revolution in which both white and black adherents to the British scattered across the empire to various locations including Nova Scotia, Jamaica, and Sierra Leone and attempted to reconstruct their lives in the face of tremendous obstacles. For Jasanoff, the "Spirit of 1783" was a dynamic ideological force that drove British imperial growth, was committed to liberty and humanitarian ideals, and was politically characterized by increasing centralization. One of the most compelling aspects of this well-researched work is Jasanoff's discussion of the post-Revolutionary struggles of both British-allied Native Americans and freed blacks as they tried to carve out a place of their own in the shifting Colonial environment. VERDICT Combining compelling narrative with insightful analysis, Jasanoff has produced a work that is both distinct in perspective and groundbreaking in its originality. Strongly recommended for both students of the Revolutionary Atlantic world and British Empire generalists.-Brian Odom, Pelham P.L., AL (c) Copyright 2010. Library Journals LLC, a wholly owned subsidiary of Media Source, Inc. No redistribution permitted.
(c) Copyright 2010. Library Journals LLC, a wholly owned subsidiary of Media Source, Inc. No redistribution permitted.
Publishers Weekly The plight of American Loyalists during and after the Revolutionary War has been largely forgotten. Harvard historian Jasanoff (Edge of Empire: Lives, Culture, and Conquest in the East, 1750-1850) corrects that omission with a masterful account of the struggles, heartbreak, and determination that characterized specific Loyalist families and individuals. Rich and poor, black, white, and Native American, the Loyalists paid for their devotion to king and country with their blood, their property, and their prospects. The terrorist tendencies of the Sons of Liberty and the deliberate cruelty of Patriot leaders, including Washington and Franklin, are painfully described. Most tragic, however, was the postwar neglect of Loyalist refugees by the British government, which minimized the human consequences of defeat. Some Loyalists, among them John Cruden and William Augustus Bowles, responded with continuing efforts to establish armed encampments on the southeast frontier of the new United States. Others, by far the majority, settled in Canada, with smaller enclaves in the Caribbean. This superb study of a little-known episode in American and British history is remiss only in largely ignoring the Loyalist community in Spanish West Florida and the War of 1812 as a continuation of the earlier conflict. 8 pages of illus.; 10 maps. (Jan.) (c) Copyright PWxyz, LLC. All rights reserved.
(c) Copyright PWxyz, LLC. All rights reserved