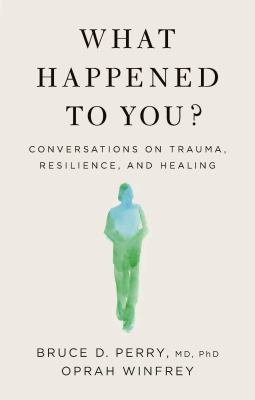 What Happened To You?
by Bruce D. Perry and Oprah Winfrey


Kirkus A collaborative look at brain trauma and methods to alleviate the potentially lifelong effects.Child psychiatrist and neuroscientist Perry teams with Winfrey to examine traumatic injury caused by an abusive childhood. The book is formatted in a conversational interview format, with Perry sharing his insights on stress, brain biology, and physiological response, offering new approaches to emotional and psychological pain. Using medical models, Winfreys personal experience, and Perrys years of research, the authors demonstrate the brains resilience and ability to adapt to traumatic situations, particularly when paired with psychopharmacological remedies, natural interventions, and behavioral treatments. This process of neural recalibration works wonders in instances of deeply embedded trauma and abuse, allowing people to live better lives through newly invigorated self-worth. Winfrey candidly shares difficult memories of a childhood where regular whippings (as early as age 3) were accepted practice and there were expectations of silence and a smile in their aftermath. In addition to this early trauma, she recounts her difficult adult relationship with her mother, which culminates in a powerful scene in a nursing home when Winfrey froze at her mothers bedside, unable to address her. She admits that while collectively these events manifested into her adult relationships and behavior, she eventually processed and embraced the trauma as an opportunity for healing and a way to move forward. With proactive conviction, the authors help readers to recognize their own internalized trauma and encourage the reshaping of personal paths toward wellness and to excavate the roots that were put down long before we had the words to articulate what was happening to us. Through therapeutic frameworks and the curative power of community, belonging, human connection, and mindfulness, the authors show how renewal of mind and spirit is attainable. Though many of these issues have been addressed before, Perry and Winfreys partnership is notable, and their book is worthy of attention.A candid guidebook to exorcising mental trauma. Copyright Kirkus Reviews, used with permission.
Copyright © Kirkus Reviews, used with permission.