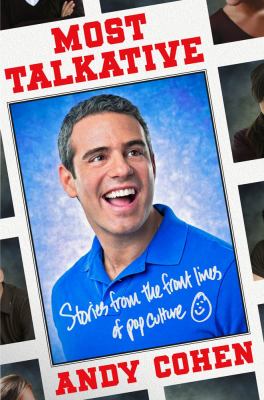 Most Talkative
by Andy Cohen


Library Journal Cohen is an executive for Bravo Network and host of Watch What Happens: Live, a position that made him the first openly gay late-night talk show host. In his first book, he tells amusing stories of his childhood and his passion for television, his interview of Susan Lucci in college and their subsequent meetings, three disastrous run-ins with Oprah, dancing for the B-52s, and keeping Diana Ross and Joan Collins happy when he worked for CBS. Cohen also writes about how he became a talk show host and dishes many juicy tidbits about the Real Housewives casts. VERDICT Cohen's lighthearted, funny memoir is highly recommended for his fans and others who appreciate humorous celebrity biographies and memoirs. Consider also for readers who enjoyed Ellen DeGeneres's Seriously...I'm Kidding and Mindy Kaling's Is Everyone Hanging Out Without Me? (And Other Concerns). [See Prepub Alert, 12/12/11.]-Sally Bryant, Pepperdine Univ. Lib., Malibu, CA (c) Copyright 2012. Library Journals LLC, a wholly owned subsidiary of Media Source, Inc. No redistribution permitted.
(c) Copyright 2010. Library Journals LLC, a wholly owned subsidiary of Media Source, Inc. No redistribution permitted.
Publishers Weekly TV producer Cohen, an Emmy winner for Top Chef, is the host of Watch What Happens: Live. As Bravo's executive vice president of original programming and development, he oversees production of The Real Housewives franchise, The Millionaire Matchmaker, and other series. In this lively memoir, he begins by telling us more than we need to know about his pop culture-obsessed childhood in St. Louis. In high school, where he was voted most talkative, he was popular, but "no one knew I was gay." A full chapter is devoted to the "terror" of coming out to his parents and Boston College roommate. A 1989 sophomore high school class project prompted him to interview his idol, Susan Lucci, a plus when he applied for a CBS internship. Beginning at CBS This Morning, he was on his way. When he arrived at Bravo, he found the ideal venue for mingling with top talents. Riding the wave of reality programming as it began to dominate TV, he now asks, "Had I helped kill soaps?" There's enough about his lifelong obsession with Susan Lucci that can distract. Others will be amused by Cohen's ramblings about how his wicked wit and "lighthearted cultural commentary" brought him media attacks and embarrassing headlines. Still, many will appreciate his straightforward honesty in delivering an insider's POV about reality TV with intimate and outrageous glimpses of housewives and celebrities, offscreen and on. (May 8) (c) Copyright PWxyz, LLC. All rights reserved.
(c) Copyright PWxyz, LLC. All rights reserved