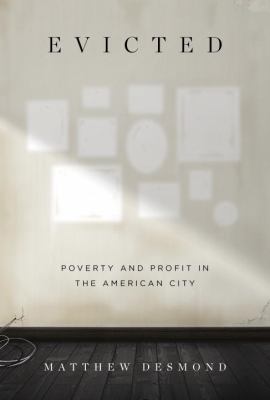 Evicted: Poverty and Profit in the American City
by Matthew Desmond


Library Journal Realizing that "poverty (is) a relationship," Desmond (social science, Harvard Univ.; Racial Domination, Racial Progress) reflects on the eviction process after spending more than a year living in Milwaukee, the largest city in Wisconsin, and one with a history of segregation. He tells stories of families facing eviction alongside the perspective of their landlords, neither glorifying the poor, nor vilifying the landlords. Finding no data on the frequency and causes of eviction, Desmond designed a study to survey Milwaukee's rental population. He found that one in eight renters had experienced "involuntary housing displacement" and were spending significantly more than 30 percent of their income on housing. The fieldwork and the survey led to his recommendations, which include offering a universal housing voucher program, regulating landlord profit margins, and providing legal counsel for those facing eviction. Extensive notes also make important points surrounding this relevant issue. VERDICT This resource is highly recommended for academic libraries as well as public-policy advocates seeking to understand issues relating to the lack of affordable housing.-Karen Venturella, Union Cty. Coll. Libs, Cranford, NJ © Copyright 2016. Library Journals LLC, a wholly owned subsidiary of Media Source, Inc. No redistribution permitted.
(c) Copyright Library Journals LLC, a wholly owned subsidiary of Media Source, Inc. No redistribution permitted.
Book list *Starred Review* It's hard to paint a slumlord as a sympathetic character, but Harvard professor Desmond manages to do so in this compelling look at home evictions in Milwaukee, Wisconsin, one of America's most segregated cities. Two landlords are profiled here: Sherrena, who owns dozens of dilapidated units on Milwaukee's infamous North Side, and Tobin, who runs a trailer park on the South Side. They're in it to make money, to be sure, but they also have a tendency to rent to those in need and to look the other way. More often than not, however, they find themselves hauling tenants to eviction court, and here we meet eight families. Among them are Arleen, a single mother dragging her two youngest sons across town in urgent search of a warm, safe place; Scott, a drug addict desperate to crawl up from rock bottom; and Larraine, who loses all of her belongings when she's evicted. Desmond's natural storytelling style easily moves from engaging narrative (at times a tad florid, particularly when describing events he was not present for) to straight reporting. He does a marvelous job telling these harrowing stories of people who find themselves in bad situations, shining a light on how eviction sets people up to fail. He also makes the case that eviction disproportionately affects women (and, worse, their children). This is essential reading for anyone interested in social justice, poverty, and feminist issues, but its narrative nonfiction style will also draw general readers.--Vnuk, Rebecca Copyright 2016 Booklist
From Booklist, Copyright © American Library Association. Used with permission.
Choice Harvard sociologist Desmond has written a first-rate ethnography of a surprisingly understudied phenomenon. When he found that most studies of poor people and poor places looked only at the poor, he decided to study where the poor and rich intersect. Eviction is one such place. This study mostly reports the lives of Milwaukeeans, black and white, poor tenants and rich landlords. Desmond spent a year living with them. He then commissioned surveys to bolster the big-picture context of the ethnography, both of renters in general and of evicted tenants in particular. The statistics are used very lightly--readers mostly hear the stories of a few representative people. Policy prescriptions are saved for the end. The constant churning of the slums tears at the social fabric, rippling out from the poor places to all of society. This fine work will shape the discussion of a sharply growing trend, the business of evicting the poor. Summing Up: Essential. All levels/libraries. --Beau Weston, Centre College
Copyright American Library Association, used with permission.
Publishers Weekly Gripping storytelling and meticulous research undergird this outstanding ethnographic study, in which Desmond (On the Fireline), an associate professor of sociology at Harvard, explores the impact of eviction on poverty-stricken families in Milwaukee, Wis. Living first in a rundown trailer park with predominantly white tenants and then in an African-American inner-city neighborhood, Desmond conducted fieldwork by observing and asking questions of his neighbors; later, he collected extensive data about eviction specifically in the private rental market. The book reveals the concentrated suffering of people repeatedly faced with the loss of their homes. He shares the stories of Lamar, a double amputee raising adolescent boys; Scott, who tries to conquer his heroin addiction and return to his nursing career; single mom Arleen, her sons, and their cat, Little; and five other families. In one gut-wrenching scene, Desmond shadows a moving crew as they evict numerous households in one day, finding in one tenant's face "the look of someone realizing that her family would be homeless in a matter of hours." Desmond identifies affordable housing as a leading social justice issue of our time and offers concrete solutions to the crisis. Agent: Jill Kneerim, Kneerim and Williams. (Mar.) © Copyright PWxyz, LLC. All rights reserved.
(c) Copyright PWxyz, LLC. All rights reserved