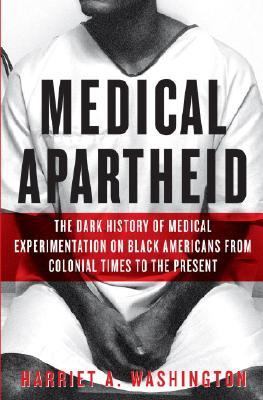 Medical Apartheid: The Dark History of Medical Experiments on Black Americans from Colonial Times to the Present
by Harriet Washington


Publishers Weekly This groundbreaking study documents that the infamous Tuskegee experiments, in which black syphilitic men were studied but not treated, was simply the most publicized in a long, and continuing, history of the American medical establishment using African-Americans as unwitting or unwilling human guinea pigs. Washington, a journalist and bioethicist who has worked at Harvard Medical School and Tuskegee University, has accumulated a wealth of documentation, beginning with Thomas Jefferson exposing hundreds of slaves to an untried smallpox vaccine before using it on whites, to the 1990s, when the New York State Psychiatric Institute and Columbia University ran drug experiments on African-American and black Dominican boys to determine a genetic predisposition for "disruptive behavior." Washington is a great storyteller, and in addition to giving us an abundance of information on "scientific racism," the book, even at its most distressing, is compulsively readable. It covers a wide range of topics the history of hospitals not charging black patients so that, after death, their bodies could be used for anatomy classes; the exhaustive research done on black prisoners throughout the 20th century and paints a powerful and disturbing portrait of medicine, race, sex and the abuse of power. (Dec. 26) Copyright 2006 Reed Business Information.
Copyright © Reed Business Information, a division of Reed Elsevier Inc. All rights reserved.
Book list The shameful history of the physical and medical misuse of African Americans began long before the infamous Tuskegee experiment of the 1930s. Washington, a medical journalist, offers the first and only comprehensive history of medical experimentation on and mistreatment of black Americans. Starting with the racist pseudoscience that began when whites first encountered Africans, Washington traces practices from grave robbing to public display of black albinos and the Hottentot Venus, and theories from eugenics to social Darwinism, which have attempted to justify views of racial hierarchy and mistreatment and even enslavement of blacks. Washington draws on medical journals and previously unpublished reports that openly acknowledged racial attitudes and experimentation, protected by the fact that the public and the media rarely read or understood such reports and often shared similar feelings on the subject. Washington also details a litany of medical abuses and experimentation aimed at black men in the military and in prison, as well as women and children, all without proper notification or consent. This is a stunning work, broad in scope and well documented, revealing a history that reverberates in African Americans' continued distrust of the medical profession. --Vanessa Bush Copyright 2006 Booklist
From Booklist, Copyright © American Library Association. Used with permission.
Choice The legality of African American slavery in the US until the Civil War is the basis for the rabid segregationist policies that the American medical establishment followed until recently. Washington's documentation of the egregious treatment that black Americans received from physicians, hospitals, pharmaceutical companies, and government at all levels justifies the use of the term apartheid in her title. In addition to the Tuskegee Study, which is now widely known, Washington (independent scholar) provides rampant examples in which African Americans unwillingly have been used, as objects, for new surgical techniques, drug testing, nuclear radiation absorption, biased psychological testing, sterilization, and cadavers. In short, first-class white Americans benefited from medical experimentation on second-class African Americans. Medical Apartheid is well documented, and the author usually defines specialized terms in the text. In a few instances an expected footnote is not provided. The author overuses the guideline concerning the percentage of blacks in the US population when evaluating the composition of small experimental groups. An epilogue indicates the improved state of ethical standards in medical research for all Americans today. Summing Up: Recommended. All libraries; all levels. R. D. Arcari University of Connecticut School of Medicine
Copyright American Library Association, used with permission.