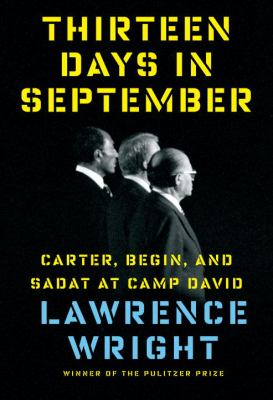 Thirteen days in september : carter, begin, and sadat at camp david.
by Lawrence Wright


Library Journal Starred Review. New Yorker staff writer Wright (Going Clear) brilliantly chronicles the impossibly complex negotiations of the Camp David Accords, where President Jimmy Carter, Egyptian president Anwar Sadat, and Israeli prime minister Menachem Begin came close to an impasse but persevered over the course of 13 days to make peace between Egypt and Israel. The author alternates among each day's events, biographical sketches of the central and supporting players, and insightful sociopolitical essays on the three leaders and their countries as he explains the process that led to a Nobel Peace Prize for Sadat and Begin and laid the foundation for the subsequent Oslo Accords. The pacing is skillful, and the author's insight-bolstered with interviews and writings of the three teams' members-brings the process alive for modern readers. All three men were flawed visionaries, and the ministers and aides who attended the meetings had their own opinions and agendas. The passages about the effects of the three Abrahamic religions on the members of the delegations add an illuminating depth to this thoroughly footnoted work. VERDICT This fascinating account is sure to be an in-demand resource and is a must-buy for any Middle East or foreign affairs collection.-Edwin Burgess, U.S. Army Combined Arms Research Lib., Fort Leavenworth, KS (c) Copyright 2014. Library Journals LLC, a wholly owned subsidiary of Media Source, Inc. No redistribution permitted.
(c) Copyright Library Journals LLC, a wholly owned subsidiary of Media Source, Inc. No redistribution permitted.
Choice Pulitzer Prize-winner Wright's earlier The Looming Tower (CH, Apr'07, 44-4704) was a marvelous contribution. This new book is equally monumental. Thirteen Days in September again demonstrates Wright's ability to write an engaging, soundly researched narrative that incorporates flashback history, exceptional profiles of individuals, and insightful assessments. Beyond William Quandt's excellent Camp David (1986), not much has been written about this important historical event, so Wright adds immeasurably to the understanding of it. The profiles of Carter, Sadat, Begin, and several second-tier players, which address their background, psychological makeup, histories, and psychoses, are remarkable. The picture Wright develops is that the idealistic Carter did an extraordinary job of keeping the conference from self-destructing. Sadat was vain, stubborn, naive, and a statesman. The paranoid, unwavering, hard-line zealot Begin was not. The Camp David Accords accomplished much, but Carter's romantic quest was undermined by Begin's deception--welching on the promise to stop settlements, which have remained an implacable obstacle to a larger, lasting peace. The book offers an intriguing insight into the peacemaking negotiation process and is a great read that everyone from scholar to novice should enjoy. Summing Up: Highly recommended. All readership levels. --Joe P. Dunn, Converse College
Copyright American Library Association, used with permission.
Publishers Weekly Wright (Going Clear), Pulitzer Prize winner and staff writer for the New Yorker, offers a thorough study of the Camp David Accords of 1978 in this meticulously researched affair, which goes beyond the core events to address a multitude of historical factors. On the surface, this is about U.S. President Jimmy Carter, Egyptian President Anwar Sadat, and Israeli Prime Minister Menachem Begin and the 13 days the men and their respective staffs spent trying to hammer out a peace treaty. Wright takes the conference day by day, detailing the clashes and compromises that marked the final results. He also delves into biblical events and the numerous conflicts following Israel's creation in 1948. As Wright puts it, "This book is an account of how these three flawed men, strengthened but also encumbered by their faiths, managed to forge a partial and incomplete peace, an achievement that nonetheless stands as one of the great diplomatic triumphs of the twentieth century." Alternating between biographical studies of the people involved, sociopolitical histories of the countries and faiths represented, and an almost nail-bitingly tense unfolding of the conference itself, Wright delivers an authoritative, fascinating, and relatively unbiased exploration of a pivotal period and a complicated subject. Maps & photos. Agent: Andrew Wylie, the Wylie Agency. (Sept.) (c) Copyright PWxyz, LLC. All rights reserved.
(c) Copyright PWxyz, LLC. All rights reserved
Book list *Starred Review* In 2011, Pulitzer Prize-winning journalist Wright (The Looming Tower, 2006) had the opportunity to author a play about the Camp David summit, the historic 1978 meeting between Egypt and Israel brokered by then-President Jimmy Carter. The play, which was developed with Carter's cooperation, was staged this year in Washington, D.C., and was, in Wright's words, one of the most rewarding experiences of his life. With this selection, he returns to more traditional nonfiction journalism but leverages the intimacy with his material that his side trip into drama has clearly afforded him. Wright's angle is the contrasting personalities of the key players. These include determined and logical but perhaps naive Carter, pragmatic but temperamental Anwar Sadat, and stubborn, idealistic Menachem Begin, but also the all-important supporting cast of advisors Cyrus Vance, Zbigniew Brzezinski, Mohammed Kamel, and Moshe Dayan, and, of course, First Lady Rosalynn Carter, whose idea it was in the first place to stage the summit in deep seclusion in the Maryland wilderness. Wright presents a riveting blow-by-blow of the negotiations, in which every apparent step toward agreement was countervailed by paroxysms of resistance and the packing of suitcases. But he also reminds us throughout of the human truth represented by the summit, in which flawed men fought about, but in the very end agreed to, a limited agreement that, despite its flaws, nevertheless represents the most significant step toward peace the region has yet known. This book is a lucid and, at times, quite moving testament that invites optimism even as today's prospects for regional peace seem quite bleak indeed.--Driscoll, Brendan Copyright 2014 Booklist
From Booklist, Copyright © American Library Association. Used with permission.