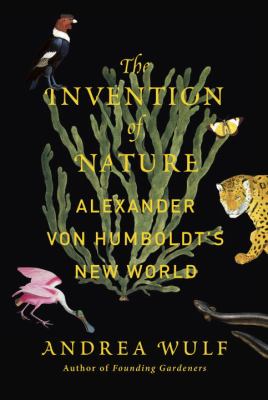 The Invention of Nature: Alexander von Humboldt's New World
by Andrea Wulf


Library Journal This masterly written and important biography covers a brilliant explorer, writer, naturalist, and thinker-in short, an accomplished polymath-who is underappreciated today. The writings of Alexander von Humboldt (1769-1859), who is considered the first ecologist, combine science and poetry and touch on the harms of colonialism. The scientist pioneered the synthesizing of myriad observations on the natural world (his most extensive explorations were in South America, Russia, and western Europe) and espoused the importance of the interrelationships of disparate sciences, with early descriptions of phenomena that would not become accepted for many decades: continental drift and humankind's influence on climate are but two examples. Wulf (author of the well-received Chasing Venus, Founding Gardeners, and The Brother Gardeners) has performed exhaustive research for her compelling and readable story of a man who was no less than a rock star in his day. The author documents von Humboldt's deep influence on any number of luminaries, including Charles Darwin, Henry David Thoreau, Wolfgang van Goethe, Thomas Jefferson, Jules Verne, Simón Bolívar, and many others, making her claim for Humboldt as "the most extraordinary scientist of his age" totally convincing. VERDICT Stimulating reading for those interested in general history, natural history, exploration, science, and philosophy.-Henry T. Armistead, formerly with Free Lib. of Philadelphia © Copyright 2015. Library Journals LLC, a wholly owned subsidiary of Media Source, Inc. No redistribution permitted.
(c) Copyright Library Journals LLC, a wholly owned subsidiary of Media Source, Inc. No redistribution permitted.
Choice This beautifully written and magnificently illustrated volume focuses on the contributions of Alexander von Humboldt (1769-1859), an adventurer, a scientist, and an explorer, and his influence on 19th-century scientific exploration and the naturalists who followed him, including Charles Darwin. A product of the German enlightenment, Humboldt investigated every natural component of the New World. His five-year journey exploring the Western Hemisphere and his scientific accomplishments, such as his measurement of the ocean current off the western coast of South America (Humboldt Current), are graphically depicted in this book. Wulf, a journalist and book author, e.g., Chasing Venus (CH, Oct'12, 50-0860), also discusses Humboldt's climb of Chimborazo in Ecuador, then known as the highest volcanic peak in the world. Wulf duplicated this feat, not always a recommended stratagem for modern authors attempting to capture the work of early explorers, but her ambitious efforts add considerable spice to her study. Humboldt had a radical view of nature, viewing it as an interconnected force, a "web of life," an idea that shaped Darwin's thinking. This is summarized in Humboldt's last and possibly greatest work, Cosmos (1845-1862), in which nature is depicted "as a natural whole" or organism. Summing Up: Highly recommended. Lower-division undergraduates and above; general readers. --Joel S. Schwartz, CUNY College of Staten Island
Copyright American Library Association, used with permission.
Publishers Weekly Wulf (Chasing Venus) makes an impassioned case for the reinstatement of the boundlessly energetic, perpetually curious, prolific polymath von Humboldt (1769-1859) as a key figure in the history of science. She marshals as evidence evocative descriptions of his expeditions-measuring instruments in hand-through the most brutal terrains of South America and Russia; delightful stories of his inspired interactions with other contemporary luminaries, including Johann Wolfgang von Goethe, Thomas Jefferson, and Simon Bolívar; and demonstrations of his personal and intellectual influence on later seekers of truth in nature such as Charles Darwin, Henry David Thoreau, and Ernst Haeckel. But the greatest single idea Wulf credits von Humboldt with establishing is the interconnectedness of nature-the animated, interactive forces of life he described as a "living whole" that bound organisms in a "net-like intricate fabric"-rather than the mechanistic, taxonomic schema of his predecessors, from von Humboldt's early explanation of plant life in the Andes through his Naturgemälde to his encyclopedic work, Cosmos. Wulf also works hard to show that von Humboldt was a good person by modern standards, featuring his progressive, humanitarian ideas against oppression and slavery. Wulf's stories of wilderness adventure and academic exchange flow easily, and her affection for von Humboldt is contagious. Maps & illus. (Sept.) © Copyright PWxyz, LLC. All rights reserved.
(c) Copyright PWxyz, LLC. All rights reserved
Book list *Starred Review* Born to a wealthy Prussian family in 1769, young Alexander von Humboldt dreamed of expeditions to far-away lands. But he was kept on a short leash by his widowed mother while he studied science, worked as a mining inspector, and met prominent thinkers, becoming especially close to Goethe. Finally, in 1799, Humboldt was able to sail to South America, where he and his crew traveled arduous distances at great risk, charting rivers, climbing mountains, and collecting thousands of specimens, groundbreaking endeavors Humboldt chronicled in brimming journals. A polymath with frenetic energy and epic curiosity, Humboldt practiced disciplined empiricism while also thinking imaginatively and holistically, ultimately forging a radical new understanding of nature as one vast web, a reality we still haven't fully grasped. Humboldt shared his findings in lyrical and galvanizing works that became best-sellers that influenced Charles Darwin and Henry David Thoreau, among countless others. Wulf (Founding Gardeners, 2011), a historian with an invaluable environmental perspective, presents with zest and eloquence the full story of Humboldt's adventurous life and extraordinary achievements, from making science accessible and popular to his early warnings about how deforestation, monoculture agriculture, and industrialization would engender disastrous climate change. Humboldt, Wulf convincingly argues in this enthralling, elucidating biography, was a genuine visionary, whose insights we need now more than ever.--Seaman, Donna Copyright 2015 Booklist
From Booklist, Copyright © American Library Association. Used with permission.