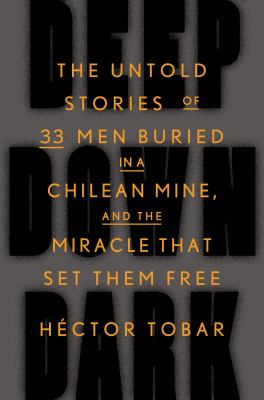 Deep down dark : the untold stories of 33 men buried in a Chilean mine, and the miracle that set them free
by Hector Tobar


Book list In 2007, the world was riveted by news that 33 men were trapped in a mine thousands of miles beneath the surface in a remote part of Chile. The mine was located in the Atacama Desert, an area so remote that Chilean dictator Augusto Pinochet chose it as the site to imprison political dissidents. Pulitzer Prize-winning journalist Tobar draws on interviews with the miners to offer a gripping account of the unprecedented 69 days the men survived underground. The crew began what they thought would be a routine 12-hour shift below the earth in caverns just wide enough for a truck to turn around. Among them were Raul Bustos, who carried a rosary with him; Dario Segovia, who had been scheduled to be off but called in at the last minute for overtime work; Luis Urzua, the supervisor with a topography degree; Jimmy Sanchez, at 18 too young to work in the mines, who begged for the job. Tobar details the harrowing rescue and the emotional and spiritual resolve the men drew on as they struggled to survive in what they thought would be their coffin.--Bush, Vanessa Copyright 2010 Booklist
From Booklist, Copyright © American Library Association. Used with permission.
Publishers Weekly Pulitzer Prize-winning journalist and novelist Tobar (The Barbarian Nurseries) presents the riveting story of the 33 men who spent 69 days trapped more than 2,000 feet underground in Chile's San Jose Mine in 2010. Noting that the abundance of minerals under the hills of the Atacama desert drew workers from all corners of Chile, Tobar-who was granted exclusive access to the miners and their families-compassionately recounts the miners' personal histories, experiences during the 17 days they were without outside contact, extended rescue, and the drama above ground with the families living near the mine in their makeshift "Camp Esperanza," mingling with government ministers, NASA advisors, engineers, mechanics, and drillers. Particularly moving is the reenactment of the first 17 days when the "33" banded together, drinking dirty water used to cool off the mine's drilling systems and sharing their meager food supplies. Feeling as though "they are living inside a Bible parable," the men keep their hopes up through prayer, and some gravitate toward particular roles: the pastor, the chronicler, the unofficial spokesman. Tobar vividly narrates the miners' lives post-rescue as they come to terms with their life-changing experience and the media frenzy surrounding it. Rich in local color, this is a sensitive, suspenseful rendering of a legendary story. Agent: Jay Mandel, WME. (Oct.) (c) Copyright PWxyz, LLC. All rights reserved.
(c) Copyright PWxyz, LLC. All rights reserved
Library Journal Tobar (The Barbarian Nurseries) relates the story of the 33 Chilean miners who were trapped thousands of feet underground for over two months. A significant portion of the narrative portrays the initial, critical days of survival against starvation. Before rescuers could reach the group, the men managed without assistance by rationing what little food was available, drinking water that was meant for their equipment, and depending on one another for support. As their time trapped below ground lengthened, and rescue efforts grew ever more complex, the men became the object of worldwide media attention. Deep Down Dark details that international rescue effort and the perseverance of those above ground, including mining experts from the United States and Chile, scientists from NASA, and family members who lived near the mine in a tent city for the duration of the rescue. Verdict A compelling account of a modern miracle for readers interested in survival narratives and contemporary accounts of recent mining disasters.-Jim Hahn, Univ. of Illinois Lib., Urbana (c) Copyright 2014. Library Journals LLC, a wholly owned subsidiary of Media Source, Inc. No redistribution permitted.
(c) Copyright Library Journals LLC, a wholly owned subsidiary of Media Source, Inc. No redistribution permitted.