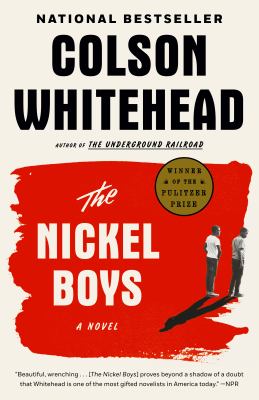 The Nickel Boys
by Colson Whitehead


Book list There were rumors about Nickel Academy, a Florida reform school, but survivors kept their traumas to themselves until a university archaeology student discovered the secret graveyard. Whitehead follows his dynamic, highly awarded, best-selling Civil War saga, The Underground Railroad (2016), with a tautly focused and gripping portrait of two African American teens during the last vicious years of Jim Crow. There is no way Elwood Curtis would ever have become a Nickel Boy if he was white. Raised by his strict grandmother, Elwood, who cherishes his album of recorded Martin Luther King Jr. speeches, is an exemplary student who earns admission to early college classes. But trouble whips up out of thin air, and instead he is sent to Nickel, where the Black boys are barely fed, classes are a travesty, and the threat of sexual abuse and torture is endemic. As Elwood tries to emulate Dr. King's teachings of peace and forgiveness, he is befriended by the more worldly and pragmatic Turner, and together they try to expose the full extent of the brazenly racist, sadistic, sometimes fatal crimes against the Nickel Boys. Whitehead's magnetic characters exemplify stoicism and courage, and each supremely crafted scene smolders and flares with injustice and resistance, building to a staggering revelation. Inspired by an actual school, Whitehead's potently concentrated drama pinpoints the brutality and insidiousness of Jim Crow racism with compassion and protest.HIGH-DEMAND BACKSTORY: After the resounding triumph of Whitehead's previous novel, readers will avidly await this intense drama, a scorching work that will generate tremendous media coverage.--Donna Seaman Copyright 2019 Booklist
From Booklist, Copyright © American Library Association. Used with permission.
Kirkus The acclaimed author of The Underground Railroad (2016) follows up with a leaner, meaner saga of Deep South captivity set in the mid-20th century and fraught with horrors more chilling for being based on true-life atrocities.Elwood Curtis is a law-abiding, teenage paragon of rectitude, an avid reader of encyclopedias and after-school worker diligently overcoming hardships that come from being abandoned by his parents and growing up black and poor in segregated Tallahassee, Florida. It's the early 1960s, and Elwood can feel changes coming every time he listens to an LP of his hero Martin Luther King Jr. sermonizing about breaking down racial barriers. But while hitchhiking to his first day of classes at a nearby black college, Elwood accepts a ride in what turns out to be a stolen car and is sentenced to the Nickel Academy, a juvenile reformatory that looks somewhat like the campus he'd almost attended but turns out to be a monstrously racist institution whose students, white and black alike, are brutally beaten, sexually abused, and used by the school's two-faced officials to steal food and supplies. At first, Elwood thinks he can work his way past the arbitrary punishments and sadistic treatment ("I am stuck here, but I'll make the best of itand I'll make it brief"). He befriends another black inmate, a street-wise kid he knows only as Turner, who has a different take on withstanding Nickel: "The key to in here is the same as surviving out thereyou got to see how people act, and then you got to figure out how to get around them like an obstacle course." And if you defy them, Turner warns, you'll get taken "out back" and are never seen or heard from again. Both Elwood's idealism and Turner's cynicism entwine into an alliance that compels drastic actionand a shared destiny. Inspired by disclosures of a real-life Florida reform school's long-standing corruption and abusive practices, Whitehead's novel displays its author's facility with violent imagery and his skill at weaving narrative strands into an ingenious, if disquieting whole.There's something a tad more melodramatic in this book's conception (and resolution) than one expects from Whitehead, giving it a drugstore-paperback glossiness that enhances its blunt-edged impact. Copyright Kirkus Reviews, used with permission.
Copyright © Kirkus Reviews, used with permission.
Publishers Weekly "As it had ever been with Nickel, no one believed them until someone else said it," Whitehead (The Underground Railroad) writes in the present-day prologue to this story, in which construction workers have dug up what appears to be a secret graveyard on the grounds of the juvenile reform school the Nickel Academy in Jackson County, Fla. Five decades prior, Elwood Curtis, a deeply principled, straight-A high school student from Tallahassee, Fla., who partakes in civil rights demonstrations against Jim Crow laws and was about to start taking classes at the local black college before being erroneously detained by police, has just arrived at Nickel. Elwood finds that, at odds with Nickel's upstanding reputation in the community, the staff is callous and corrupt, and the boys-especially the black boys-suffer from near-constant physical, verbal, and sexual abuse. Elwood befriends the cynical Turner, whose adolescent experiences of violence have made him deeply skeptical of the objectivity of justice. Elwood and Turner's struggles to survive and maintain their personhood are interspersed with chapters from Elwood's adult life, showing how the physical and emotional toll of his time at Nickel still affects him. Inspired by horrific events that transpired at the real-life Dozier School for Boys, Whitehead's brilliant examination of America's history of violence is a stunning novel of impeccable language and startling insight. (July) © Copyright PWxyz, LLC. All rights reserved.
(c) Copyright PWxyz, LLC. All rights reserved