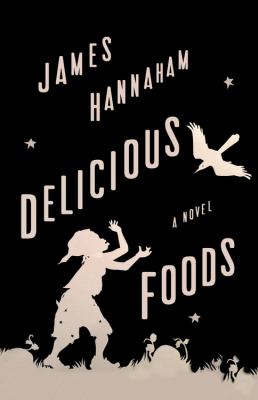 Delicious Foods: A Novel
by James Hannaham


Publishers Weekly Hannaham's (God Says No) seductive and disturbing second novel grips the reader from page one. In the prologue, 17-year-old Eddie has escaped from a farm somewhere in Louisiana, terrified he's headed closer to a place "where someone might capture or kill him, [rather than] away toward freedom." Hannaham safely delivers Eddie into a new life, though one full of agonizing memories, "like dark birds poised to attack him." The narrative then shifts back to the story of Eddie's mother, Darlene, an educated woman devastated by the loss her husband, Nat, a community organizer in a small town in Louisiana. In her grief, Darlene disappears into a fog of drug use; Scotty, who is the book's charismatic narrator for most of the proceedings, is in fact the literal personification of crack ("Her idea of heaven was that the two of us could kick it together [.] without nobody judging our relationship"). When Darlene is lured into taking a job on a mysterious farm, "it felt like the first luck Darlene had touched in the whole six years since she lost Nat." Instead, it's a horror show of human suffering, through which Darlene and Eddie struggle to reunite. Hannaham's skill at portraying the worst of human experience while keeping you glued to the page-and totally taken with the characters-is nothing short of magic. The light he shines on the realities of racial injustice, human trafficking, drug abuse, and exploitation make a deep imprint on the reader. But as devastating as Darlene, Eddie, and the other laborers' situations become, the heroic themes of love, forgiveness, and redemption carry this memorable story. (Mar.) © Copyright PWxyz, LLC. All rights reserved.
(c) Copyright PWxyz, LLC. All rights reserved
Book list *Starred Review* If The Great Gatsby was the Great American Novel of the twentieth century, Delicious Foods could be that of the early twenty-first. The hero is not a rich white man but a poor black kid in the South, Eddie, whose young life unravels when his activist father is murdered. Eddie's mom, Darlene, falls apart, each year bringing her closer to the streets, where eventually she is lured into a van to go work at Delicious Foods. The recruiters describe a rural farm with three-star accommodations, fair wages, and an open supply of crack cocaine, but only one of those promises proves to be true. Darlene and Eddie spend the next years sleeping on rusty bunk beds and working seven days a week for wages that are immediately eaten up by the company store and demerits doled out by their armed guards. When the owners of Delicious Foods are finally brought to justice, Darlene is faced with the painful choices of freedom: how to break free of her pain-erasing addiction, how to live without promises, how to feed her body and soul with truly good food that strengthens rather than kills. If the plot sounds like tough going, Hannaham's masterpiece is anything but. The writing makes it great, and the themes of pain, forgiveness, exploitation, and self-creation make it American. It is simply unmissable.--Weber, Lynn Copyright 2015 Booklist
From Booklist, Copyright © American Library Association. Used with permission.
Library Journal Hannaham's second novel (after God Says No) is a disturbing but impressive exposť of the corporate farm industry. In the opening pages, Eddie Hardison, a 17-year-old young black man, has escaped from the farm, his hands missing, the stumps of his wrists covered in blood-soaked cloth. The story then flips back six years to happier times when Eddie lived with his parents in a small Louisiana town. His mother, Darlene, is college educated, while his father, Nat, is a grocery store owner and community organizer. Devastated by Nat's murder, Darlene barely hangs on, but after their business is burned to the ground, she disintegrates into addiction and prostitution. One night, Darlene, along with other homeless, is lured into a van with the promise of a better life at a mysterious farm. They realize too late that they have signed on to suffering and deprivation under the cruel Sextus and his crew. Eddie eventually finds Darlene, only to become entrapped himself. Verdict In a unique voice, Hannaham doesn't flinch as he draws attention to exploitation and racial injustice through memorable characters undaunted by their own personal suffering, wisecracking their country wisdom about survival and loyalty to family and friends. An eye-opening, standout novel. [See Prepub Alert, 8/22/14.]-Donna Bettencourt, Mesa Cty. P.L., Palisade, CO (c) Copyright 2015. Library Journals LLC, a wholly owned subsidiary of Media Source, Inc. No redistribution permitted.
(c) Copyright Library Journals LLC, a wholly owned subsidiary of Media Source, Inc. No redistribution permitted.