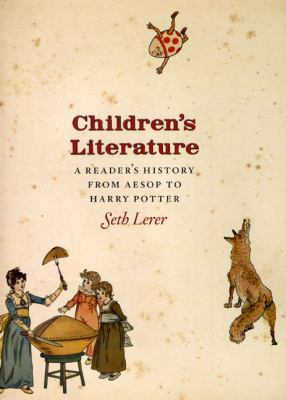 Childrens Literature: A Readers History from Aesop to Harry Potter (University of Chicago Press)
by Seth Lerer


Library Journal Apropos of his subject matter, Lerer (English & comparative literature, Stanford; Inventing English) has accomplished something magical. Unlike the many handbooks to children's literature that synopsize, evaluate, or otherwise guide adults in the selection of materials for children, this work presents a true critical history of the genre, from Aesop to the present. Scholarly, erudite, and all but exhaustive, it is also entertaining and accessible. Lerer takes his subject seriously without making it dull. He asks important questions about writers' intentions and readers' reactions, about why some texts endure and others do not, about the influence of science and religion on children's literature, and even about the impact of libraries and literary prizes upon the genre. He traces the lineage from fairy tales to Philip Pullman, from comic books to anime, analyzing the appeal of the various forms of children's literature, the cultural forces that mold it, and its transformative effect on anyone who has ever been a child. Essential for academic libraries; highly recommended for public libraries.--Alison M. Lewis, Drexel Univ., Philadelphia Copyright 2008 Reed Business Information.
Copyright © Reed Business Information, a division of Reed Elsevier Inc. All rights reserved.
Choice Splendidly well written, and both wide-ranging and comprehensive, this account of western European and American children's literature is, as Lerer (Stanford) writes, "a history of what children have heard and read" from classical antiquity to the current day. Covered are Homer, Aesop, and Virgil; medieval "alphabets, prayer books, Psalters and primers"; works that conveyed the Puritans' worldview (The New England Primer, Bunyan's Pilgrim's Progress) and the "moral growth centered on the sensory perception of the outer world" (e.g., Defoe's Robinson Crusoe); the Darwinian age (e.g., Kipling's The Jungle Book); and much more. Throughout, Lerer elucidates changing attitudes toward the child and childhood and especially the importance of books to children--as physical artifacts, possessions, and personal keys to knowledge. Lerer is a gifted interpreter not only of tales for children but also of the illustrations that so often shape the young reader's first (and lasting) impression of a text. He concludes that "the story of the child is the story of literature itself," and he reminds the reader that those who enter a work of fiction "step back into a childhood of 'what if' or 'once upon a time.'" Summing Up: Essential. Upper-division undergraduates through faculty and professionals; general readers. J. J. Benardete The New School
Copyright American Library Association, used with permission.
Book list The erudite Lerer, whose Inventing English (2007) was enthusiastically reviewed in these pages, has now undertaken an ambitious, one-volume history of children's literature. He begins in classical antiquity and ends with the salutary likes of Weetzie Bat and the Time Warp Trio, giving particular attention along the way he being a philologist to the language of literature, whether critical or narrative. Always in search of large ideas and overarching themes, he has what many may find an annoying tendency to pronounce (The book now ends with bedtime as all great children's stories really do) and to presume his reader's tacit agreement, offering far too many propositions beginning How can we not . . . Nevertheless, Lerer does an extraordinary job of expanding our understanding of individual titles by richly contextualizing them in the world of their creation and stimulates readers' imaginations by some surprising juxtapositions (Darwin and Dr. Seuss!). Though the book's principal audience will be an academic one, general readers will find much of interest here as well.--Cart, Michael Copyright 2008 Booklist
From Booklist, Copyright © American Library Association. Used with permission.