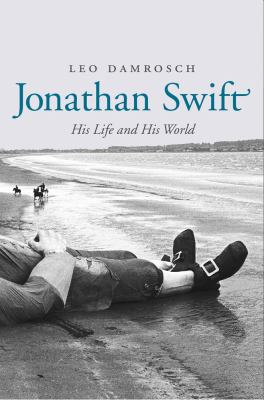 Jonathan Swift: His Life and His World
by Leo Damrosch


Choice More than 50 years after the first volume appeared and 30 after the set was completed, Irvin Ehrenpreis's Swift: The Man, His Works, and the Age (3v: 1962; CH, Jan'69; CH, Apr'84) remains the standard scholarly biography of the writer. Two more recent lives--David Nokes's Jonathan Swift: A Hypocrite Reversed (CH, May'86) and Victoria Glendinning's Jonathan Swift: A Portrait (CH, Oct'99, 37-0775)--have challenged the Ehrenpreis for dominance, without success. Now Damrosch (Harvard) joins the fray with a new life, more sympathetic to its subject than Nokes's and more substantial and less speculative than Glendinning's. Damrosch did no original archival research: everything comes from printed sources and, despite the author's protestations, not much new primary material has turned up since Ehrenpreis. One therefore gets no really new portrait of Swift. Damrosch differs from his predecessors in terms of reliability of sources (Damrosch finds some secondhand reports more plausible than Ehrenpreis does) and because he is less given to Freudian interpretation. Beyond that, the book differs mostly in emphasis. Damrosch does provide plenty of context for students, who will find this a very accessible and readable guide to Swift's life and times. Specialists will continue to rely on Ehrenpreis. Summing Up: Recommended. Upper-division undergraduates through faculty. J. T. Lynch Rutgers, The State University of New Jersey, Newark
Copyright American Library Association, used with permission.
Library Journal Jonathan Swift (1667-1745), Irish novelist, essayist, satirist, cleric, and poet, was a man of mystery and great intellectual heft, as Damrosch (Ernest Bernbaum Research Professor of Literature, Harvard; Jean-Jacques Rousseau: Restless Genius) demonstrates. He asserts that while Swift's best-known work, Gulliver's Travels, is universally recognized, it is often mistaken for a fairy tale when in fact it masks a revolutionary political view of Swift's native Ireland. Damrosch seeks here to round out the version of the author presented in Irvin Ehrenpreis's Swift: The Man, His Works, and the Age, asking questions about his private affairs: Did Swift have a secret marriage to his housekeeper's daughter? Damrosch raises issues about Swift's life and clarifies fact from fiction, providing insight into the writer and the time and place he inhabited. VERDICT Irish history buffs and literati alike will need to read this work.-Elizabeth Heffington, Lipscomb Univ. Lib., TN (c) Copyright 2013. Library Journals LLC, a wholly owned subsidiary of Media Source, Inc. No redistribution permitted.
(c) Copyright Library Journals LLC, a wholly owned subsidiary of Media Source, Inc. No redistribution permitted.
Publishers Weekly In his latest, Harvard literature professor and veteran biographer Damrosch (Jean-Jacques Rousseau: Restless Genius) recounts the life of satirist Jonathan Swift, author of Gulliver's Travels. The outlines of Swift's life are more or less familiar. To render a novel account of Swift's biography, then, Damrosch investigates myths and assumptions about such vexed questions as Swift's disappointed political ambitions, his moral and religious views, and his love affairs. These last come in for special scrutiny, as Damrosch carefully weighs the evidence of Swift's romantic attachments and possible marriages. Just as importantly, the author analyzes the political landscape of early 18th-century England in order to illuminate how Swift transmuted contemporary events into biting satire in an era in which wit could have fatal consequences. While Damrosch is to be credited for entertaining alternatives to outdated biographical shibboleths, his polemics against previous biographers and his reliance upon hypotheticals lead to a work rather academic in scope and occasionally needling in tone. Nonetheless, this is an impressive feat of scholarship filled with insightful readings of Swift's work, as well as extensive illustrations that help to vivify the world of this satiric master. Illus. Agent: Tina Bennett, William Morris. (Nov.) (c) Copyright PWxyz, LLC. All rights reserved.
(c) Copyright PWxyz, LLC. All rights reserved