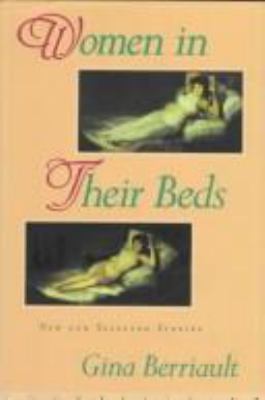 Women in their Beds
by Gina Berriault


Publishers Weekly Whether focusing on yuppies or drifters, social workers or Indian restaurateurs, heroin addicts or teenage baby-sitters, Berriault (The Lights of Earth) writes with great psychological acuity and a compassion that comes always from observation, never from sentimentality. These 35 short stories have been published in magazines ranging from the Paris Review to Harper's Bazaar; 10 of them are here issued in book form for the first time. In "Who Is It Can Tell Me Who I Am?" the dapper Alberto Perera, "a librarian who did not look like one," fears that the young drifter who has befriended him, wishing to discuss the Spanish poetry he carries in his pockets, is out to kill him; but the drifter is only trying to understand how?both literally and philosophically?to live. A 79-year-old psychologist woos a young, pragmatic waitress in "The Infinite Passion of Expectation." When she meets his ex-wife and witnesses the selfishness spawned by a life spent in deferment, she flees. In the clever "The Search for J. Kruper," an extremely famous and narcissistic novelist, noted for writing grand, poorly disguised autobiographical confessions, learns of the possible whereabouts of one of the few remaining living novelists as famous as he, a recluse who betrays nothing of himself in his writings. Each story is constructed so gracefully that it's easy to overlook how carefully crafted Berriault's writing is. Her lilting, musical prose adds a sophisticated sheen to the truths she mines. (Mar.)
Copyright © Reed Business Information, a division of Reed Elsevier Inc. All rights reserved.
Book list Berriault's title story contains all the key elements of her metaphysical, compassionate fiction. Angela is deeply affected by the women she works with in a city hospital. Their fates make her think not only about her own sorrows, but about all the complex consequences of what happens to women in beds, from dreaming to sex, childbirth, and death. This elevation from the particular to the universal is a hallmark of Berriault's finely wrought stories. Another motif is a life-altering confrontation with a stranger, such as when a librarian talks about poetry with a homeless man in "Who Is It Can Tell Me Who I Am?" and a magazine writer attempts to interview a recalcitrant physicist in "God and the Article Writer." Outsiders intrigue Berriault; her insights intrigue us. Bradfield's novels, including Animal Planet [BKL O 1 95], veer toward the anarchistic. In his meticulously structured, high-voltage, surprising short stories, he explores the more instinctive, less "civilized" aspects of our enigmatic natures. Bradfield is a virtuoso of dialogue and a connoisseur of personality, and his narrators are steeped in stress, from the homicidal jilted lover in "Sweet Ladies, Good Night, Good Night," to the brooding loner in "The Wind Box," and the little girl who can't speak in "Closer to You." These are very much tales of our time, sharp-edged yet seething with ambiguity. Petrushevskaya writes from a completely different world, giving voice to the frustrations of Soviet Russia during the 1970s and 1980s. Banned for 30 years for being "unSoviet," she finally achieved recognition with her acclaimed novel, The Time: Night (1994). Her seemingly direct but quite shrewd and ironic stories portray women struggling to achieve love, respect, and peace of mind. Petrushevskaya is keenly aware of the vacillations, hypocrisy, and opacity present in all kinds of relationships, and her fictional universe is rich in mockery and melancholy, and short on privacy and trust. As her characters seek escape from the cruel, colorless confines of their lives, resiliency and the courage to carry on become heroic. --Donna Seaman
From Booklist, Copyright © American Library Association. Used with permission.