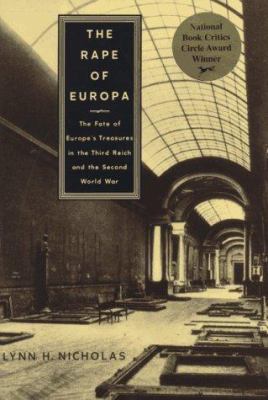 The Rape of Europa
by Lynn Nicholas


Publishers Weekly ``Never had works of art been so important to a political movement and never had they been moved about on such a vast scale.'' Nicholas's lavishly illustrated work chronicles the transfer, trading and looting of a large proportion of Europe's cultural treasures by the Nazis and the recovery of most of them during the Allied counterattack and early postwar years. She describes the Nazis' attempt to ``purify'' the world of ``degenerate'' art and their orgy of destruction, confiscation and theft, and reveals how curators at the Louvre in Paris, the Uffizi in Florence and other great museums supervised the removal of objects d'art to places of safety that included mine shafts and remote chateaux in anticipation of the German onslaught. Among these treasures were such masterpieces of sculpture and oils as Winged Victory of Samothrace and Van Gogh's Dr. Gachet , tapestries, church altars, crown jewels, literary manuscripts and symphonic scores. Nicholas's detailed account, meticulously researched in museum archives and supplemented with interviews, brings into focus the men and women who took responsibility for the protection, preservation, rescue and restoration of the artistic patrimony of Europe. Ambitious and fully realized, the book is a major contribution to the history of art; and first-time author Nicholas, an academic researcher of European history, shows herself to be a writer of notable talent. (May)
Copyright © Reed Business Information, a division of Reed Elsevier Inc. All rights reserved.
Choice Nicholas ably surveys and details the Nazi plundering, destruction, and sale of modern art in the 1930s, and the large-scale confiscations in the occupied territories during the war. Her account is richly detailed and full of anecdotal insights regarding Nazi acquisitiveness. Allied personnel, many of them museum curators or art historians, often heroically spared objects from expropriation by soldiers and civilians at war's end, or from damage through deterioration in the postwar chaos. On occasion, the amount of detail overwhelms the narrative. One wishes for more analysis and reflection of the role of culture in the determined effort of the Nazis to loot Europe's patrimony. How was art used as an instrument of political legitimation? This key question is left unanswered. Nonetheless, the book's wonderfully textured descriptions, based on oral testimonies, archival research, and the key secondary literature, provides an insight into incredible human greed and determined cultural politics during the catastrophic middle years of the 20th century. General readers; upper-division undergraduates and above. M. Deshmukh; George Mason University
Copyright American Library Association, used with permission.
Book list The world is still trying to fathom the enormity of the violence perpetrated by the Nazis. While the unending horror of the Holocaust continues to shock and baffle us, other facets of this unprecedented attempt at ethnic and cultural annihilation are still being revealed. One such facet consists of the mind-boggling facts about the Germans' wholesale pillaging of the art treasures of Europe. Nicholas painstakingly reconstructs the entire art debacle, relating one improbable but fully documented tale after another of systematic confiscation, outright theft, shameful deal-making, and fiendish destruction. The flip side to these atrocities is a litany of heroic efforts by curators, art historians, and many others to conceal, preserve, and protect the art of their land. Nicholas chronicles dozens of risky and dramatic struggles to keep the treasures of Poland, Czechoslovakia, Holland, France, Russia, and Italy out of the hands of their mad conquerors. While thousands upon thousands of precious paintings, sculptures, medieval manuscripts, and other invaluable objects were torn from churches, homes, libraries, and museums and shipped to Germany, hundreds more were frantically buried, camouflaged, or stashed in basements, country estates, salt mines, or quarry tunnels. Nicholas is in full command of a daunting amount of detailed information. She eloquently and efficiently introduces a huge cast of characters and artworks and manages to cover both the terrifying war years and the curatorial and logistical nightmare of their aftermath, when the Allies' overworked "Monument men" labored against all odds and in spite of many controversies to return recovered masterpieces to their rightful owners. Nicholas, a first-time author, has constructed a momentous and riveting work. ~--Donna Seaman
From Booklist, Copyright © American Library Association. Used with permission.
Library Journal First-time author Nicholas presents a poorly written survey of the traffic in art under the Nazi regime, first in Germany and then in occupied Europe. She has a great deal of information, but it is not presented clearly or consistently. Nicholas has worked extensively with original documents and secondary works to reconstruct the German confiscation of art across the Continent, not just from Jews but from individuals and institutions in every country. Part cultural policy, part individual cupidity-especially by Goering-part egomania (Hitler's plans for a great museum in Linz), the ``rape of Europe'' makes for an engrossing story, but it is beyond the author's powers to deal with this story at more than an anecdotal level. While more limited in scope, firsthand accounts like Craig Smyth's Repatriation of Art from the Collecting Point in Munich After World War II (Abner Schram, 1988) are preferable. Pass on this.-Jack Perry Brown, Art Inst. of Chicago Lib.
Copyright © Reed Business Information, a division of Reed Elsevier Inc. All rights reserved.