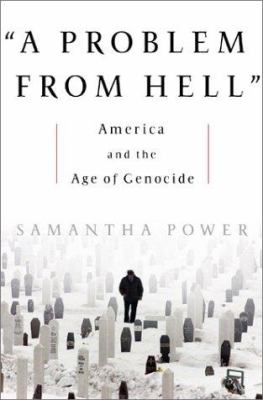 A Problem From Hell
by Samantha Power


Publishers Weekly Power, a former journalist for U.S. News and World Report and the Economist and now the executive director of Harvard's Carr Center for Human Rights, offers an uncompromising and disturbing examination of 20th-century acts of genocide and U.S responses to them. In clean, unadorned prose, Power revisits the Turkish genocide directed at Armenians in 1915-1916, the Holocaust, Cambodia's Khmer Rouge, Iraqi attacks on Kurdish populations, Rwanda, and Bosnian "ethnic cleansing," and in doing so, argues that U.S. intervention has been shamefully inadequate. The emotional force of Power's argument is carried by moving, sometimes almost unbearable stories of the victims and survivors of such brutality. Her analysis of U.S. politics what she casts as the State Department's unwritten rule that nonaction is better than action with a PR backlash; the Pentagon's unwillingness to see a moral imperative; an isolationist right; a suspicious left and a population unconcerned with distant nations aims to show how ingrained inertia is, even as she argues that the U.S. must reevaluate the principles it applies to foreign policy choices. In the face of firsthand accounts of genocide, invocations of geopolitical considerations and studied and repeated refusals to accept the reality of genocidal campaigns simply fail to convince, she insists. But Power also sees signs that the fight against genocide has made progress. Prominent among those who made a difference are Raphael Lemkin, a Polish Jew who invented the word genocide and who lobbied the U.N. to make genocide the subject of an international treaty, and Senator William Proxmire, who for 19 years spoke every day on the floor of the U.S. Senate to urge the U.S. to ratify the U.N. treaty inspired by Lemkin's work. This is a well-researched and powerful study that is both a history and a call to action. Photos. (Mar.) Copyright 2001 Cahners Business Information.
Copyright © Reed Business Information, a division of Reed Elsevier Inc. All rights reserved.
Choice Power's convincing and forceful tome goes to the heart of a central paradox of US foreign policy--the interplay of, and conflict between, self-interest, idealism, and reason in pursuing objectives. To some degree, the tension is apparent in the current debate over possible US war with Iraq, in which Iraqi treatment of the national Kurdish minority figures in rationales for this significant US policy shift, along with the more highly touted issues of weapons of mass destruction and terrorism. An experienced journalist, Power examines official US reactions to mass murder of Armenians by Turks, of Jews and others by Nazis, and of Cambodians by the Pol Pot gang, as well as other fully documented mass homicidal obscenities in Iraq, Bosnia, Rwanda, and Kosovo. Separate tales come out similarly. The US has been consistently noninterventionist about genocide. No US chief executive has either "made genocide prevention a priority" or "suffered politically for ... indifference to [genocide's] occurrence." Power concludes by shredding arguments supporting US inaction. She contends that the US must now choose a different, contrasting approach to genocide, even if it has seemed unreasonable to policymakers, politicians, and the public up to this point. All levels and collections. R. N. Seidel emeritus, SUNY Empire State College
Copyright American Library Association, used with permission.