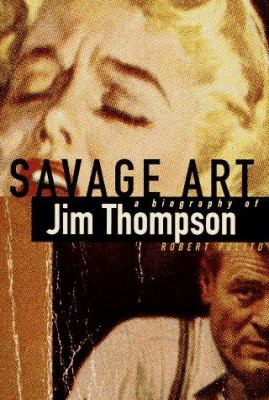 Savage Art
by Robert Polito


Publishers Weekly A series of Vintage reprints and Hollywood films like The Getaway and The Grifters have helped develop a wider popular and critical following for crime author Jim Thompson (1906-1977) than he sustained while alive. More twisted, sadistic and nihilistic than Chandler or Caine, Thompson's trademarks were his fiendish first-person psychopaths and lowlifes and his grim tales of failed lives and thwarted crimes. Polito, director of the writing program at Manhattan's New School, here untangles the man from his two-volume autobiography (Bad Boy and Roughneck), revealing a maverick alcoholic who was dogged by spells of depression and missed opportunities throughout his hand-to-mouth career. The son of a corrupt Oklahoma sheriff who lost his money speculating in oil, Thompson had his first alcohol-induced nervous breakdown as a hotel busboy in Ft. Worth while still in high school. He oscillated between low-wage jobs, hack journalism and literary circles for the rest of his life; joined the Communist Party in 1936; briefly became director of the Oklahoma Writer's Project; and struggled to publish novels that were often either too dark or slapdash for the mainstream. He enjoyed his most prolific period under editor Arnold Halo at Lion Books in the 1950s, eventually landing in Hollywood as a part-time film and television writer. This meticulous study adroitly evokes the rise of pulp adventure and crime magazines like Saga and True Detective, where Thompson honed his style, and the seedy underworld of hoboes and grifters who formed the models for his ``savage art.'' Photos. (Oct.)
Copyright © Reed Business Information, a division of Reed Elsevier Inc. All rights reserved.
Book list Jim Thompson--author of The Killer inside Me and many other noir classics--suffered from the artistic curse of being ahead of his time. Though he made a living of sorts as a writer, it was only long after his death in April 1977 that his work received the acclaim it deserved. Polito, who edited an anthology of Thompson's uncollected work entitled Fireworks (1988), examines both the life and the work in this satisfying biography. He moves chronologically through Thompson's life, offering parallel critiques of his writings, from the early true-crime magazine work through the later, now-celebrated novels. The critical analysis is perceptive and focuses on Thompson's influence on succeeding crime writers, but it is the personal biography that will entrance readers. Thompson led a troubled life, beset by chronic alcoholism and associated physical ailments, and it seems at times as if he couldn't maintain a deep emotional relationship with anyone over a long period. Somehow that loneliness and isolation flowed through Thompson's pen and transformed itself into a fictional world in which only greed and lust and jealousy motivate human behavior. It makes compelling reading, but it must have been hell to live there. --Wes Lukowsky
From Booklist, Copyright © American Library Association. Used with permission.
Library Journal Polito, who directs the writing program at New York City's New School for Social Research and who edited and wrote the introduction for the Thompson anthology Fireworks (Donald I. Fine, 1988), presents an intimate, meticulously researched portrait of the author of such classic noir novels as The Killer Inside Me, Pop 1280, and The Grifters. Polito interviewed members of Thompson's family, researched historical records, and carefully combed Thompson's own autobiographical writing to provide insight into his character and development as a writer. Thompson's readers will recognize here the wellspring of his art: his peripatetic childhood, his tormented young manhood, and his ultimately disappointing adulthood. Polito described Thompson's struggles with alcohol and his associations with an amalgamation of grifters and hobos, but he also presents fond reminiscences from people who knew Thompson as a loving brother, mentor, and friend. Thompson's life, like his book, makes wrenching reading. Recommended where biographies or crime fiction are collected.?Denise Johnson, Bradley Univ. Lib., Peoria, Ill.
Copyright © Reed Business Information, a division of Reed Elsevier Inc. All rights reserved.