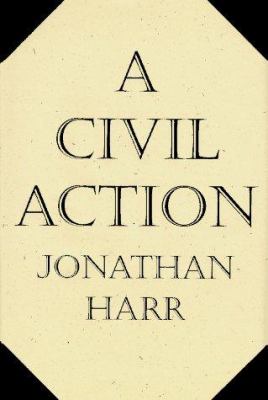 A Civil Action
by Jonathan Harr


Publishers Weekly This tale of a somewhat quixotic quest by an idealistic young lawyer concerns his efforts to secure damages from two corporate giants, Beatrice Foods and W.R. Grace, for allegedly polluting the water in Woburn, Mass., a Boston suburb, with carcinogens. Jan Schlichtmann had hoped that a victory would send a message to the boardrooms of America and felt that the cluster of leukemia victims in Woburn (the disease had claimed the lives of at least six children) guaranteed his success. But he reckoned without certain developments: first, the case went to a federal court, a less sympathetic venue for damage suits than state courts; second, the trial judge appears to have been unsympathetic to his case; third, at least one of the defense witnesses lied; four, defense attorneys evidently failed to deliver all relevant documents to Schlichtmann's team. The case against Beatrice was thrown out, and the plaintiffs accepted a settlement of $8 million from Grace. Personally bankrupt, Schlichtmann considered himself a failure. Former New England Monthly staffer Harr has told the story expertly, although more exhaustively than most readers may wish. Author tour; movie rights to Disney. (Sept.)
Copyright © Reed Business Information, a division of Reed Elsevier Inc. All rights reserved.
Library Journal Harr, a former staff writer at New England Monthly, describes a case that is to the civil justice system what the O.J. Simpson case is to the criminal justice system?fascinating, compelling at times, but not representative. Beginning with stories of leukemia-stricken children from the same neighborhood in Woburn, Massachusetts, he takes the reader on a roller-coaster ride along the tortuous path of a groundwater contamination case in which there were ultimately no winners. Harr also traces how the demands of the case coupled with self-delusion and sometimes poor professional judgment bankrupted the plaintiffs' lead attorney emotionally and financially. His book is weakened considerably by its lack of analysis and failure to fit these events and individuals into a larger context. Nonetheless, the author's ability to evoke atmosphere and create suspense makes this an engrossing read. Recommended for general adult nonfiction collections. [Previewed in Prepub Alert, LJ 5/15/95.]?Susan Pierce Dyer, Alameda Cty. Law Lib., Oakland, Cal.
Copyright © Reed Business Information, a division of Reed Elsevier Inc. All rights reserved.
Book list Eyeing readers who flock to fictionalized courtroom drama, Harr bets that dramatized nonfiction can compete for their attention. The case he selected, the standard cancer-caused-by-chemicals charge, is less about the validity of the suit than about the snarling courtroom combat between lawyers. While he spoke with both sides, he spoke most with the plaintiffs' maniacally energetic lawyer, Jan Schlichtmann, who took on the case of families who blamed their leukemia tragedies on city water polluted by two deep pockets, W. R. Grace and the Beatrice Corp., whose experienced trial attorneys usually appear in the narrative whenever Schlichtmann meets them while handling the business of the trial. Schlichtmann is definitely, and defiantly, a high-wire act, as he rejects offer after offer even as his creditors crowd closer to his accountant. Drawn as vividly as a character in a mystery novel, Harr's hero walks the precipice of bankruptcy, pushed toward the edge and pulled back by a carnival of forces, not the least his own ambition and brashness. Entertaining insight to litigation that any law-minded reader will follow from first filing to last appeal. --Gilbert Taylor
From Booklist, Copyright © American Library Association. Used with permission.