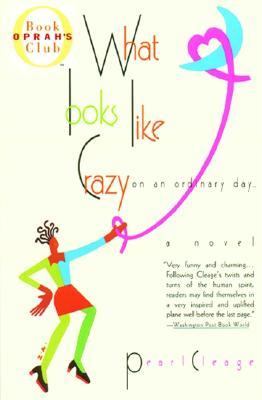 What Looks Like Crazy on an Ordinary Day
by Pearl Cleage


Library Journal In her first novel, Cleage, a playwright and essayist, focuses on an HIV-positive woman who seeks solace and refuge for the summer in her hometown with her widowed sister. (c) Copyright 2010. Library Journals LLC, a wholly owned subsidiary of Media Source, Inc. No redistribution permitted.
(c) Copyright Library Journals LLC, a wholly owned subsidiary of Media Source, Inc. No redistribution permitted.
Publishers Weekly After so much contemporary African American fiction that strains to be hip and funny but refuses to look seriously at the problems faced by real black people, first-time novelist Cleage, without succumbing to didacticism, delivers a work of intelligence and integrity. Fiery Ava Johnson's fast life as the owner of an Atlanta beauty parlor comes to a sudden end when she discovers that she is HIV positive. Shunned by her peers in Atlanta, Ava decides to start a new life in more broad-minded San Francisco?but first she visits her older sister, Joyce, at their childhood home in Idlewild, Mich. A former all-black resort, Idlewild is now just a small rural town crumbling fast under the weight of big city problems. Soon Ava's visit extends into something more permanent as she joins Joyce's efforts to teach teenage mothers. When one of the mothers abandons her baby, Joyce and Ava are granted temporary guardianship. Meanwhile, Ava meets Eddie, a tender-yet-tough introvert who has conquered his own demons and is willing to help Ava tackle hers. Cleage pays serious attention to problems that face young African Americans, including AIDS, teenage motherhood, joblessness, crack, low self-esteem and lack of sex education. What is even more impressive is her ability to work all this into an engaging plot with witty prose that's wonderfully free of clichés. Cleage may be accused of trying to squeeze too much into the novel's last few pages, but it's a tiny flaw, especially since it helps produce a fitting climax to a memorable tale. (Dec.) (c) Copyright PWxyz, LLC. All rights reserved
(c) Copyright PWxyz, LLC. All rights reserved
Book list Cleage opens her riveting novel with the heroine's confession that she has tested positive for HIV, a revelation guaranteed to render ordinary life extraordinary. Ava Johnson's journey home to a devastated small town in Michigan after a fast life and successful career in Atlanta is the journey of a woman who has to learn a new way to live for as long as she may. Ava comes home to a loving sister engaged in a battle for young women trapped in destructive relationships, and to discover what has evaded her in the superficially promising environs of a big city. Her plans to move on to San Francisco and whatever follows for the HIV-positive are derailed by her sister's campaign, a baby born to and abandoned by a crack-addicted mother, and a gentle man with a brutal past. Despite the early bad news, Cleage's funny, irreverent, and hopeful novel is stunningly real and evocative of the conditions behind the high unemployment, aimlessness, and drug culture that permeate the urban landscape and have invaded smaller towns as well. --Vanessa Bush
From Booklist, Copyright © American Library Association. Used with permission.
Kirkus It takes talent to make a love story between an AIDS victim and a convicted murderer work, but playwright/essayist Cleage (Deals with the Devil, 1993, etc.) more than meets the challenge in this gutsy, very likable fiction debut. As a teenager, Ava Johnson couldn't wait to move away from tiny Idlewild, Michigan, a lakefront village originally conceived- -and enjoyed for decades--as a resort town for people of color. Now just a half-abandoned dot on the map like any other (except that most of the residents are still black), Idlewild offers the only safe haven when Ava, now nearly 30, learns she's contracted the HIV virus and is forced to close down her hair salon in Atlanta. Telling herself she's just visiting her older sister, Joyce, for a few weeks before she moves on to San Francisco, sophisticated Ava (whose voice is always feisty and humorous, even when the subject is death) is nevertheless impressed by bighearted Joyce's efforts to help the teenaged girls in her small community. She's also intrigued by handsome, sexily ``together'' Eddie Jefferson, a once- wild childhood acquaintance who's returned to Idlewild to raise vegetables, grow dreadlocks, and practice t'ai. While giving support to Joyce as she fights her conservative church for the right to teach birth to adolescents, and assisting (a bit skeptically) when Joyce takes in an addict's abandoned baby, Ava finds herself falling hard for sensitive, nurturing Eddie. Obviously, he's interested, too--but won't he run once he learns she's carrying the virus? Ava hardly dares hope for a final chance at love, even when Eddie reveals his own terrible--and, finally, forgivable--past. Lively, topical, and fantasy-filled. Watch out, Terry McMillan. Cleage is on your tail.
Copyright © Kirkus Reviews, used with permission.