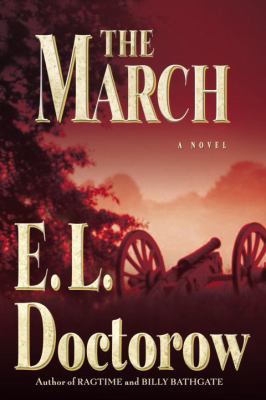 The March
by E. L. Doctorow


Library Journal The author who made the historical novel a real literary event returns with the story of General Sherman's march through Georgia and the Carolinas. With a seven-city tour. Copyright 2005 Reed Business Information.
Copyright © Reed Business Information, a division of Reed Elsevier Inc. All rights reserved.
Publishers Weekly Sherman's march through Georgia and the Carolinas produced hundreds of thousands of deaths and untold collateral damage. In this powerful novel, Doctorow gets deep inside the pillage, cruelty and destruction-as well as the care and burgeoning love that sprung up in their wake. William Tecumseh Sherman ("Uncle Billy" to his troops) is depicted as a man of complex moods and varying abilities, whose need for glory sometimes obscures his military acumen. Most of the many characters are equally well-drawn and psychologically deep, but the two most engaging are Pearl, a plantation owner's despised daughter who is passing as a drummer boy, and Arly, a cocksure Reb soldier whose belief that God dictates the events in his life is combined with the cunning of a wily opportunist. Their lives provide irony, humor and strange coincidences. Though his lyrical prose sometimes shades into sentimentality when it strays from what people are feeling or saying, Doctorow's gift for getting into the heads of a remarkable variety of characters, famous or ordinary, make this a kind of grim Civil War Canterbury Tales. On reaching the novel's last pages, the reader feels wonder that this nation was ever able to heal after so brutal, and personal, a conflict. 7-city author tour. (Sept. 20) Copyright 2005 Reed Business Information.
Copyright © Reed Business Information, a division of Reed Elsevier Inc. All rights reserved.
Book list American history is the wellspring of Doctorow's prevailing fiction, but never before has he so fully occupied the past, or so gorgeously evoked its generation of the forces that seeded our times. The march in question is that of General William Tecumseh Sherman and his Union soldiers as they slash and burn their way through Georgia and the Carolinas, and the "march to freedom" as liberated slaves fall in step with the liberating army. But it is also, given the poetic depth of Doctorow's vision, the great march of time and of humanity in all its cruelty and glory. As Doctorow dramatizes the fury, conviction, and chaos of the Civil War, he portrays historical figures, as he is wont to do, most electrifyingly Sherman himself. But he focuses most on brilliantly imagined characters who embody the epic conflicts of that cataclysmic era, including Pearl, the smart and courageous daughter of a slave and slave owner; an excessively clinical military surgeon; the valiant daughter of a Southern judge; a freed slave who becomes a war photographer; and Arly, a scheming Rebel soldier who provides shrewdly comic relief. Doctorow writes with blazing clarity about the "brutal romance" of war and its gruesome realities, with lyrical splendor about nature, and with wry wisdom and nimble satire about human folly. Heir to Stephen Crane's The Red Badge of Courage,0 Doctorow's masterpiece uncovers the roots of today's racial and political conundrums, and taps into the deep and abiding realm of myth in its illumination of sorrow and beauty, the continuity of human existence, and the transcendence of tenacity, compassion, and love. --Donna Seaman Copyright 2005 Booklist
From Booklist, Copyright © American Library Association. Used with permission.
Library Journal Gen. William Tecumseh Sherman's long and bloody march to the sea remains one of the most enigmatic and fascinating chapters of Civil War history. Yet Ragtime author Doctorow's fictional re-creation of the event lacks compelling characters, forceful structure, and dominant themes and so fails to make it much more than a romp in the park. A sort of Canterbury Tales of the Civil War, the novel allows numerous characters to amble onto the scene and tell their stories, which the novel then generally follows until Lee surrenders and Sherman's march is finished. Among them are Pearl, a black child who passes for white because her color comes from her plantation master father; Stephen Walsh, a lieutenant in Sherman's army, who falls in love with Pearl and sweeps her away; Wrede Sartorius, a grim and businesslike field doctor for whom medicine is life; Emily Thompson, a young Southern plantation belle who becomes Sartorius's nurse and momentary lover; and General Sherman himself, for whom war is the only life worth living. Doctorow paints his canvas with his typical attention to period detail, but he is no Shelby Foote (Shiloh), Howard Bahr (The Black Flower), or Madison Jones (Nashville 1864), and this effort simply fails to engage. Still, his fans will be clamoring for it; be prepared. [See Prepub Alert, LJ 5/1/05.]-Henry L. Carrigan Jr., Lancaster, PA Copyright 2005 Reed Business Information.
Copyright © Reed Business Information, a division of Reed Elsevier Inc. All rights reserved.
School Library Journal Adult/High School-A Civil War tale with much to engage teens. The title refers to a climactic event, General William Tecumseh Sherman's March to the Sea. Using a nonlinear (but not especially challenging) structure that recalls his groundbreaking Ragtime, Doctorow narrates events through multiple Union and Confederate perspectives. A rich variety of individuals, both fictional and historical, populates a moving world of more than 60,000 troops accompanied by thousands of former slaves and assorted civilian refugees who follow Sherman on his ruthless progress through Georgia and the Carolinas. While many characters are essentially entertaining sketches, there are a few memorable standouts, particularly 15-year-old Pearl, a so-called "white Negro" fathered by her owner. Taking advantage of the chaos after war disrupts her tightly controlled existence, she flees her looted plantation home, disguises herself as a drummer boy, and joins the march, determined to reach freedom and create a life worth living. On the way, she experiences moments of violence, love, irony, and even humor in the midst of horror. Short cinematic episodes illuminate and interpret history with meticulous attention to period settings, from terrifying battlefields to desperate field hospitals to once-grand mansions, all described in lyrical language crafted by a skilled writer.-Starr E. Smith, Fairfax County Public Library, VA Copyright 2006 Reed Business Information.
Copyright © Reed Business Information, a division of Reed Elsevier Inc. All rights reserved.