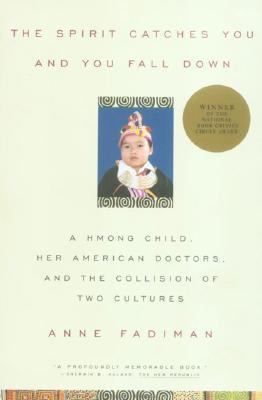 The Spirit Catches You and You Fall Down
by Anne Fadiman


Library Journal Award-winning reporter Fadiman has turned what began as a magazine assignment into a riveting, cross-cultural medicine classic in this anthropological exploration of the Hmong population in Merced County, California. Following the case of Lia (a Hmong child with a progressive and unpredictable form of epilepsy), Fadiman maps out the controversies raised by the collision between Western medicine and holistic healing traditions of Hmong immigrants. Unable to enter the Laotian forest to find herbs for Lia that will "fix her spirit," her family becomes resigned to the Merced County emergency system, which has little understanding of Hmong animist traditions. Fadiman reveals the rigidity and weaknesses of these two ethnographically separated cultures. In a shrinking world, this painstakingly researched account of cultural dislocation has a haunting lesson for every healthcare provider. Highly recommended for all collections.?Rebecca Cress-Ingebo, Fordham Health Sciences Lib., Wright State Univ., Dayton, Ohio
Copyright © Reed Business Information, a division of Reed Elsevier Inc. All rights reserved.
Publishers Weekly When two divergent cultures collide, unbridgeable gaps of language, religion, social customs may remain between them. This poignant account by Fadiman, editor of the American Scholar, of the clash between a Hmong family and the American medical community reveals that among the gaps yawns the attitude toward medicine and healing. The story focuses on Lia Lee, whose family immigrated to Merced, Calif., from Laos in 1980. At three months of age, Lia was diagnosed with what American doctors called epilepsy, and what her family called quag dab peg or, "the spirit catches you and you fall down." Fadiman traces the treatments for Lia's illness, observing the sharp differences between Eastern and Western healing methods. Whereas the doctors prescribed Depakene and Valium to control her seizures, Lia's family believed that her soul was lost but could be found by sacrificing animals and hiring shamans to intervene. While some of Lia's doctors attempted to understand the Hmong beliefs, many interpreted the cultural difference as ignorance on the part of Lia's parents. Fadiman shows how the American ideal of assimilation was challenged by a headstrong Hmong ethnicity. She discloses the unilateralness of Western medicine, and divulges its potential failings. In Lia's case, the two cultures never melded and, after a massive seizure, she was declared brain dead. This book is a moving cautionary tale about the importance of practicing "cross-cultural medicine," and of acknowledging, without condemning, differences in medical attitudes of various cultures. (Oct.)
Copyright © Reed Business Information, a division of Reed Elsevier Inc. All rights reserved.
School Library Journal YA?A compelling anthropological study. The Hmong people in America are mainly refugee families who supported the CIA militaristic efforts in Laos. They are a clannish group with a firmly established culture that combines issues of health care with a deep spirituality that may be deemed primitive by Western standards. In Merced, CA, which has a large Hmong community, Lia Lee was born, the 13th child in a family coping with their plunge into a modern and mechanized way of life. The child suffered an initial seizure at the age of three months. Her family attributed it to the slamming of the front door by an older sister. They felt the fright had caused the baby's soul to flee her body and become lost to a malignant spirit. The report of the family's attempts to cure Lia through shamanistic intervention and the home sacrifices of pigs and chickens is balanced by the intervention of the medical community that insisted upon the removal of the child from deeply loving parents with disastrous results. This compassionate and understanding account fairly represents the positions of all the parties involved. The suspense of the child's precarious health, the understanding characterization of the parents and doctors, and especially the insights into Hmong culture make this a very worthwhile read.?Frances Reiher, Fairfax County Public Library, VA
Copyright © Reed Business Information, a division of Reed Elsevier Inc. All rights reserved.
Book list The Lee family had suffered much in Laos and Thailand before coming to the U.S. and settling in Merced, California, among an already large Hmong population. Fadiman explores relations between young Lia Lee, her parents, and various physicians. She brings Hmong culture vividly to life and shows how naturally misunderstandings arise when American health-care providers deal with Hmong patients and their families. For example, the Hmong feel that soul strings must be tied around parts of the body when the individual is endangered; American nurses understandably but insensitively cut off these dirty ties. Fadiman's brief history of the Hmong also explains Lia's parents' desire to be independent and in charge, in the process filling a gap in many a reader's knowledge. Her book has a scope much broader than that of a medical case history, and it could well spark discussion of such questions as whether an immigrant lacks intelligence if she cannot express herself quickly and clearly in English and whether a foreign culture is always inferior. --William Beatty
From Booklist, Copyright © American Library Association. Used with permission.