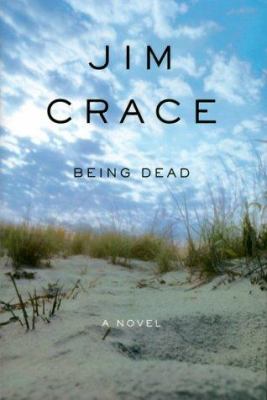 Being Dead
by Jim Crace


Book list In his latest novel, Crace (author of Quarantine, 1998) archly explores life and death and the effect of chance upon the two. From the very beginning we learn that Celice and Joseph, two married, middle-aged zoologists, are murder victims. From there the book moves backward and forward in time, changing points of view along the way, to show why they came to be where they were when they were murdered and what happened after their deaths. Thus, we are not only privy to Celice's and Joseph's thoughts and feelings but to those of their daughter, whose rebellious period is suddenly cut short, and even the murderer. However, the narrative's most arresting scenes, occurring during the days between the murders and the discovery of the dead couple, involve a macabre, though detached, description (worthy of the zoologists themselves) of how their bodies are returned to the ecosystem of the dunes, where they had briefly made love before being assaulted. Yet nothing is strained, for Crace pulls off a remarkable fusion of chaos theory and natural order in telling this story. --Frank Caso
From Booklist, Copyright © American Library Association. Used with permission.
Publishers Weekly Crace is a brilliant British writer whose novels are always varied in historical setting, voice, theme and writing style, and are surprising in content. Those very factors may have contributed to his failure to establish a literary identity and to attain his deserved audience here. This latest, sixth effort (after Quarantine), a stunning look at two people at the moment of their deaths, is the riskiest of his works, the most mesmerizing and the most deeply felt. Joseph and Celice, middle-aged doctors of zoology married to each other for almost 30 years, revisit the seaside where they first met and made love "in the singing salt dunes of Baritone Bay." They are surprised on the dunes, murdered and robbed, and their bodies lie undiscovered for days. In alternating chapters of chronological counterpoint, Crace traces their last day, working backwards from the moment of their murders to their awakening that morning, innocent of what is to come. At the same time, he recreates the day they were introduced, in the 1970s, when they were researching their doctoral dissertations. By the time these chronological vignettes converge, Crace has created two distinctive personalities who sustain a marriage and careers and parent a rebellious, nihilistic daughter, Syl. His finesse in drawing character is matched by the depth of his knowledge and imagination, and the honesty of his bleak vision. Some readers may be horrified by the brutal imagery ("Her scalp hung open like a fish's mouth. The white roots at her crown were stoplight red") or the matter-of-fact details of the body's putrefaction: the first predators "in the wet and ragged centres of their wounds" are a beetle, swag flies, crabs and a gull, and their activities in each corpse are described with detached scientific accuracy. The profession of the deceased, of course, adds irony to the situation. Celice taught that the natural sciences are the study of violence and death, while Joseph maintained that "humankind is only marginal. We hardly count in the natural orders of zoology." In juxtaposing the remorselessness of nature against the hopes, desires and conflicted emotions of individuals, Crace gracefully integrates the facts and myths about the end of human life, and its transcendence (in Syl's epiphanic vision), into a narrative of dazzling virtuosity. (Apr.) Copyright 2000 Cahners Business Information.
Copyright © Reed Business Information, a division of Reed Elsevier Inc. All rights reserved.
Library Journal While not well known in this country, Crace (Quarantine) is established in Britain, where this naturalistic meditation on life and death was shortlisted for the Whitbread Prize. Set contemporaneously in an unspecified country, it concerns Joseph and Celice, middle-aged zoologists murdered while on a nostalgic visit to the place they first met. Crace alternates between detailing the brutal circumstances of their deaths and reconstructing the quiet regularity of their everyday lives. He dwells on the process of their physical decomposition among the seaside dunes in a tone that is at once coolly scientific and highly poetic. A side plot concerns the effect the couple's disappearance and death have on Syl, their estranged adult daughter. This is undeniably a tour de force, but Crace's unrelenting emphasis on "rot and putrefaction" (to quote the novel's flip epigraph) may put off some readers. For larger libraries. [Previewed in Prepub Alert, LJ 12/99.]--Lawrence Rungren, Merrimack Valley Lib. Consortium, Andover, MA Copyright 2000 Cahners Business Information.
Copyright © Reed Business Information, a division of Reed Elsevier Inc. All rights reserved.