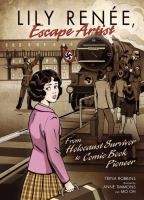 Publishers Weekly
(c) Copyright PWxyz, LLC. All rights reserved

Renowned comics historian Robbins pens this biography of Lily Renee, an artist who was one of only a few women to work in the comic book industry in the 1940s. Raised in a wealthy Jewish family in Vienna, Renee escaped to England from Nazi-occupied Austria when she was 14 years old. Most of the book recounts Renee's time in England as she's turned into an unpaid servant by her host family, works as a nanny and nurse's assistant, and endures the blitz. When she is finally able to join her parents in the United States, she uses her drawing skills to find work, eventually landing in comics and drawing pulp comics featuring bold, beautiful heroines. The story is told in a less than dramatic fashion, however. More space is given to Renee attempting to mop a kitchen floor than finding shelter during the blitz and being witness to its aftermath, for example. Characters' expressions and body language are kept simple. Extras include a German glossary, a brief history of the time in which Renee's story takes place, explanations of period details, and photographs of Renee and her family, which provide needed real-world texture. Ages 9-12. (Nov.) (c) Copyright PWxyz, LLC. All rights reserved.
---
Book list
From Booklist, Copyright © American Library Association. Used with permission.

Lily Renee Wilheim, born and raised in a secular Jewish family in Austria between World Wars, was just young enough to find sanctuary in the Kindertransport arranged with England in 1939. After an unhappy period spent with the family of her girlhood pen pal, she found work as a domestic and was able to join her parents in the U.S. after the war. There she found employment as a cartoonist, working on such projects as the Nazi-fighting Senorita Rio. Throughout, Lily Renee is presented as a girl with understandable concerns for both her physical and emotional safety, and in relatively few pages, readers learn about aspects of postwar life including how displaced persons found work. Timmons and Oh's brightly colored art is well detailed, showing period dress and scenes in all three countries. Back matter fleshes out historical context, such as how women became the heroines in many wartime comics. With this graphic biography, Robbins, who has worked hard to bring attention to women cartoonists, offers a Holocaust survivor story that few will find familiar.--Goldsmith, Francisca Copyright 2010 Booklist
---
Kirkus
Copyright © Kirkus Reviews, used with permission.

(Graphic biography. 8-14)]] Copyright Kirkus Reviews, used with permission.
---
School Library Journal
(c) Copyright Library Journals LLC, a wholly owned subsidiary of Media Source, Inc. No redistribution permitted.

Gr 6-9-Like the comic books that Lily Renee Wilheim drew in the 1940s as a pioneer woman in a male-dominated industry, this biography is a tale of peril and suspense. Lily, an affluent Austrian Jewish girl, was one of the last children to be transported safely to England in 1939. After a few years with a sponsor family, she got a series of jobs caring for children and in a maternity hospital. After England entered the war, she lost contact with her parents and was later classified as an enemy alien. The tale of her reconciliation with her family in America and subsequent success as a graphic artist is classically upbeat. The book is drawn in a style that seems to imitate Wilheim's wartime comics-gestures and expressions are stylized and formal; characters stand or move stiffly. Think Brenda Starr, Girl Reporter. Add to this drawing style a tendency toward melodrama and few named characters except the subject and this book might be a tough sell. Improving its odds is back matter that includes a gallery of photographs of the charismatic Lily and brief essays on subjects as diverse as the British monetary system and the Automat.-Paula Willey, Baltimore County Public Library, Towson, MD (c) Copyright 2011. Library Journals LLC, a wholly owned subsidiary of Media Source, Inc. No redistribution permitted.