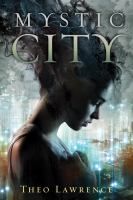 Book list
From Booklist, Copyright © American Library Association. Used with permission.

Global warming has submerged much of what was New York City; the rich now live in the Aeries, skyscrapers looming above the squalid Depths. Manhattan is governed by a corrupt Aeries government and runs on the magical energy drained from humans known as Mystics, who must register with the authorities and are drained regularly to keep them subdued. Eighteen-year-old Aria Rose, daughter of a prominent Aeries politician, is engaged to Thomas Foster, the son of the Rose family's political rival but she has no memory of their supposed secret romance and is disturbed by random memories of intense, passionate encounters with someone else. Why can't she remember? Has Aria overdosed on a hallucinogenic drug, as she has been told, or is there a much larger plot between the Rose and Foster families? With the New York setting, incredible wealth, and many elaborate costume changes, it's more than a little reminiscent of the Gossip Girl series, but the story flames up into cinematic and fiery battles that promise sequels. Class issues and an important election are primary themes, giving this dystopian adventure debut immediate ties to the present.--Carton, Debbie Copyright 2010 Booklist
---
Kirkus
Copyright © Kirkus Reviews, used with permission.

Marriage is a lesson in self-discovery, particularly if your fianc is the golden son of a rival political family you've been bred to hate. Such is the ground floor of the high-rise adventure where 18-year-old Aria Rose, the socialite daughter of a wealthy and crooked family, begins. She seeks to recapture her memory (lost after an apparent drug overdose) and uncover the dark deeds her parents perpetuate to gain ultimate power. In this futuristic Manhattan (think Blade Runner), strict class structures segregate mystics and non-mystics. Mystics, once hailed for their magic, are now second-class citizens literally drained of their power and thrust, weakened, into the decaying underbelly of the city while Aria's family and the other elite rule from plush penthouses. Aria relates, at a believable pace, her evolution from the fragile puppet of her manipulative family to a defiant, independent young woman intent on recapturing her lost memories and finding her true love. Though there are occasional forays into lovesick melodrama, the story is rooted in its dedication to showcasing Aria's transformation from a clueless, privileged princess into a selfless revolutionary, as she realizes that what is family and what is right are sometimes polar opposites. A gripping Romeo-and-Juliet exploration of deception, espionage, revolution, the greater good and love conquering all--with the aid of magical green lights and a peculiar little locket. (Urban fantasy/science fiction. 14 up)]] Copyright Kirkus Reviews, used with permission.
---
School Library Journal
(c) Copyright Library Journals LLC, a wholly owned subsidiary of Media Source, Inc. No redistribution permitted.

Gr 8 Up-In this dystopian fantasy, Aria Rose wakes up one morning missing her memories. She is told that she is engaged to Thomas Foster, son of a rival family. Theirs is a Romeo and Juliet story that has captivated New York society. Why, then, can Aria not remember any details of her romantic history? In search of answers, she travels to forbidden parts of the city, where the poor masses and the oppressed Mystics live. There, she meets Hunter, a boy who is entirely wrong for her, but who sparks her interest in ways that she is sure Thomas never has. Moreover, Hunter might be able to help her find the key to her past. What the two discover will have far-reaching consequences for their families and friends, and for the city of New York. This book marries a fast-paced plot with likable, developed characters, set in a future Manhattan that is all too believable. Readers may pick up on what has happened to Aria's memories long before she does, but the plot takes other twists and turns as the protagonist learns about the Mystics and the scope of her own family's power. Hand this book to fans of Gabrielle Zevin's All These Things I've Done (Farrar, 2011) and other urban dystopias with strong female characters.-Misti Tidman, Licking County Library, Newark, OH (c) Copyright 2013. Library Journals LLC, a wholly owned subsidiary of Media Source, Inc. No redistribution permitted.
---
Publishers Weekly
(c) Copyright PWxyz, LLC. All rights reserved

Several generations into climate change, parts of Manhattan are 30 feet underwater, and class divisions are progressing rapidly down the path H.G. Wells envisioned. The air-conditioned heights of the Aeries are havens of thuggish privilege, while in the swampy Depths are the poor and the mystics, a strictly controlled class of magicians whose powers are drained to keep them in check. Aria Rose is the only daughter of a city powerbroker and has lost weeks of her memory to a recreational drug overdose. In that lost time, she had a whirlwind romance with the scion of a rival family-or so her parents tell her. A dynastic marriage has been arranged in the name of "true love." But if Aria was so in love with Thomas Foster, why is she obsessed with a rogue mystic who haunts her movements and her dreams? Debut author Lawrence's writing is assured, though pacing and characterization take second place to the milieu. Aria is surrounded by gorgeous yet bland secondary characters, and it takes a while to warm up to her predicament. Ages 12-up. Agents: Michael Stearns and Ted Malawer, the Inkhouse. (Oct.) (c) Copyright PWxyz, LLC. All rights reserved.