by Frans De Waal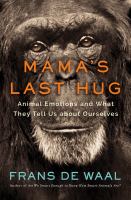 Book list
From Booklist, Copyright © American Library Association. Used with permission.

*Starred Review* Do we share the same emotions as all the other animals with whom we share the planet? De Waal, celebrated primatologist and author (Are We Smart Enough to Know How Smart Animals Are?, 2016), answers this question with a resounding yes in a captivating survey of animal and human emotions. Beginning with the farewell hug shared by dying chimpanzee matriarch Mama and biologist Jan van Hooff, who had known each other for more than 40 years, de Waal takes the reader on a survey of the emotions. Laughing and smiling show obvious parallels with our primate cousins, but how many of us know that tickled rats laugh? Though scientists have always thought that sympathy and empathy were used for selfish ends, de Waal provides instances where there is no benefit to the sympathizer. Similarly, the author compares the awareness of inequality across the animal spectrum, shows why a social hierarchy leads to less conflict, examines the role of free will, and finishes with a fascinating look at politics, both human and animal. In de Waal's engaging inquiry, we roam the animal kingdom (with emphasis on his favorite primate research subjects) as he makes his most important point: we animals share the same emotions, just as we share the same organs.--Nancy Bent Copyright 2018 Booklist
---
Publishers Weekly
(c) Copyright PWxyz, LLC. All rights reserved

In this illuminating-and remarkably moving-treatise on animal empathy, Emory University primatologist de Waal (Are We Smart Enough to Know How Smart Animals Are?) delivers some of his most damaging, and joyous, blows yet to human exceptionalism. Drawing on his own extensive experiences, de Waal recounts example after example of animals displaying humanlike emotions and "emotional intelligence." Parrots, jays, mice, and apes can "time travel," or project themselves into future events based on an awareness of the past, while monkeys and various bird species can delay gratification. This all makes sense, he argues, since "animals just can't afford to blindly run after their impulses." On a less lofty plane, chimps have been observed being cruel for fun, and rats can laugh (albeit ultrasonically). De Waal reflects that much has changed during his career. His proposal that animals can reconcile with each other after conflicts met with skepticism during the 1970s, but is now widely accepted. One remaining mystery-whether animals have "free will"-can't be answered, he argues, until humans know if they themselves actually possess that trait. Making clear that "instead of tiptoeing around" emotions, researchers must now "squarely face the degree to which all animals are driven by them," de Waal's masterful work of evolutionary psychology will leave both fellow academics and intellectually curious layreaders with much food for thought. (Mar.) © Copyright PWxyz, LLC. All rights reserved.
---
Kirkus
Copyright © Kirkus Reviews, used with permission.

Once again, the eminent primatologist takes readers deep into the world of animals to show us that we humans are not the unique creatures we like to think we are.In his latest highly illuminating exploration of the inner lives of animals, de Waal (Psychology/Emory Univ.), the director of the Living Links Center at the Yerkes National Primate Research Center, provides a companion piece to his prizewinning Are We Smart Enough to Know How Smart Animals Are? (2016), which revealed the sophistication of animals' brains. Here, it is their emotions that take center stage. One of our keenest observers of emotional expressions, body language, and social dynamics, the author demonstrates that pride, shame, guilt, revenge, gratefulness, forgiveness, hope, and disgust all exist in other animals, not just humans. A dying chimpanzee matriarch's farewell to her longtime caretaker provides the title of the book, but this is just the first of many stories about the immenseand uniqueemotional capacities of animals. "I don't expect to ever again encounter an ape personality as expressive and inspiring as Mama's," he writes. De Waal is impatient with scholars who assert that language lies at the heart of emotions, that feelings cannot be expressed without language. Sometimes he names names; sometimes he simply dismisses their ideas as nonsense. Most of the author's observations involve the spontaneous behavior of chimpanzees, bonobos, and other primates, but readers will also be rewarded with tales of birds, dogs, horses, elephants, and rats. As he has shown in nearly all of his books, de Waal is a skilled storyteller, and his love for animals always shines through. His examples of the actions of certain humanse.g., Donald Trump, Sean Spicerlend color to his argument, and the simple drawings that illustrate behaviors and facial expressions are exceptionally clear and effective.De Waal turns his years of research into a delightful and illuminating read for nonscientists, a book that will surely make readers want to grab someone's arm and exclaim, "Listen to this!" Copyright Kirkus Reviews, used with permission.
---
Library Journal
(c) Copyright Library Journals LLC, a wholly owned subsidiary of Media Source, Inc. No redistribution permitted.

Ethologist and zoologist de Waal (Emory Univ.; Are We Smart Enough To Know How Smart Animals Are?) uses his discoveries from a lifetime of studying primates to explore similarities in human and animal emotions, with a particular interest in reconciliation and conflict resolution. He argues that behaviorism—a focus on observable behavior—has led to the idea that animals only react to outside stimuli. He discusses the effects of this view on human-animal relations. Building on previous studies, the author advocates for the existence of a more complex emotional life in animals. He criticizes the theory that humans and animals act first in their own selfish interest; rather, he sees social connectivity as an essential component of both human and animal societies. He concludes with a plea to rethink the way humans treat animals, especially those we raise for our own use. Applying wide-ranging examples, from primates to schools of fish, he skillfully illustrates that emotions are an essential part of intellect for all species. VERDICT Recommended for readers with an interest in the crossroads of animal and human life.—Caren Nichter, Univ. of Tennessee at Martin © Copyright 2019. Library Journals LLC, a wholly owned subsidiary of Media Source, Inc. No redistribution permitted.