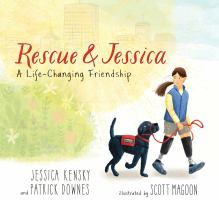 School Library Journal
(c) Copyright Library Journals LLC, a wholly owned subsidiary of Media Source, Inc. No redistribution permitted.

K-Gr 3-The author's true story of her friendship with her service dog. Rescue, a young pup is training to become a service dog, learning to fetch things, to open doors, and even to turn on lights. Jessica is recovering from an injury to both of her legs and is getting acclimated to using prosthetics and walking again. Each is worried about their skills and their futures, but when they are eventually paired, it is an instant connection and realization that they can do so much together. The power of their relationship is made quite clear throughout the book. Kensky, and her coauthor and husband Downes, were both injured in the 2013 Boston Marathon bombing and have chosen to leave that particular detail out of the primary narrative. Instead, they focus on the work that Rescue does to aid Jessica every day and the intensity of their relationship. Magoon's digital illustrations are a lovely accompaniment to the text, providing rich detail to the spare story, and the scenes of Jessica and Rescue playing and working with the Boston skyline as a backdrop only add to the poignancy. -VERDICT This is a strong selection for any collection, and stories about working dogs never get old; this will be appreciated and enjoyed by a wide variety of young people.-Jody Kopple, Shady Hill School, Cambridge, MA © Copyright 2018. Library Journals LLC, a wholly owned subsidiary of Media Source, Inc. No redistribution permitted.
---
Publishers Weekly
(c) Copyright PWxyz, LLC. All rights reserved

These married authors, who each lost legs in the 2013 Boston Marathon bombings and have a service dog named Rescue, affectingly weave fact and fiction in their debut book. Jessica, a fictional child, is a hospital patient recovering from an unspecified injury; ¿both of her legs were badly hurt,¿ and her left leg was amputated. While she learns to walk with a prosthetic leg (though she¿s ¿frustrated and sad about the things she still couldn¿t do¿), a frisky black Lab is being trained as a service dog nearby. Jessica¿s spirits improve measurably once she adopts Rescue, and, after her right leg is removed in a second surgery, the intuitive, intelligent dog helps Jessica adjust to her new life, emotionally and physically. Kensky and Downes streamline their character¿s medical ordeal and her process of learning to walk again, highlighting the moments of quiet victory as well as those of despair. Magoon¿s (I Have a Balloon) realistic digital illustrations poignantly capture these experiences, offering images of the girl and dog that emphasize the fact that theirs is a mutual rescue. The artist, who like the authors is a Boston resident, provides affectionate, sunlit glimpses of that city¿including one featuring a mother duck swimming with her ducklings. Ages 5¿9. Authors¿ agent: Clelia Gore, Martin Literary Management. (Apr.)
---
Book list
From Booklist, Copyright © American Library Association. Used with permission.

*Starred Review* This riveting story about the relationship between a disabled girl and her black lab service dog is based loosely on Kensky's own experiences as a double amputee. The author's note mentions how she and husband Downes were injured in the Boston Marathon bombing in 2013, but readers don't need to know this to be caught up in the story. The book follows two struggles: that of Rescue, a lab in training as a service dog, and of Jessica, a girl hospitalized by an injury, who must learn to cope with prosthetics, a wheelchair, and a whole new world of challenges. Both are worried about their futures in the world Rescue about performing his service duties, and Jessica over relearning everyday activities. The digital illustrations wonderfully underscore Jessica's journey from darkness (the overview of her hospital bed shows her family surrounded by blackness, for example) to light the pages are filled with gold, green, and movement once Jessica and Rescue start working together. Throughout, the reader is treated to fascinating details on the many tasks service dogs can accomplish and, more important, how Jessica and Rescue saved each other. An inspiring tale of compassion and perseverance.--Fletcher, Connie Copyright 2018 Booklist
---
Kirkus
Copyright © Kirkus Reviews, used with permission.

A service dog helps a white girl adjust to the loss of her legs in a story based on true events.After failing training to be a guide dog, Rescue, a black Lab, worries about learning to be a service dog. And after her left leg is amputated, Jessica worries about learning to walk again. When Rescue becomes her service dog, they overcome their fears together. Kensky (on whom the character Jessica is based) and Downes, both amputees themselves, state in simple sentences how Rescue and Jessica adapt to physical and emotional changes. Rescue learns new tasks, such as retrieval. Jessica learns new ways to stand and walkfirst on one prosthetic leg, then, after her injured right leg is also amputated, on two. Soft digital illustrations depict their respective challenges. (Readers will note that one illustration seems incongruousthe picture accompanying the text "Rescue brought her the things she needed" shows Rescue pressing a crosswalk signal button.) The authors don't dwell on Jessica's frustration; Rescue's buoyant effect on her well-being makes pity impossible. Magoon uses dark backgrounds to symbolize Jessica's sadness and fear, but scenes with Rescue are open and bright; with Rescue nearby, even the night after her second amputation is lightened (via lamplight and stars). An authors' note reveals that both are survivors of the 2013 Boston Marathon bombing and includes information on National Education for Assistance Dog Services, the organization that trained Rescue.A gentle introduction to service dogs and acquired disability. (Picture book. 4-6) Copyright Kirkus Reviews, used with permission.
---
Horn Book
(c) Copyright The Horn Book, Inc., a wholly owned subsidiary of Media Source, Inc. No redistribution permitted.

Disappointed Rescue becomes a service dog rather than a seeing eye dog; meanwhile, human Jessica learns her leg has been amputated. Brought together, they form a powerful, caring bond working as a team. Based on a true story, the quiet and stirring text pairs beautifully with the spot art and full-page illustrations, which use color and white space to convey time, meaning, and emotion with great effect. (c) Copyright 2018. The Horn Book, Inc., a wholly owned subsidiary of Media Source, Inc. No redistribution permitted.