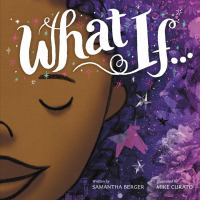 Horn Book
(c) Copyright The Horn Book, Inc., a wholly owned subsidiary of Media Source, Inc. No redistribution permitted.

A little black girl with flowing violet hair guides readers through her creative process, guided by a limitless imagination: "what if that pencil one day disappeared? / I'd fold up the paper till stories appeared." The popping pink-and-purple mixed-media illustrations--incorporating sculpture, origami, collage, photography, and more--gorgeously underscore the message that an artist is more than her tools. (c) Copyright 2019. The Horn Book, Inc., a wholly owned subsidiary of Media Source, Inc. No redistribution permitted.
---
Publishers Weekly
(c) Copyright PWxyz, LLC. All rights reserved

"With a pencil and paper, I write and draw art/ to create many stories that come from my heart." But what if the young narrator of this story didn't have a pencil? In ways that may remind readers of the lullaby "Hush Little Baby," this brown-skinned, purple-haired girl is always thinking about her next move. No pencil? She'd make origami. No paper? She'd "chisel the table and then carve the chair" or create a wall-size sun by strategically peeling away paint. Ultimately, it's her imagination-celebrated with a gatefold close-up of the girl deep in thought-and unfaltering determination to create that matter. "If I had nothing, but still had my mind," writes Berger (Monster's New Undies). "There'd always be stories to seek and find." Curato's collaged and found-object illustrations meet the creative challenges the text all but demands with moments of giddy inventiveness: a dragon created from fall leaves, a solar system rendered in dirt and marbles, and a snow scene made of marshmallows and sugar. Ages 4-8. Agent: Brenda Bowen, Sanford J. Greenburger Assoc. (Apr.) © Copyright PWxyz, LLC. All rights reserved.
---
Kirkus
Copyright © Kirkus Reviews, used with permission.

A testament to the power of an imaginative mind.A compulsively creative, unnamed, brown-skinned little girl with purple hair wonders what she would do if the pencil she uses "to createstories that come from my heart" disappeared. Turns out, it wouldn't matter. Art can take many forms. She can fold paper (origami), carve wood, tear wallpaper to create texture designs, and draw in the dirt. She can even craft art with light and darkness or singing and dancing. At the story's climax, her unencumbered imagination explodes beyond the page into a foldout spread, enabling readers both literally and figuratively to see into her fantasy life. While readers will find much to love in the exuberant rhyming verse, attending closely to the illustrations brings its own rewards given the fascinating combinations of mixed media Curato employs. For instance, an impressively colorful dragon is made up of different leaves that have been photographed in every color phase from green to deep red, including the dragon's breath (made from the brilliant orange leaves of a Japanese maple) and its nose and scales (created by the fan-shaped, butter-colored leaves of a gingko). Sugar cubes, flower petals, sand, paper bags, marbles, sequins, and lots more add to and compose these brilliant, fantasy-sparking illustrations.This extraordinary book will make it hard for any child reader to settle for the mundaneness of reality. (Picture book. 3-7) Copyright Kirkus Reviews, used with permission.
---
Book list
From Booklist, Copyright © American Library Association. Used with permission.

As a young artist sits down to consider her work, she wonders what would happen if her pencil disappeared? While imagining paper flowers, cranes, and unicorns, she knows she'd take the paper she's drawing on and fold it into art. And if there was no paper? She'd chisel the table she's writing on and chair she sits upon. Thus begins a mixed-media exploration of what it means to be an artist. The nameless protagonist, a stand-in for any youngster driven by creative tides, daydreams in explosive, bright colorscapes. Curato's collages, featuring ink, pencil, acrylics, and more, make beautiful backdrops that pop, contrast, and fill each spread with life. Even wood shavings shine in burnished, textured glory. What's more, Berger's inspiring message, drawn from her own experience of losing the tools to make her art during a natural disaster, uplifts and demonstrates the unstoppable spirit of creativity. As the final illustration showcases the variety of expressions (dance, digital art, scientific discovery), many young artists will come away connected and affirmed.--Jones, Courtney Copyright 2018 Booklist
---
School Library Journal
(c) Copyright Library Journals LLC, a wholly owned subsidiary of Media Source, Inc. No redistribution permitted.

PreS-Gr 2-In a first-person narrative, a young African American girl declares that nothing can keep her from creating. ("What if that pencil one day disappeared? I'd fold up the paper till stories appeared.") As she continues to imagine her the disappearance of her supplies, she invents new ways to create, by chiseling wood, drawing in the dirt, and using leaves, snow, and sand as her media. As more and more resources are withdrawn, the child makes shadows, tells stories, and dances. Until "If I had nothing, but still had my mind; there would always be stories to seek and to find." The story's origins are events from the author's own life. Berger shares in the notes that she wondered how she would be able to create when she was forced out of her home by a flood. She improvised, and in doing so realized that those who are "compelled to create.will always find a way." Curato was inspired by Berger, and reflects that in digital collages of household and found objects offset with charming pen-and-ink drawings of the young protagonist. The story is sandwiched between two exterior depictions of the narrator's apartment building. At the start of the book, she can be seen through a window, working at her desk. At the end of the book, the windows illuminate all the creators nearby; a man playing violin, a woman decorating a cake, and singers, dancers, painters, and needle workers. -VERDICT This inspirational read-aloud provides ample opportunity for discussion and creation from beginning to end. A necessary addition for most collections.-Lisa Lehmuller, Paul Cuffee Maritime Charter School, Providence © Copyright 2018. Library Journals LLC, a wholly owned subsidiary of Media Source, Inc. No redistribution permitted.