by Sarah Bakewell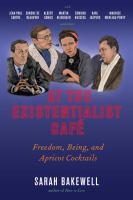 Publishers Weekly
(c) Copyright PWxyz, LLC. All rights reserved

Bakewell (How to Live) brilliantly explains 20th-century existentialism through the extraordinary careers of the philosophers who devoted their lives and work to "the task of responsible alertness" and "questions of human identity, purpose, and freedom." Through vivid characterizations and a clear distillation of dense philosophical concepts, Bakewell embeds the story of existentialism in the "story of a whole European century," dramatizing its central debates of authenticity, rebellion, freedom, and responsibility. Albert Camus, Martin Heidegger, Edmund Husserl, and Maurice Merleau-Ponty all strut and fret across the stage, with cameos from Richard Wright, James Baldwin, and Iris Murdoch, among others. Casting his shadow over all is Jean-Paul Sartre, perhaps existentialism's most famous face, and beside him Simone de Beauvoir, whose feminist masterpiece The Second Sex, was as "revolutionary in every sense" as Sartre's Being and Nothingness and Heidegger's Being and Time. Bakewell illustrates how existentialism contributed to "almost all the great liberation movements" of the 1950s and '60s, arguing persuasively for its continued relevance. This ambitious book bears out Bakewell's declaration that "thinking should be generous and have a good appetite," and that for philosophers and the general reader alike, "ideas are interesting, but people are vastly more so." Photos. (Mar.) © Copyright PWxyz, LLC. All rights reserved.
---
Choice
Copyright American Library Association, used with permission.

Bakewell (Univ. of Oxford, UK) laces together the lives of many of the major and minor figures responsible for existentialism, the philosophical view that holds that one's experiential existence is of utmost importance for action and reflection. The main proponents of the movement, Jean-Paul Sartre and Simone de Beauvoir, pulled various strands of philosophy and other art forms together into a set of compelling personal life strategies. The problem has always been in the details: just what is involved in an existentialist life? Bakewell does a magnificent job connecting the personal events in thinkers' lives with their philosophical views without oversimplifying or avoiding existentialism's inherent ambiguity. However, what can seem like biographical voyeurism may seem irrelevant to the project of evaluating existentialist propositions. Still, the stories of these people are interesting if not always riveting, and readers will find it much easier to grapple with the challenging material when it is presented in this form (as distinguished from going to the primary sources). Summing Up: Recommended. Lower- and upper-division undergraduates; general readers. --Phil Jenkins, Marywood University
---
Library Journal
(c) Copyright Library Journals LLC, a wholly owned subsidiary of Media Source, Inc. No redistribution permitted.

"What is existentialism anyway?" asks Bakewell in her tremendous new work, and you're wrong if you find that question irrelevant to your life. As articulated by Jean-Paul Sartre and his confreres, existentialism is so wound up in contemporary culture that we think it, speak it, and encounter it daily-consider, for instance, those moody existential film heroes and the angst driving our self-improvement schemes. After completing her National Book Critics Circle Award winner, How To Live: Or A Life of Montaigne in One Question and Twenty Attempts at an Answer, Bakewell ambitiously launched on a project to revisit this passion of her youth. Along with her rigorous and clarifying explanations of existentialism as project, sensibility, and evolution from the phenomenology of Edmund Husserl and Martin Heidegger (finally, you'll understand what all these philosophers were talking about), she offers refreshing reaction and context that make this book a journey for the reader as well as the writer. Though she focuses on the philosophy, Bakewell also probes biography, detailing the relationship between Sartre and Simone de Beauvoir, for instance, and taking Heidegger's Nazi associations head-on. There's humanizing cheekiness, too; after explaining how each philosopher fell out with a predecessor, Bakewell adds, "Arthur Koestler fell out with everyone and punched Camus in the street." VERDICT Highly recommended for anyone who thinks. [See "Editors' Spring Picks," p. 29.]-Barbara Hoffert, Library Journal © Copyright 2016. Library Journals LLC, a wholly owned subsidiary of Media Source, Inc. No redistribution permitted.
---
Book list
From Booklist, Copyright © American Library Association. Used with permission.

*Starred Review* Bakewell follows her celebrated study of Montaigne (How to Live, 2010) with a lively appraisal of existentialism and its leading thinkers. This is no easy task: some argue that existentialism is more of a mood or an aesthetic than a philosophy, and even those who agree that it is a philosophy often end up in fisticuffs over how to define it. Avoiding such potholes, Bakewell focuses upon key individuals Jean-Paul Sartre, Simone de Beauvoir, and Martin Heidegger and on their interactions with each other and with the historical circumstances of the harsh twentieth century. With coverage of friendship, travel, argument, tragedy, drugs, Paris, and, of course, lots of sex, Bakewell's biographical approach pays off, in part because certain abstractions, like Sartre's enigmatic notion of freedom, seem to make more sense when one knows something about the man's mess of anxieties and personal entanglements. Sartre is portrayed sympathetically, his erratic late-career work and controversial politics accepted as part of an imperfect life lived in pursuit of noble ideals; Heidegger, with his questionable postwar rehabilitation and inward-turned gloominess, less so. And de Beauvoir emerges as very much the hero: humanistic, prescient, and fearless. The result is an engaging story about a group of passionate thinkers, and a reminder of their continued relevance.--Driscoll, Brendan Copyright 2016 Booklist