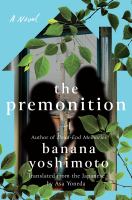 Kirkus
Copyright © Kirkus Reviews, used with permission.

A young woman's relationship with her eccentric aunt leads her to startling revelations about her life and her past. Nineteen-year-old Yayoi is haunted by an inability to remember her past. She has an uncanny sense of the future, however: She can often sense who will be on the phone when it begins ringing. After an odd vision in her family's bathroom, she becomes unsettled enough to leave home, landing on the doorstep of her young aunt, Yukino. Yukino is only about 11 years Yayoi's senior, but she has already settled into a "spinster" persona, living alone in a large, cluttered house and teaching music at a local high school. When Yayoi begins to press Yukino for answers to questions she has about her blurry past, the pieces of Yayoi's past—and future—begin to fall into place. This short novel was first published in Japan in 1988, but its floaty interiority feels timeless. (Even Yukino's obsession with the Friday the 13th films still feels plausible.) In some ways, this is an archetypal coming-of-age story about being young and needing to leave home in order to gain clarity, but both the style and the plot particulars (including a slightly off-kilter love story subplot) set it apart. Translator Yoneda elegantly renders Yoshimoto's synesthetic descriptions and atmospheric settings, which range from Tokyo to numerous rural locales. Yoshimoto has become a happier writer—or at least more interested in writing happy characters—as her career has unfolded. But this melancholy bildungsroman acknowledges the way that leaving behind adolescence can evoke the bittersweet sensation of waking up from a strange and vivid dream. "Only by coming through it," Yayoi thinks of her visit to Yukino, "could I get to living the rest of my life." Worth the 35-year wait for Yoshimoto's Anglophone fans. Copyright © Kirkus Reviews, used with permission.
---
Book list
From Booklist, Copyright © American Library Association. Used with permission.

Over nearly four decades, Yoshimoto has settled comfortably into being one of Japan's most beloved contemporary authors. The Premonition is one of her earliest novels, originally published in Japan in 1988. Yoneda returns as translator—this is her third collaboration, after Dead-End Memories (2022) and Moshi Moshi (2016)—offering fluid consistency in delivering Yoshimoto's distinctly uncomplicated, lucid writing. Yayoi's life thus far—she's 19, the older of two children—has been blessed. "We were the picture of a happy middle-class family, like you'd see in a Spielberg movie." Despite the contentment, she can't seem to access her childhood memories, but now, "[t]here's something even more important . . . [she's] forgetting." She's experiencing "a premonition of understanding. The feeling [she] might be just about to uncover something," which she can only do by seeking out her "eccentric" aunt who further initiates faraway journeys of discovery. Yoshimoto infuses the familiar coming-of-age experience (leaving home, separation from parents) with (of course) unusual twists—sibling reunions, unconventional lovers, even Friday the 13th (no, really!) marathons.
---
Publishers Weekly
(c) Copyright PWxyz, LLC. All rights reserved

This brisk 1988 novel from Yoshimoto (The Lake) appears in English for the first time in an adroit translation from Yoneda. The story centers on Yayoi, a precocious 19-year-old who displayed clairvoyant traits as a child. Her mother tells her that when she was a little girl, she would answer the phone and say who was calling ("Even people you didn't know, and you were almost always right"). Yayoi feels inexplicably drawn to her eccentric aunt who lives in a large dilapidated house and teaches at a music college, and has a nagging sense that she's forgotten something important from her childhood. Slowly, her premonitions become revelations, through dreams and visions, as she begins to piece together all she has forgotten, and the truth of her childhood is confirmed by her aunt and her brother, Tetsuo. Yoshimoto builds a satisfying narrative of a young girl figuring out who she is, and how her family may be more than she realized. While much of the plot hinges on Yayoi's preternatural intuitions, each step is carefully plotted to slowly unearth the secrets of the past. No word is misspent in Yoshimoto's taut tale. (Oct.)