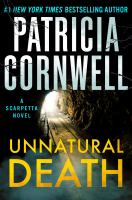 Book list
From Booklist, Copyright © American Library Association. Used with permission.

When two campers wanted by the police turn up dead in the forest, quite badly mutilated, Virginia's chief medical examiner, Kay Scarpetta, is faced with a number of questions. This, the twenty-seventh Scarpetta novel, is an especially good entry in the series. Cornwell has always kept Scarpetta (and readers) guessing, but this mystery is even more baffling—in a good way!—than most. How do people accused of nonviolent crimes wind up dying in the most violent ways imaginable? Who's responsible? Is the fact that their bodies are almost unrecognizable, making it difficult to confirm their identities, possibly a clue? And to whom does that unusually large footprint near the crime scene belong? Several years ago, it seemed as though the Scarpetta series had lost its way, but, thankfully, the series has since returned to top form. And in top form, a Scarpetta novel is almost unmatched in the mystery genre. Enthusiastically recommended to Cornwell's fans. Larger libraries may want to stock multiple copies.
---
Kirkus
Copyright © Kirkus Reviews, used with permission.

Kay Scarpetta travels deep into rural Virginia to retrieve the bodies of two potential spies who have been savaged by a seemingly invisible assassin–or maybe it was Bigfoot?! After a dismally busy Halloween night at Virginia's Office of the Chief Medical Examiner, Scarpetta is preparing to join her niece, Secret Service agent Lucy Farinelli, to travel by helicopter to claim the bodies of Huck and Brittany Manson, owners of an outdoor gear store who are suspected of spying for the Russians and/or the Chinese. Much of the novel is taken up by this retrieval mission, relayed in typical Cornwell fashion with a great deal of detail and description about preparation and procedure. The Mansons' bodies are ravaged, the campsite is destroyed, and the trail cameras the Secret Service hacked failed to capture the assailant. Investigator, staunch Scarpetta ally, and Bigfoot enthusiast Pete Marino is already on the ground and has taken a cast of an enormous footprint near one of the bodies. When they return to Richmond with the bodies for autopsy, Scarpetta faces off with a former employee who is seeking to discredit her. Her sense of unease about the situation grows when husband Benton Wesley, now advising the Secret Service, and a group of government officials insist on remotely observing the autopsy. She finds a micro hard drive embedded in Brittany's hip, which seems to be what the murderer was seeking but failed to locate. It's been more than 30 years since Scarpetta's debut, and she's still seeking dignity for the victims under her care while fighting against shadowy government forces and long-standing nemeses. The past several novels have re-introduced a foe previously presumed dead, and this one continues to leave that storyline wide open. Formulaic, but there's still enough for the loyalists. It's a safe bet that Scarpetta will return. Copyright © Kirkus Reviews, used with permission.
---
Publishers Weekly
(c) Copyright PWxyz, LLC. All rights reserved

In Cornwell's overstuffed 28th adventure for Scarpetta (after Livid), the medical examiner joins with other recurring characters to solve a pair of brutal murders. Scarpetta and Pete Marino, her longtime associate and brother-in-law, are called to the wilderness of Buckingham Run in northern Virginia to examine the corpses of outdoor enthusiasts Huck and Brittany Manson. Brittany's nude body was found floating in a lake, impaled by two hiking poles; Huck, also nude and mutilated, was discovered in a nearby mine shaft, his body caught in collapsed wooden scaffolding. Why were they killed so savagely? And why does the U.S. government want their autopsies conducted in secret? The deeper Scarpetta and Marino dig, the more questions emerge, with early evidence pointing toward an international terrorist organization bent on bringing down the U.S. Cornwell burdens her narrative with an excess of subplots, including dull glimpses of Marino's rocky marriage, the discovery of a potential Bigfoot print, and political in-fighting at Scarpetta's office, all of which cause the pace to drag. Even hardcore fans might struggle with this one. (Nov.)