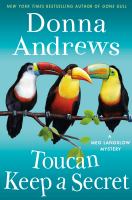 Library Journal
(c) Copyright Library Journals LLC, a wholly owned subsidiary of Media Source, Inc. No redistribution permitted.

Dashing over to Trinity Episcopal to check on the toucan the reverend is fostering, Meg Langslow finds an elderly parishioner murdered in the columbarium among the ashes of overturned urns. It soon materializes that someone broke in to steal the toucan and might be the murderer, too. A big 23rd in the award-winning series.
---
Publishers Weekly
(c) Copyright PWxyz, LLC. All rights reserved

Agatha-winner Andrews's lively 23rd Meg Langslow mystery (after 2017's How the Finch Stole Christmas) finds ornamental blacksmith Meg occupied with administrative duties at Trinity Episcopal Church in Caerphilly, Va., while her friend the rector, Robyn Smith, is on medical leave. In the church's place for cremated remains, Meg stumbles across the body of Junius Hagley, one of the church's more persnickety parishioners. Various remains have been disturbed, and a ring found near the body raises new questions about the long-ago van der Lynden jewel robbery. The van der Lynden son and accomplices were sent to prison, but the jewels were never recovered. Meg juggles interviews with relatives of the departed and those affected by the robbery, potential threats against a toucan present at the murder, and ways to keep her medical examiner father-an enthusiastic amateur criminologist-out of the hair of the harried police chief. Even if some readers might guess the perpetrator, they will surely enjoy a re-enactment of the robbery with earnest actors and ingenious substitutes for firearms. This long-running cozy series shows no signs of losing its freshness. Agent: Ellen Geiger, Frances Goldin Literary Agency. (Aug.) © Copyright PWxyz, LLC. All rights reserved.