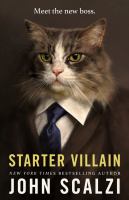 Library Journal
(c) Copyright Library Journals LLC, a wholly owned subsidiary of Media Source, Inc. No redistribution permitted.

When underemployed Charlie Fitzer inherits his late uncle's parking-lot empire, he discovers that Uncle Jake was actually running a supervillain business. Charlie has already learned all he needs to know in the cutthroat world of substitute teaching, so he's as ready as he'll ever be—meaning not very much—to keep himself alive while the true masters of the universe take care of his uncle's downright evilly incompetent enemies, one brilliant scheme at a time. Combining the sarcastic humor of Scalzi's Redshirts with an origin story for James Bond—like supervillains operating with the competence-porn-level efficiency and work ethic of Hench by Natalie Zina Walschots, this story of snark with a heart reminds readers that the logical conclusion of "dogs have owners, cats have staff" is that cats are management and never let anyone forget it. VERDICT Readers of humorous fantasy are sure to love Scalzi's latest (after The Kaiju Preservation Society) as much as those cats; it's also for those who enjoy seeing superhero stories folded, twisted, and mutilated and anyone wishing for a righteous villain lair surrounded by intelligent sharks. Highly recommended.—Marlene Harris
---
Kirkus
Copyright © Kirkus Reviews, used with permission.

Some people are born supervillains, and others have supervillainy thrust upon them. Charlie Fitzer, a former business journalist–turned–substitute teacher, is broke and somewhat desperate. His circumstances take an unexpected and dangerous turn when his estranged uncle Jake dies, leaving his business—i.e., his trillion-dollar supervillain empire—to Charlie. Charlie doesn't really have the skills or experience to manage the staff of the volcano lair, and matters don't improve when he's pressured to attend a high-level meeting with other supervillains, none of whom got along with his uncle. With the aid of his uncle's No. 1, Mathilda Morrison, and his cat, Hera (who turns out to be an intelligent and typing-capable spy for his uncle's organization), Charlie must sort out whom he can trust before he gets blackmailed, blown up, or both. This book serves as a follow-up of sorts to Scalzi's The Kaiju Preservation Society (2022) in that both are riffs on genre film tropes. The current work is fluffier and sillier than the previous novel and, indeed, many of Scalzi's other books, although there is the occasional jab about governments being in bed with unscrupulous corporate enterprises or the ways in which people can profit from human suffering. This is one of many available stories about a good-hearted Everyman thrust into fantastical circumstances, struggling to survive as a fish out of water, and, while well executed for its type, the plot doesn't go anywhere that will surprise you. Fun while it lasts but not one of Scalzi's stronger books. Copyright © Kirkus Reviews, used with permission.
---
Book list
From Booklist, Copyright © American Library Association. Used with permission.

Charlie Fitzer is working as a substitute teacher, trying to get his life back on track after a divorce, being laid off, and caring for his recently passed father. The death of his Uncle Jake, who he has not had contact with in decades, makes the financial news for the fortune he made owning and managing a parking empire. Charlie receives a request from a representative of Uncle Jake's: represent Jake at the memorial service. It's an offer Charlie can't refuse in his financial situation. But the funeral starts with some odd attendees and an attempted stabbing of the corpse, and leads to Charlie learning Uncle Jake's business was much more complicated than just parking. He has to quickly come to terms with his newly inherited villain empire including sentient cat agents, a dolphin contingent considering a work action, and weaponized satellites for starters—all this while facing competition from other, more traditionally evil villains who Uncle Jake made a habit of either outwitting or undermining. Scalzi (The Kaiju Preservation Society, 2022) again examines tropes in a tale of an ordinary individual being cast into an extraordinary situation with his trademark quick pacing, clever banter, and ability to find humor in desperate situations. HIGH-DEMAND BACKSTORY: With a large print run and a clever premise, Scalzi's latest will appeal to his legion of fans and draw in new ones.
---
Publishers Weekly
(c) Copyright PWxyz, LLC. All rights reserved

In this clever, fast-paced thriller, Hugo Award winner Scalzi (The Kaiju Preservation Society) subverts classic supervillain tropes with equal measures of tongue-in-cheek humor and common sense. For years, business reporter–turned–substitute teacher Charlie Fitzer has struggled to find purpose; his current goal is to buy a pub just for a change of pace. Then his uncle Jake, a reclusive billionaire owner of parking structures, dies. Charlie, as Jake's closest living relative, stands to inherit everything—but what he doesn't realize is that his uncle was really an evil genius straight out of a James Bond movie. After the funeral, to which goons show up just to make sure Jake is really dead, a bomb destroys Charlie's house, leading him to move into his uncle's secret island volcano lair, complete with a satellite-destroying death ray and genetically modified superintelligent cats. Danger comes in the form of the Lombardy Convocation, a coalition of fellow evil billionaires who secretly rule the world and want Charlie to join them or die. Scalzi balances all the double-crosses and assassination attempts with ethical quandaries, explorations of economic inequality, and humor, including some foul-mouthed unionizing dolphins. The result is a breezy and highly entertaining genre send-up. Agent: Ethan Ellenberg, Ethan Ellenberg Literary. (Sept.)