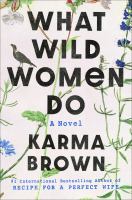 Book list
From Booklist, Copyright © American Library Association. Used with permission.

Screenwriter Rowan and her boyfriend, Seth, escape to a cabin in the Adirondacks hoping to reconnect with their creativity, which was sapped by the stress of the pandemic. While walking in the woods, Rowan stumbles upon an abandoned camp that was owned by wealthy, eccentric Eddie Callaway, who hosted women's retreats on the property until her mysterious disappearance in the mid-1970s. According to a note that Rowan and Seth find, Eddie hid a life-changing treasure somewhere in the woods. Alternate chapters present the story of Camp Callaway from Eddie's perspective, showing how she went from a wealthy wife to a freewheeling feminist determined to help women discover their inner power. Brown (Recipe for a Perfect Wife, 2020) cleverly converges the two story lines, emphasizing some of the common threads in the women's lives while resolving both the mystery of Eddie's disappearance and the location of the hidden treasure, and the descriptions of the natural beauty and peace of the forest will have readers longing for an escape of their own. Readers who enjoy dual-time-period novels featuring strong women characters will be delighted.
---
Kirkus
Copyright © Kirkus Reviews, used with permission.

Lives interweave as two women in very different circumstances go on journeys of self-discovery. In 2021, Rowan Fairfax is at a crossroads. She's running out of money, her dreams of being a screenwriter feel hopelessly out of reach, and she has growing doubts about her boyfriend, Seth, who has put his novel on the back burner in order to focus on a YouTube channel documenting their life. So when the two plan to spend a month in the Adirondacks as a creative refresh, she's hopeful this will get both their lives back on track. But what awaits in the wilderness is more than she bargained for: Rowan stumbles upon the mystery of Eddie Callaway, a former socialite, who left the world of high society after her 18-year-old son died and returned to the campground owned by her parents to seek out a new, freer, life for herself, and to empower other women to do the same. Then, just a few years later, she disappeared. Alternating between Rowan's and Eddie's stories, Brown paints a picture of two women with very different lives animated by a similar desire to find themselves, have fulfilling relationships, and do good for the world. As Eddie works toward new meaning in her life, Rowan struggles to do the same. Brown does a nice job of fleshing out Eddie's character, but falls short with both Rowan and Seth; readers will rush through their chapters in order to get back to Eddie's more engaging experiences. Nonetheless, Eddie's story has just enough intrigue and pathos to keep a reader's attention, despite a somewhat heavy-handed moral. Middling story about women's empowerment with a few touching moments. Copyright © Kirkus Reviews, used with permission.
---
Publishers Weekly
(c) Copyright PWxyz, LLC. All rights reserved

In Brown's solid latest (following Recipe for a Perfect Wife), a budding screenwriter leaves Los Angeles with her boyfriend for the Adirondack Mountains, where she encounters the ruins of a 1970s feminist camp. Thirty-year-old Rowan is trying to jump-start her career alongside Seth, who is trying to write the Great American Novel. After their service jobs dry up in L.A. during the pandemic, the couple decides to rent a cabin in the Adirondacks to work on their writing. But Seth is more interested in building their YouTube channel than writing his novel, and after Rowan accidentally posts a tell-all video after a night of drinking that says the channel portrays a glossied version of their lives, the relationship deteriorates. They meet a pair of ornithologists who tell them about Camp Callaway, a cabin retreat established by a wealthy family at the turn of the 20th century, which later became a feminist women's camp headed by Edith "Eddie" Callaway, who disappeared in 1975. While Seth is preoccupied with social media, Rowan vows to find out the truth behind Eddie's disappearance, which will change the course of her life. The story is told in dual timelines, and while Brown convincingly depicts Rowan's arc, the '70s sections following Eddie take a few chapters to get going and find a rhythm. Though familiar, this will satisfy readers looking for an entertaining mystery. (Oct.)