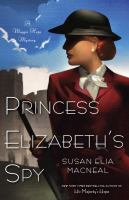 Library Journal
(c) Copyright Library Journals LLC, a wholly owned subsidiary of Media Source, Inc. No redistribution permitted.

Churchill and the crew at 10 Downing Street move their fledgling spy, -Maggie Hope, into Windsor Castle ostensibly as a math tutor for 14-year-old Princess -Elizabeth, but really because they've been alerted to a possible kidnapping plot. While Maggie learns the ins and outs of royal society, she also endears herself to Elizabeth and her sister Margaret by teaching them simple codes and math games. Then one of the ladies-in-waiting is killed on the grounds, and Maggie finds an unexpected clue in the victim's bookcase. As in all good spy thrillers, the clock is ticking, and soon Maggie's job will be more dangerous and complicated than she calculated. VERDICT MacNeal's sophomore historical outing (after Mr. Churchill's Secretary) synchronizes perfectly with the 60th anniversary of Queen Elizabeth II's reign. With a smart, code-breaking mathematician heroine, abundant World War II spy intrigue, and a whiff of romance, this series has real luster. The author leaves readers with a mind-boggling conclusion that hints at Maggie's next assignment. (c) Copyright 2012. Library Journals LLC, a wholly owned subsidiary of Media Source, Inc. No redistribution permitted.
---
Book list
From Booklist, Copyright © American Library Association. Used with permission.

Discouraged when she washes out in MI-5 physical training in late 1940, Maggie Hope is less than pleased to be assigned to Windsor Castle, ostensibly to tutor Princess Elizabeth in maths. A math whiz raised in America by an aunt, she aspires to be a spy on the continent. Just after she reaches the castle, a lady-in-waiting riding with the two princesses is killed, leaving Maggie wondering if the victim was really the intended target. Fourteen-year-old Elizabeth proves an apt student, even fortuitously devising a code, as Maggie successfully handles covert tasks and conceals personal concerns. (Her almost-fiance, whose proposal she turned down because he was joining the RAF, is missing after being shot down over Germany.) MacNeal captures the atmosphere of wartime Britain, with its populace keeping a stiff upper lip, and Maggie is as spunky as she is smart, showing backbone yet acknowledging error. This sequel to Mr. Churchill's Secretary (2012) is historical mystery true to its time, with concluding plot twists that pave the way perfectly for future entries in an up-and-coming series.--Leber, Michele Copyright 2010 Booklist
---
Publishers Weekly
(c) Copyright PWxyz, LLC. All rights reserved

Early in WWII, after the Battle of Britain, fears of a German invasion of England remain high in MacNeal's enjoyable sequel to Mr. Churchill's Secretary. American expat Maggie Hope, formerly the prime minister's secretary, is training in Scotland to become a spy for MI5. Dismissive of so-called "women's work," Maggie reluctantly accepts her first assignment-to go undercover at Windsor Castle as math tutor to the 14-year-old Princess Elizabeth. After the initial, somewhat slow scene-setting chapters, which depict scheming Nazis as well as the dubious loyalty of the duke and duchess of Windsor, the plot picks up momentum with false starts, double agents, and red herrings. MacNeal provides a vivid view of life both above and below stairs at Windsor Castle. Excerpts from actual news broadcasts and speeches by the future Elizabeth II and Churchill add historical authenticity. Agent: Victoria Skurnick, Levine Greenberg Literary. (Oct.) (c) Copyright PWxyz, LLC. All rights reserved.