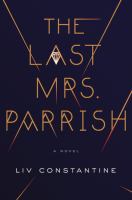 Publishers Weekly
(c) Copyright PWxyz, LLC. All rights reserved

To the pantheon of Gone Girl-type bad girls you can now add Amber Patterson, the heroine of this devilishly ingenious debut thriller. Coming from an impoverished background in Missouri, Amber sets her sights on Daphne and Jackson Parrish, a wealthy couple living with their two young children, Bella and Tallulah, in the tony coastal community of Bishops Harbor on Long Island Sound. With singular focus, Amber moves in on the glamorous couple, befriending Daphne and ultimately seducing Jackson as part of her master plan to become the next Mrs. Parrish. The reader watches with shock and delight as Amber cold-bloodedly manipulates Daphne and Jackson and lays waste to anyone else who stands in her way. Then, about halfway through, the point of view switches from Amber's to Daphne's, and we get a surprisingly different take on the story. To say any more would spoil all the twists that Constantine (the pseudonym of sisters Lynne and Valerie Constantine) has in store along the way to a surprising and entirely satisfying ending. Suffice it to say that readers would have to go back to the likes of Ira Levin's A Kiss Before Dying or Patricia Highsmith's The Talented Mr. Ripley to find as entertaining a depiction of a sociopathic monster. Agent: Bernadette Baker-Baughman, Victoria Sanders & Associates. (Oct.) © Copyright PWxyz, LLC. All rights reserved.
---
Library Journal
(c) Copyright Library Journals LLC, a wholly owned subsidiary of Media Source, Inc. No redistribution permitted.

DEBUT Daphne Parrish seems to have the perfect life, complete with a handsome devoted husband, two children, luxurious home, designer clothing, expensive jewelry, and all the pampering and material possessions a woman could ever desire. Amber Patterson wants Daphne's life and makes it her goal to achieve it. She befriends Daphne by tugging at her heartstrings and quickly establishes herself in Daphne's inner circle. Soon, every calculated move Amber makes becomes part of her fiendish plot to snag Jackson Parrish for herself. Will Amber's well-planned strategy yield her prize without Daphne suspecting her motives? Will a seduced Jackson agree to part with his idyllic marriage in exchange for a younger replacement? Readers will learn that things are not always as they seem, as they anxiously await the next bombshell. In their captivating debut novel, coauthors Lynne and Valerie Constantine (under the pen name Liv Constantine) have constructed a deliciously duplicitous psychological thriller that will lure readers until the wee hours and beyond. VERDICT With a plot equally as twisty, spellbinding, and addictive as Gillian Flynn's Gone Girl or Paula Hawkins's The Girl on the Train, this is sure to be a hit with suspense fans. [See Prepub Alert 4/24/17; library marketing.]-Mary Todd Chesnut, Northern Kentucky Univ. Lib., Highland Heights © Copyright 2017. Library Journals LLC, a wholly owned subsidiary of Media Source, Inc. No redistribution permitted.
---
Book list
From Booklist, Copyright © American Library Association. Used with permission.

The twists keep coming in this psychological roller coaster from debut author Constantine, the pen name of sisters Lynne and Valerie Constantine. The novel, which portrays a complicated friendship between two women, opens with Amber Patterson worming her way into the affections of a guileless acquaintance, all the while seeking to leave her humble beginnings behind and bag a trophy husband. No spoilers here, but things don't go as Amber or readers expect. The surprises come amid a sometimes-too-lengthy tale of betrayal and abuse one wishes that Amber's part of the tale, particularly, would speed up but overall this is a satisfying thriller that offers a window into the darker side of glamorous lives and powerful men.--Verma, Henrietta Copyright 2017 Booklist