Nashville Zoo
Nashville Zoo- Sat. July 9 @ 1:00.
Nashville Zoo will bring a macaw, boa, and a surprise mammal to the library to educate us on their habitat, foods, and the teamwork required for their complete care.
Summer Reading Sponsors
We would like to thank all of the following businesses for donating to the 2016 Summer Reading Program
Aquarium Restaurant Arby's Baskin Robbins Black Eyed Pea
Blue Coast Burrito Bojangles Brixx Buffalo Wild Wings Captain Video
Cedar Ridge Services Cheddars Chick-Fil-A Chili's Chop House
Country Hills Golf Course Cracker Barrell Culvers Demos Dairy Queen
Drakes Creek Activity Center Dunkin Donuts Fire House Subs Fresh Market
Ginger Bean Hendersonville Library Friends Holder Family Fun Hoppity Hop
Jet's Pizza Jimmy Johns Kroger Krystal Massage Envy McDonald's
Ms. B's Nothing Bundt Cakes O'Charley's Panda Express Papa John's
Papa Murphy's Penn Station Pie Five Play It Again Sports Red Robin
Sam's Club Sax Deli School Sales and Service Sky High Sports Sonic
Sopapilla's Starbucks Strike and Spare Sweet CeCe's Target
Texas Roadhouse The Lost Cajun Trendy Trunk Walmart Wendy's
Whitt's Windy City Zaxby's
Nonfiction Now!
Here's the latest version of
Nonfiction Now!
Weekly Thursday Teen Activity
Art Wall
Currently on display is Angela Howell's abstract art work

Digital periodicals in READS
Click here for instructions on accessing digital periodicals from READS in the Nook app.
Good Yarns
Good Yarns!
Are you a knitter, crocheter, weaver or spinner? Come and join us! We meet every other Saturday.
All skill levels are welcome – learn from experienced fiber artists and share your tips with others. Please bring your own supplies.
We meet every other Saturday. Check the calendar for dates.
ABC Mouse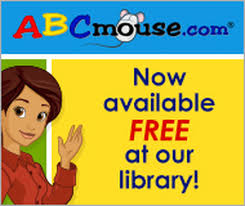 From Age of Learning, Inc., the award-winning ABCmouse.com curriculum is designed to help young children (ages 2-6+) build a strong foundation for future academic success.
ABCmouse.com is 100% educational, with 3,500+ learning activities across all major subject areas—reading, math, science, social studies, art, and music. Best of all, kids love it!
Access it while you are at any computer in the library or use the one set up in the childrens area.
Videos
Please subscribe to the Hendersonville Public Library You Tube channel.
Check out these videos:
Reference Librarian, Landon Earps give us the low down on some great books in Nonfiction Now!
Library Manager, Lelani Sabo gives instructions on a quick and easy craft you can do at home in Craft-to-Go
Ever wonder what happens to the books after you drop them off in the book drop? Watch A Book's Eye View of the Library - Inside the Book Drop.
Landon gives step by step instruction in Accessing Tennessee Electronic Library's NCLEX Study Materials.
READS
Hendersonville Library has purchased
titles that are exclusive to our patrons. They are accessed through the Tennessee READS.
We have added all of the advantage titles to our catalog for quick access.
When searching the catalog and the item says it is downloadable it will take you to the READ site where you can log in and borrow it or place a hold.
To browse the ebooks you can search electronic resource.
Pull Service
Don't have enough time to look for books in the library?
You can browse our online catalog 24/7 from anywhere, and place a request for items you wish to check out. If they are in the library, we will pull them for you -- you will receive a notification when they are ready to pick up. All you have to do is come to the Circulation Desk with your library card.

It may take up to 2 library business days to retrieve requested items.