by James Lee Burke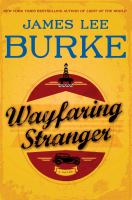 Book list
From Booklist, Copyright © American Library Association. Used with permission.

*Starred Review* Burke takes a break from his Dave Robicheaux series to offer an ambitious, deeply satisfying historical thriller that fills in backstory on the author's other fictional family, the Hollands. With two series already in place starring contemporary members of the Holland clan, Burke now steps back in time to tell the story of oilman Weldon Avery Holland and his struggle to carve a life for himself on his own terms. The tale begins in 1934 with a chance encounter between the 16-year-old Weldon and Bonnie and Clyde, whose reckless spirit both frightens and entrances the young boy, who is looking for a way to escape the many-tentacled entrapments of his family. That way comes with WWII, where Lieutenant Holland and his sergeant, Hershel Pine, miraculously survive the Battle of the Bulge and encounter a concentration camp survivor, Rosita Lowenstein, with whom Weldon falls in love and eventually marries. The wartime scenes showcase Burke at his best vivid, finely wrought, highly evocative writing detailing the horrors of battle but, in the story, those scenes merely set the table for the horrors to come, when Weldon and Hershel strike out for themselves as wildcat oilmen but soon run afoul of the old-money tycoons driving the industry. Stand-up guys versus bent big shots is one of Burke's perennial themes, but this time he throws a few curves, especially in the way he incorporates Weldon and Rosita's love story into the oil battle and shows Rosita to be the most stand-up guy of all. A wonderful slice of midcentury American life overlaid with the roiling drama of individual lives as only Burke can portray them. HIGH-DEMAND BACKSTORY: Burke's Dave Robicheaux mysteries always make best-seller lists, but this historical thriller may have even more sales potential, as it will draw a larger crossover audience.--Ott, Bill Copyright 2010 Booklist
---
Publishers Weekly
(c) Copyright PWxyz, LLC. All rights reserved

Early in this epic American saga from MWA Grand Master Burke, Weldon Holland, the grandson of lawman and series character Hackberry Holland, has a chance run-in with Bonnie Parker and Clyde Barrow in Texas, shortly before the notorious bank robbers are gunned down in Louisiana. Weldon has another, more significant coming-of-age experience toward the end of WWII. As an Army second lieutenant, he rescues Sgt. Hershel Pine when both are trapped behind German lines. Weldon later saves Rosita Lowenstein, a concentration camp prisoner, who fought against Franco in the Spanish Civil War. After the war ends in Europe, Weldon marries Rosita. Back in Texas, Weldon and Hershel build an innovative oil pipeline business, but their success creates an enemy, oil tycoon Lloyd Fincher, who as a U.S. Army major was known as "a dangerous idiot." Lloyd attacks the entrepreneurs through their wives, most notably Rosita, smeared mercilessly for her leftist past. Weldon occupies the high moral ground, but he's not above meting out his own brand of justice. His quest to save his wife generates some suspense, but this is more morality tale than thriller, the story of one man's struggle to live with integrity in postwar America. Burke, best known for his Dave Robicheaux series (Light of the World, etc.), writes with great assurance and wisdom, as well as a kind of bitter nostalgia for lost innocence. Agent: Philip Spitzer, Philip G. Spitzer Literary Agency. (July) (c) Copyright PWxyz, LLC. All rights reserved.
---
Library Journal
(c) Copyright Library Journals LLC, a wholly owned subsidiary of Media Source, Inc. No redistribution permitted.

Burke's (Light of the World) latest is a -character-driven stand-alone novel featuring members of the Holland family from his "Hackberry Holland" series (Lay Down My Sword and My Shield; Rain Gods). Following the Battle of the Bulge in January 1945, Lt. Weldon Holland of Texas and Sgt. Hershel Pine of Louisiana are left to fend for themselves. Stumbling upon an abandoned concentration camp, they rescue Rosita, the woman who will become Weldon's wife. After the war, Hershel and Weldon go into the oil business together, laying pipelines in Texas and Louisiana. Weldon and Rosita become fast friends with Hershel and his wife, Linda, a rising Hollywood star. Unflappable and old-fashioned, Weldon discovers that his relationships will be pushed further than he could imagine when blackmailers threaten the couples. Weldon stands firm against injustice, no matter how out of hand the situation gets. VERDICT Similar in sweep to Edna Ferber's Giant, this intricately plotted novel is recommended to readers interested in dramatic renderings of the societal changes of postwar America. While there is the suspense that Burke's fans expect, they will find the pace slower than in his previous novels. [See Prepub Alert, 1/10/14.]-Emily Hamstra, Univ. of Michigan Libs., Ann Arbor (c) Copyright 2014. Library Journals LLC, a wholly owned subsidiary of Media Source, Inc. No redistribution permitted.