by Stephen Greenblatt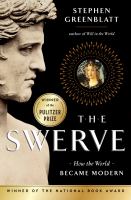 Choice
Copyright American Library Association, used with permission.

Adopting the conceit of the "swerve" as the fulcrum of this work, Greenblatt (Harvard) presents a narrative study of Poggio Bracciolini's discovery in 1417 of Lucretius's lost poem De rerum natura (On the Nature of Things). He provides an engaging synthesis of Christianity's tactical obliteration of Epicureanism and the concomitant consignment to oblivion of the poetic elucidation (i.e., works like Lucretius's) of atomic and hedonistic fundamentals the Christian world-view deemed so antithetical. Artfully woven in are erudite delineations of the arcana of medieval book production, the mores of life in a monastic scriptorium, the intrigues of 15th-century papal politics, and the considerable perils of theological heterodoxy. By fortuitous chance, a manuscript of the lost De rerum natura was discovered in one dramatic moment of instantaneous recognition by Poggio, one of the greatest of the humanist bibliomaniacs. Adducing this as the "swerve," Greenblatt causally connects this recovery of Lucretius to the unleashing of the forces of scientific inquiry and aesthetic humanism that characterize the Renaissance and thus inform the substratum of modernity--hence the subtitle. Provocative, stimulating, and certain to catalyze scholarly debate, this elegant book deserves a wide readership. Summing Up: Highly recommended. All readers. J. S. Louzonis St. Francis College, Brooklyn, NY
---
Book list
From Booklist, Copyright © American Library Association. Used with permission.

Literary scholar Greenblatt focuses on Lucretius, ancient Roman author of the brilliant and beautiful didactic poem On the Nature of Things, which challenged the authority of religion, and papal counselor and book hunter Poggio Bracciolini, whose recovery of a copy of the subversive text a millennium and a half later added momentum to the Renaissance and shaped the world we call modern. Lucretius, Greenblatt reminds, was a radical figure very much ahead of his time. Many of his insights for example, that everything is made of invisible particles of matter that are constantly in motion have been borne out by modern science. Others, such as the idea that religions are defined by cruelty and superstition, remain hotly controversial to this day. Vatican humanist Bracciolini, about whom we know quite a bit more, if not quite enough, may in the end be the more interesting personality. He knew what he had found, but did he know what it meant? Do we? A fascinating, intelligent look at what may well be the most historically resonant book-hunt of all time.--Driscoll, Brenda. Copyright 2010 Booklist
---
Publishers Weekly
(c) Copyright PWxyz, LLC. All rights reserved

In this gloriously learned page-turner, both biography and intellectual history, Harvard Shakespearean scholar Greenblatt (Will in the World) turns his attention to the front end of the Renaissance as the origin of Western culture's foundation: the free questioning of truth. It hinges on the recovery of an ancient philosophical Latin text that had been neglected for a thousand years. In the winter of 1417 Italian oddball humanist, smutty humorist, and apostolic secretary Poggio Bracciolini stumbled on Lucretius' De rerum natura. In an obscure monastery in southern Germany lay the recovery of a philosophy free of superstition and dogma. Lucretius' "On the Nature of Things" harked back to the mostly lost works of Greek philosophers known as atomists. Lucretius himself was essentially an Epicurean who saw the restrained seeking of pleasure as the highest good. Poggio's chance finding lay what Greenblatt, following Lucretius himself, terms a historic swerve of massive proportions, propagated by such seminal and often heretical truth tellers as Machiavelli, Giordano Bruno, and Montaigne. We even learn the history of the bookworm-a real entity and one of the enemies of ancient written-cultural transmission. Nearly 70 pages of notes and bibliography do nothing to spoil the fun of Greenblatt's marvelous tale. 16 pages of color illus. (Sept. 19) (c) Copyright PWxyz, LLC. All rights reserved.
---
Library Journal
(c) Copyright Library Journals LLC, a wholly owned subsidiary of Media Source, Inc. No redistribution permitted.

In this outstandingly constructed assessment of the birth of philosophical modernity, renowned Shakespeare scholar Greenblatt (Cogan University Professor of English & American Literature & Language, Harvard; Will in the World: How Shakespeare Became Shakespeare) deftly transports readers to the dawn of the Renaissance, when in 1417 bibliophile Poggio Bracciolini uncovered the Roman poet and philosopher Titus Lucretius Carus's Epicurean work, On the Nature of Things, in the dusty confines of a German monastery. After lying dormant for centuries, Lucretius's "atomist" philosophy reemerged, promoting the joys of this world over the punishments and rewards of the next, gradually conquering humanist circles and influencing such luminaries as More, Machiavelli, Hobbes, and Newton. At the heart of Lucretius's Latin verse lies the core argument that by understanding the world around us, abandoning superstitious delusions, and coming to grips with humanity's insignificance, we begin to take ownership of our lives and set out on the pursuit of happiness. VERDICT Greenblatt's masterful account transcends Poggio's significant discovery to encompass a diversity of topics including the Roman book trade, Renaissance Florence, and the Catholic Church's attempts to deal with heresy and schism. Students and general readers from across the humanities will find this enthralling account irresistible. [See Prepub Alert, 3/21/11.]-Brian Odom Pelham P.L., AL (c) Copyright 2011. Library Journals LLC, a wholly owned subsidiary of Media Source, Inc. No redistribution permitted.