by Marie Benedict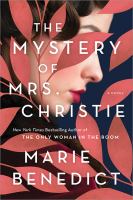 Library Journal
(c) Copyright Library Journals LLC, a wholly owned subsidiary of Media Source, Inc. No redistribution permitted.

The author of New York Times best-selling, LibraryReads picks like The Other Einstein, Benedict always writes about remarkable women, and here she picks another writer: Agatha Christie, whose December 1926 disappearance launched the biggest manhunt in British history and remains a mystery to this day. But what's this about a book with some interesting clues Christie publishes after she reappears…?
---
Publishers Weekly
(c) Copyright PWxyz, LLC. All rights reserved

Benedict (Lady Clementine) delivers an uneven novel of what might have happened to Agatha Christie during the 11 days in 1926 when she famously went missing. Chapters alternate between a memoir manuscript purportedly written by Christie, and the story of Christie's husband, Archie, who becomes a suspect in her disappearance. No one knows what really happened, and the clever premise here is that Christie vanished deliberately so as to ensnare Archie in a trap as payback for his infidelities. The saccharine manuscript, beginning in 1912 with the line, "I could not have written a more perfect man," chronicles Agatha and Archie's courtship and early years of marriage, and her efforts to please him. More satisfying are the chapters in which a heinous Archie emerges and is forced to follow Agatha's instructions in a letter in order to escape prosecution ("How do you want this story to end? It seems to me that there are two paths from which you can choose, the first involving a softer landing than the second, though neither are without bumps and bruises, of course"). As the investigators begin to suspect foul play, thanks to phony clues left by Agatha, Archie is forced to admit compromising truths. While the manuscript chapters won't ring true with Christie fans, the story makes for good fun. (Jan.)
---
Library Journal
(c) Copyright Library Journals LLC, a wholly owned subsidiary of Media Source, Inc. No redistribution permitted.

On December 3, 1926, famous mystery writer Agatha Christie disappeared after an argument with her husband. Eleven days later, she was found at a hotel where she had registered under the last name of the woman with whom her husband was having an affair. She claimed amnesia and never spoke of it again. To this day, the mystery remains unsolved. Now, with a deft hand, Benedict imagines a complex and highly satisfying time line of what might have happened. As with her previous works such as Lady Clementine and Carnegie's Maid, the author brings the period to life. As the story moves from present to past and back again, Benedict spins a tale worthy of the grande dame of mysteries from bare facts. Others have imagined her story—such as Andrew Wilson in A Different Kind of Evil. This newest vision is a worthy addition to the canon of fiction about the mysterious Mrs. Christie. VERDICT Mystery lovers, especially fans of Christie's works, as well as those who enjoy period pieces, will find this an engrossing fictional answer to a real historical mystery.—Pamela O'Sullivan, Coll. at Brockport Lib., SUNY
---
Kirkus
Copyright © Kirkus Reviews, used with permission.

In December 1926, mystery writer Agatha Christie really did disappear for 11 days. Was it a hoax? Or did her husband resort to foul play? When Agatha meets Archie on a dance floor in 1912, the obscure yet handsome pilot quickly sweeps her off her feet with his daring. Archie seems smitten with her. Defying her family's expectations, Agatha consents to marry Archie rather than her intended, the reliable yet boring Reggie Lucy. Although the war keeps them apart, straining their early marriage, Agatha finds meaningful work as a nurse and dispensary assistant, jobs that teach her a lot about poisons, knowledge that helps shape her early short stories and novels. While Agatha's career flourishes after the war, Archie suffers setback after setback. Determined to keep her man happy, Agatha finds herself cooking elaborate meals, squelching her natural affections for their daughter (after all, Archie must always feel like the most important person in her life), and downplaying her own troubles, including her grief over her mother's death. Nonetheless, Archie grows increasingly morose. In fact, he is away from home the day Agatha disappears. By the time Detective Chief Constable Kenward arrives, Agatha has already been missing for a day. After discovering—and burning—a mysterious letter from Agatha, Archie is less than eager to help the police. His reluctance and arrogance work against him, and soon the police, the newspapers, the Christies' staff, and even his daughter's classmates suspect him of harming his wife. Benedict concocts a worthy mystery of her own, as chapters alternate between Archie's negotiation of the investigation and Agatha's recounting of their relationship. She keeps the reader guessing: Which narrator is reliable? Who is the real villain? A compelling portrait of a marriage gone desperately sour. Copyright © Kirkus Reviews, used with permission.
---
Book list
From Booklist, Copyright © American Library Association. Used with permission.

In 1926, famed mystery novelist Agatha Christie is reeling from her beloved mother's death and the discovery that her husband, Archie, wants a divorce in order to marry his mistress. After a vicious fight with Archie, Agatha vanishes. Despite a police investigation and a massive search, no one knows what befell Agatha until her reappearance 11 days later. She claimed amnesia. Like others before her, including Andrew Wilson, Benedict offers a fictional take on what happened during Christie's disappearance. One story line proceeds from Archie's point-of-view as he faces a media circus, the total destruction of his privacy and reputation, and rampant suspicion that he murdered his wife. Meanwhile, Agatha recounts their relationship in a flashback, from beginning to bitter end. This is less a mystery than the chronicle of a well-meaning woman who chose her life partner poorly and finally tires of his contempt and responds in spectacular fashion. It takes a lot to turn Agatha's desperation into anger, but once that transition occurs, girl power advocates will find satisfaction in the solution she crafts to her man problem.