by Alex Michaelides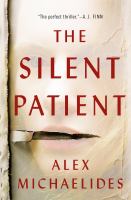 Library Journal
(c) Copyright Library Journals LLC, a wholly owned subsidiary of Media Source, Inc. No redistribution permitted.

DEBUT Psychotherapist Theo Faber is obsessed with the case of Alicia Berenson, an artist convicted of murdering her husband six years ago. Ever since she was found standing over his dead body, splattered with blood, she's remained silent, not even speaking up in her own defense at trial. When the judge sentences her to Grove Psychiatric Hospital instead of prison. Theo sees his opportunity to work with her firsthand, leaving a more prestigious and stable job to work at the financially strapped hospital. Through Theo's first-person narration and excerpts from Alicia's diary that document events taking place before the murder, readers slowly learn about the circumstances leading to the deadly event. As Theo struggles to connect with mute Alicia and secretly conducts his own investigation into her past, he hopes to uncover clues about her marriage and what set off such a violent episode, wrestling with his own psychological demons along the way. Clever plotting, red herrings, and multiple twists ensure most readers will be surprised by the ending of this debut thriller from screenwriter (The Devil You Know) Michaelides. -VERDICT Dark, edgy, and compulsively readable. [See Prepub Alert, 9/17/18.]-Kiera Parrott, Library Journal © Copyright 2018. Library Journals LLC, a wholly owned subsidiary of Media Source, Inc. No redistribution permitted.
---
Kirkus
Copyright © Kirkus Reviews, used with permission.

A woman accused of shooting her husband six times in the face refuses to speak."Alicia Berenson was thirty-three years old when she killed her husband. They had been married for seven years. They were both artistsAlicia was a painter, and Gabriel was a well-known fashion photographer." Michaelides' debut is narrated in the voice of psychotherapist Theo Faber, who applies for a job at the institution where Alicia is incarcerated because he's fascinated with her case and believes he will be able to get her to talk. The narration of the increasingly unrealistic events that follow is interwoven with excerpts from Alicia's diary. Ah, yes, the old interwoven diary trick. When you read Alicia's diary you'll conclude the woman could well have been a novelist instead of a painter because it contains page after page of detailed dialogue, scenes, and conversations quite unlike those in any journal you've ever seen. " 'What's the matter?' 'I can't talk about it on the phone, I need to see you.' 'It's justI'm not sure I can make it up to Cambridge at the minute.' 'I'll come to you. This afternoon. Okay?' Something in Paul's voice made me agree without thinking about it. He sounded desperate. 'Okay. Are you sure you can't tell me about it now?' 'I'll see you later.' Paul hung up." Wouldn't all this appear in a diary as "Paul wouldn't tell me what was wrong"? An even more improbable entry is the one that pins the tail on the killer. While much of the book is clumsy, contrived, and silly, it is while reading passages of the diary that one may actually find oneself laughing out loud.Amateurish, with a twist savvy readers will see coming from a mile away. Copyright Kirkus Reviews, used with permission.
---
Library Journal
(c) Copyright Library Journals LLC, a wholly owned subsidiary of Media Source, Inc. No redistribution permitted.

Michaelides's debut is a captivating study of the characters linked to Alicia Berenson, a famous painter who inexplicably shot the husband she loved and then chose never to utter a single word again-not even to defend herself as she was tried and then institutionalized in a secure psychiatric facility in London. Theo Faber, a psychotherapist determined to help Alicia, tells the story of how he tried to unlock her secrets and get her talking again. Sandwiched between his storytelling, Michaelides scatters entries from Alicia's diary of the days leading to that ill-fated night to help build suspense and intrigue. Some aspects of the story seemed predictable, but the emotional twists and amazing turns will carry readers through the most contrived plot points. The narration by Jack Hawkins and Louise Brealey is like a two-person theatrical performance. Hawkins artfully uses different voices to portray each character, capturing the emotion and complexity of each individual. Brealey's reading of the diary stirs empathy and a deep understanding of Alicia's tragic character. Verdict The book is receiving much-deserved buzz, but the audio production and exceptional narration make the characters feel real. ["Dark, edgy, and compulsively readable": LJ 11/1/18 review of the Celadon hc.]-Gladys Alcedo, -Wallingford, CT © Copyright 2019. Library Journals LLC, a wholly owned subsidiary of Media Source, Inc. No redistribution permitted.
---
Book list
From Booklist, Copyright © American Library Association. Used with permission.

Alicia Berenson is a famous painter, living a life that many envy with her handsome fashion-photographer husband, Gabriel. With a gorgeous house, complete with a painting studio, and that perfect marriage, Alicia couldn't be happier. Until one day Gabriel comes home late from work, and Alicia shoots him in the face. In the brutal aftermath that leads to an indefinite stay in a psychiatric hospital, Alicia mutely accepts her punishment. Forensic psychotherapist Theo Faber is put in charge of her therapy; however, since the night of the shooting, she hasn't spoken a word. With a nod to Greek mythology, art, and love, debut novelist Michaelides effectively blurs the lines between psychosis and sanity. Multiple story lines are told with a writing style that combines past diary entries with present-day prose, becoming more tangled as they weave together, keeping readers on edge, guessing and second-guessing. The Silent Patient is unputdownable, emotionally chilling, and intense, with a twist that will make even the most seasoned suspense reader break out in a cold sweat.--Erin Holt Copyright 2018 Booklist
---
Publishers Weekly
(c) Copyright PWxyz, LLC. All rights reserved

Psychotherapist Theo Faber, the emotionally fragile narrator of Michaelides's superb first novel, finagles his way to a job at the Grove, a "secure forensic unit" in North London, where artist Alicia Berenson has been housed for six years since she was convicted of murdering her prominent fashion photographer husband, Gabriel. The evidence against Alicia was clear-Gabriel was tied to a chair and shot several times in the face with a gun that had only her fingerprints. Since the day of her arrest, Alicia has never said a word. Before the murder, Alicia painted a provocative self-portrait entitled Alcestis, based on a Greek myth that seemed to echo her life. Her current therapists reluctantly agree to let Theo treat the heavily drugged Alicia to get her to speak. The boundary between doctor and patient blurs as Theo, who admits he became a therapist "because I was fucked-up," seeks to cure his own emotional problems in the course of treating Alicia. This edgy, intricately plotted psychological thriller establishes Michaelides as a major player in the field. 200,000-copy announced first printing. Agent: Sam Copeland, Rogers, Coleridge & White (U.K.). (Feb.) © Copyright PWxyz, LLC. All rights reserved.