by Nora Roberts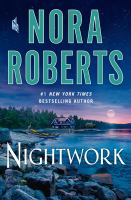 Publishers Weekly
(c) Copyright PWxyz, LLC. All rights reserved

The latest romantic suspense novel from bestseller Roberts (Legacy) is a master class in the slow burn, blending heartrending emotion and thrills to deeply satisfying effect. Harry Booth spends his childhood becoming an exceptional thief to support his ailing mother and, after her death, builds a freewheeling and detached life for himself as a young man. He falls in love with Miranda Emerson during a stint in college in North Carolina, but threats from vicious criminal mastermind Carter LaPorte, whose attention Booth caught years earlier, force him to break Miranda's heart to protect her. Twelve years later, Booth encounters Miranda again, and he realizes that to build a life with her, he'll need to deal with LaPorte—permanently. The story delivers all the hallmarks that make Roberts so beloved: charming characters, alluring settings, unconventional chosen families, heartfelt romance, and riveting action. The unhurried pace allows for an organic accumulation of essential elements as intense emotion builds, but risks losing less patient readers. Those who trust Roberts's sure hand to guide them along, however, will find themselves on an immersive and moving outing in the company of a beguiling thief. This is a treat. Agent: Amy Berkower, Writers House. (May.)
---
Book list
From Booklist, Copyright © American Library Association. Used with permission.

Harry Booth learned very early in life that he couldn't afford to play by the rules. To help his mother pay a never-ending avalanche of medical bills, Harry began picking pockets, gradually promoting himself to nightwork, relieving wealthy households of a valuable bauble or two. After his mother's death, Harry begins roaming around the U.S., changing his name to fit each geographic location. While indulging in his surprising penchant for higher learning, Harry meets professor's daughter Miranda Emerson and begins seriously thinking of leaving his old life behind. But a sociopathic former client has a different plan in mind for Harry. Ever-popular Roberts' (Legacy, 2021) latest protagonist may reinvent himself to blend in with his latest locale, but the queen of romance remains true to the traits that consistently work for her, using her immersive storytelling capabilities to create captivating characters and ensnare readers in a carefully crafted plot that splendidly showcases her signature brand of spine-chilling suspense and stylish romance.HIGH-DEMAND BACKSTORY: While there are very few sure things in life, readers can bet Roberts' latest stand-alone will land at the top of best-seller lists everywhere.
---
Library Journal
(c) Copyright Library Journals LLC, a wholly owned subsidiary of Media Source, Inc. No redistribution permitted.

In Andrews's latest, widowed Hattie Kavanaugh has a chance to rescue her business by appearing in a beach-house renovation reality show called The Homewreckers, competing with a male lead who could be a new love interest—or her worst competitor ever (300,000-copy first printing). In debuter Caņa's A Proposal They Can't Refuse, Kamilah Vega wants to update her family's Puerto Rican restaurant but can't get permission from her ailing octogenarian grandfather unless she marries his best friend's son, Irish American whiskey distiller Liam (75,000-copy first printing). In Colgan's Island Wedding, Flora MacKenzie is planning a sweet, small wedding on the Scottish island of Mure when she learns that rich, gorgeous Olivia is returning home to Mure for her own extravaganza wedding—planned for the same day (100,000-copy paperback and 30,000-copy hardcover first printing). In Foster's The Honeymoon Cottage, Jubil Long isn't thrilled that the little sister he's cared for since their parents' deaths wants an out-of-the-way country wedding, but then he meets wedding planner Yardley Belanger, who wishes she could have her own wedding one day (75,000-copy paperback and 10,000-copy hardcover first printing). Lauren's Something Wilder takes Lily Wilder to the Utah desert, where she uses her difficult treasure-hunting dad's old maps to conduct staged hunts and encounters the one man from the past who always saw her as the love of his life (100,00-copy first printing). A thief since childhood, when he scrambled to support a mother dying of cancer, the ever-honorable Harry Booth feels he can't follow up his feelings for Miranda Emerson—although maybe there's hope if he disentangles himself from the Nightwork he's been trapped into doing for bad-guy Carter LaPorte. This latest from Roberts has a million-copy first printing.
---
Kirkus
Copyright © Kirkus Reviews, used with permission.

A lifelong thief needs to pull off one last job—while getting revenge and keeping the woman he loves safe. When Harry Booth was only 9 years old, he became a thief. With a cancer-stricken mother and bills piling up, it was his only option. But as he gets older and keeps breaking into homes—what he calls his "nightwork"—he realizes he possesses an unusual skill for it. Harry can pick any lock, slip into any home, and navigate even the highest tech security system. The nature of his work makes it hard for him to settle down anywhere, so after his mother's death, he travels around the country, never staying in one city long enough to become suspicious. In New Orleans, though, he makes connections and finds a familylike bond with fellow thief Sebastien. But when he joins Sebastien on a job for a dangerous client named Carter LaPorte, Harry's life changes forever. Harry moves on and tries to start a low-key life as a college student in Chapel Hill, where he falls for an aspiring writer named Miranda Emerson. But LaPorte isn't ready to let go of Harry, and he uses threats to Harry's aunt—and Miranda—to force Harry into working for him again. Harry abandons Miranda and spends years on the run. That is, until he finally gets the chance to take LaPorte down—with Miranda's help. Roberts takes her time setting up Harry's character and his motivations, making it easy for the reader to sympathize with a thief who has a code of honor and a deep love for his family. But since the first half of the book is largely an exploration of Harry's character, the story drags a bit. Once Harry and Miranda's love story starts in earnest and LaPorte reappears, the plot picks up. The story's strength, however, lies less in the thrill of Harry's break-ins and more in the complexities of his touching relationships with his mother, his quirky phone-psychic aunt, Sebastien, and Miranda. A thoughtful exploration of one thief's motivations and relationships, featuring a healthy dose of romance and suspense. Copyright © Kirkus Reviews, used with permission.