by James Nestor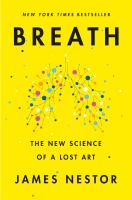 Kirkus
Copyright © Kirkus Reviews, used with permission.

A science journalist takes a measured look at the way we breathe and finds it out of whack. "No matter what we eat, how much we exercise, how resilient our genes are, how skinny or young or wise we are—none of it will matter unless we are breathing correctly." So writes Nestor, who, having suffered breathing problems, followed a doctor's suggestion to take a breathing class. What he found set him on a long chain of discovery into the realms of the most modern science and the most ancient wisdom, leading to this readable treatise on improving the way we breathe. A great many of us could stand to improve. By Nestor's measure, about half of us are "habitual mouthbreathers," which leads to all sorts of structural, physical, and medical consequences. Things should be happening in the nose instead, even if "for the past century, the prevailing belief in Western medicine was that the nose was more or less an ancillary organ." The nose is key, for using it properly can clear up breathing obstructions and militate against the "dysevolution" caused over countless millennia by the lowering of the larynx to permit speech. Instead, notes the author, nose breathing widens the airways and makes breathing easier, with success building on success to clear up breathing problems such as the ones he'd been laboring under. In the way of an ancient master of prana—or chi, pneuma, atma, and many another spiritually resonant term—Nestor offers the lessons he learned from pulmonologists and "pulmonauts" alike. These include what he calls "the perfect breath": breathing in deeply through the nose for 5.5 seconds and out for 5.5 seconds, which yields 5.5 breaths a minute. It's free, he counsels happily, "and you can do it wherever you are, whenever you need." A welcome, invigorating user's manual for the respiratory system. Copyright © Kirkus Reviews, used with permission.
---
Publishers Weekly
(c) Copyright PWxyz, LLC. All rights reserved

In this fascinating "scientific adventure," journalist Nestor (Deep) follows the clues that connect breath to health. After several bouts with pneumonia and resultant breathing problems, Nestor enters a Stanford University experiment that involves spending 10 days breathing with his nostrils plugged, and another 10 with his mouth taped shut. The results are eye-opening: mouth breathing increases his snoring and sleep apnea, and causes raised blood pressure and other issues. His investigation also leads him to a breathing class in Haight-Ashbury, a yoga studio in São Paulo, and to a conversation with a dental researcher, who points out that the skulls of ancient humans have wider airways and perfect teeth. (Subsequently, Nestor learns that the industrialization of the food supply led to softer foods, less vigorous chewing, and thus crooked teeth and narrow airways.) Frequency of breath is crucial; while science reveals that the ideal rate is 5.5 breaths per minute, many people breathe too fast. Nestor argues that proper breathing, though not a panacea, is an important component of preventative health maintenance. While the process of breathing may seem like a no-brainer, Nestor's fascinating treatise convincingly asserts that it's easy to get wrong, and vital to get right. Agent: Danielle Svetcov, Levine Greenberg Rostan Literary. (May)
---
Library Journal
(c) Copyright Library Journals LLC, a wholly owned subsidiary of Media Source, Inc. No redistribution permitted.

Although we all breathe, there is an art and science to breathing correctly, claims Nestor (Deep: Freediving, Renegade Science, and What the Ocean Tells Us About Ourselves). Nestor investigates the work of pulmonauts, a term he uses to describe people (scientists and the general public alike) who discovered and refined techniques that contribute to our understanding of breathing and how best to do it. Through experiments that Nestor participated in, as well as copious research, and interviews with experts, the author describes the extraordinarily detrimental effect mouth breathing has on health and conversely the benefits of nose-breathing. Nestor explains that by harnessing the power of the exhale it is possible to improve athletic performance and even outcomes for people with conditions such as emphysema. Slowing the breath, breathing less, and breathing more are other areas of research explored. An appendix covers myriad breathing techniques and ancient breathing practices such as pranayama. VERDICT Full of fascinating information and compelling arguments, this eye-opening (or more aptly a mouth-closing and nostril-opening) work is highly recommended for those with health conditions related to sleep apnea, asthma, and snoring.—Ragan O'Malley, Saint Ann's Sch., Brooklyn
---
Book list
From Booklist, Copyright © American Library Association. Used with permission.

We all take more than 25,000 breaths each day, usually without giving much thought to the process. Nestor is determined to change that, and he's not above using himself as a test subject: he has his nose taped shut for 10 days to rely on mouth breathing, he experiments with extremely short breaths and extremely long exhales, and he inhales excessive carbon dioxide. He travels to Sweden to interview an expert (and lures him back to the U.S. for a study) and journeys to the tunnels beneath Paris to examine ancient skulls. He digs into ancient tomes, attends breathing classes, and traces the evolution of humanity's sinuses. It turns out that breathing has been touted for centuries as the way to increase life force, calm the mind, energize the body, and reset the immune system. Nestor delves into the science of the mechanics and the art of the techniques designed to bring back human beings' innate breathing abilities. (An appendix details specific instructions.) The result is a surprisingly entertaining study that will help readers tune into and hopefully fine-tune their own respiration.