by Rachel Maddow and Michael Yarvitz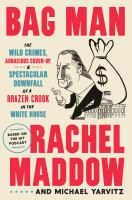 Library Journal
(c) Copyright Library Journals LLC, a wholly owned subsidiary of Media Source, Inc. No redistribution permitted.

Expanding on her Peabody Award-nominated podcast, of which Yarvitz was executive producer and cowriter, the Emmy Award-winning host of the Rachel Maddow Show looks at corruption in the Nixon administration—not Watergate but the bribery and extortion ring run by Vice President Spiro T. Agnew. Maddow considers not only what happened and the efforts at cover-up but the long-term consequences for politics and our understanding of confronting crime in high places.
---
Publishers Weekly
(c) Copyright PWxyz, LLC. All rights reserved

MSNBC host Maddow (Blowout) and journalist Yarvitz expand on their podcast of the same name in this rollicking study of the 1973 resignation of Vice President Spiro Agnew. In their colorful retelling, Agnew's crimes were simple and sleazy: as Baltimore County executive and governor of Maryland, he took bribes from companies in exchange for awarding them public-works contracts—and kept taking payoffs in the White House. Maddow and Yarvitz convincingly argue that President Richard Nixon and future president George H.W. Bush (then serving as Republican National Committee chairman) obstructed justice by trying to quash a Department of Justice investigation into Agnew's dealings, and spotlight heroism by the young U.S. attorneys in Maryland who nailed Agnew, and that of Attorney General Elliot Richardson (already overseeing the Watergate investigation), who resisted White House pressure before letting Agnew plead guilty to tax evasion in order to smooth his resignation. The authors style Agnew a proto-Trumpian practitioner of "bruising, know-nothing, confrontational conservatism" who argued, as President Trump later would, that indicting him would be unconstitutional. Maddow's fans will enjoy this entertaining and well-researched recap of Agnew's comeuppance and its barely-veiled yearning for prosecutors to haul Trump into court. Agent: Laurie Liss, Sterling Lord Literistic. (Nov.)
---
Kirkus
Copyright © Kirkus Reviews, used with permission.

MSNBC host Maddow and producer Yarvitz present a book version of their podcast about the misdeeds of former vice president Spiro Agnew. Given the continuing malfeasance emanating from seemingly every corner of the Trump White House, the text is certainly relevant. However, as with many podcast-to-book translations, the narrative doesn't quite engage on the same level. This by-the-numbers dip into the murky waters of American political corruption does serve as a welcome reminder that, unlike today, in the case of Agnew, political crimes were actually punished (and in a nonpartisan fashion). Although Agnew is more or less a political/historical footnote, the authors note that he had the dishonorable distinction of being the only sitting vice president ever convicted of a felony. His crime was tax evasion, but he had also taken bribes and kickbacks during a previous stint in local Maryland politics. In 1973, Agnew became the only vice president to resign from office in disgrace; yet because he was not part of Nixon's inner circle, he had nothing to do with the break-in at the headquarters of the Democratic National Committee. Despite a professed patriotic love of America, he just didn't want to pay his fair share in taxes. Despite the sensationalist subtitle and hip, often lively tone, the narrative fails to make Agnew's story any more riveting than a long-form magazine article—or podcast. The authors clearly did their due diligence when it comes to research, but while they make some effort to present Agnew's attack-dog political tactics as the precedent for Trump's tirades against anyone who opposes him, this connection is not emphasized enough. It's also commendable that Maddow and Yarvitz spotlight the long-unsung prosecutorial team that took down Agnew, but the description and pacing of the trial scenes make that section feel anticlimactic. A well-meaning but disappointingly dull slice of an otherwise dramatic era in American political history. Copyright © Kirkus Reviews, used with permission.
---
Library Journal
(c) Copyright Library Journals LLC, a wholly owned subsidiary of Media Source, Inc. No redistribution permitted.

MSNBC host Maddow (Blowout) and journalist Yarvitz introduce the story of former Vice President Spiro Agnew (1918–96), who resigned as Richard Nixon's vice president after being investigated on suspicion of criminal conspiracy, bribery, extortion, and tax fraud. Based on Maddow and Yarvitz's popular podcast of the same name, this book-length treatment of Agnew covers his rise from Maryland governor to Nixon's running mate in 1968. Notably, they show Agnew's political awakening later in life, starting with his time on the Baltimore County Council. Later, while serving as vice president, Agnew was engaged in a scheme involving taking bribes from Baltimore construction companies who received prime jobs for their payments. The authors comprehensively cover this story while also providing background information on the three prosecutors who placed their careers in jeopardy when they decided to investigate the second most powerful man in the country. Insight is also given to George Beall, United States Attorney for the District of Maryland, who prosecuted Agnew for bribery, and how the case impacted his relationship with both Agnew and Nixon. VERDICT Fans of Maddow's work, especially the related podcast, will thoroughly enjoy this historical allegory. Readers will see the parallel to Agnew's story and current events.—Jason L. Steagall, Arapahoe Libs., Centennial, CO