by Kiley Reid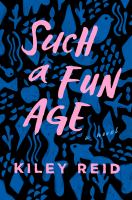 Kirkus
Copyright © Kirkus Reviews, used with permission.

The relationship between a privileged white mom and her black babysitter is strained by race-related complications.Blogger/role model/inspirational speaker Alix Chamberlain is none too happy about moving from Manhattan to Philadelphia for her husband Peter's job as a TV newscaster. With no friends or in-laws around to help out with her almost-3-year-old, Briar, and infant, Catherine, she'll never get anywhere on the book she's writing unless she hires a sitter. She strikes gold when she finds Emira Tucker. Twenty-five-year-old Emira's family and friends expect her to get going on a career, but outside the fact that she's about to get kicked off her parents' health insurance, she's happy with her part-time gigsand Briar is her "favorite little human." Then one day a double-header of racist events topples the apple cartEmira is stopped by a security guard who thinks she's kidnapped Briar, and when Peter's program shows a segment on the unusual ways teenagers ask their dates to the prom, he blurts out "Let's hope that last one asked her father first" about a black boy hoping to go with a white girl. Alix's combination of awkwardness and obsession with regard to Emira spins out of control and then is complicated by the reappearance of someone from her past (coincidence alert), where lies yet another racist event. Reid's debut sparkles with sharp observations and perfect detailsfood, dcor, clothes, social media, etc.and she's a dialogue genius, effortlessly incorporating toddler-ese, witty boyfriend-speak, and African American Vernacular English. For about two-thirds of the book, her evenhandedness with her varied cast of characters is impressive, but there's a point at which any possible empathy for Alix disappears. Not only is she shallow, entitled, unknowingly racist, and a bad mother, but she has not progressed one millimeter since high school, and even then she was worse than we thought. Maybe this was intentional, but it does make thingsha havery black and white.Charming, challenging, and so interesting you can hardly put it down. Copyright Kirkus Reviews, used with permission.
---
Book list
From Booklist, Copyright © American Library Association. Used with permission.

Emira is an educated, Black, 25-year-old babysitter partying late one night when she gets a frantic call to babysit at the last minute. In high heels and a miniskirt, she brings the white toddler along to an upscale grocery store, where she is confronted by a security guard who accuses her of kidnapping the child. Kelley, a concerned white bystander, films the altercation, which leaves Emira shaken. He emails her the video clip, but Emira is not interested in sharing it with anyone. Her white employer, Alix Chamberlain, is a successful and influential mompreneur who overcompensates for the incident and handles Emira with kid gloves. Meanwhile, Emira starts dating Kelley, who, unbeknownst to her, had a traumatic romance with Alix many years ago. Tensions mount amidst unresolved pain between Kelley and Alix, and Emira's discontent with her life and how sharply it contrasts with that of her employer. In her smart and timely debut, Reid has her finger solidly on the pulse of the pressures and ironies inherent in social media, privilege, modern parenting, racial tension, and political correctness.--Andrienne Cruz Copyright 2019 Booklist
---
Library Journal
(c) Copyright Library Journals LLC, a wholly owned subsidiary of Media Source, Inc. No redistribution permitted.

In the midst of a family crisis one late evening, white blogger Alix Chamberlain calls her African American babysitter, Emira, asking her to take toddler Briar to the local market for distraction. There, the security guard accuses Emira of kidnapping Briar, and Alix's efforts to right the situation turn out to be good intentions selfishly mismanaged.
---
Publishers Weekly
(c) Copyright PWxyz, LLC. All rights reserved

In her debut, Reid crafts a nuanced portrait of a young black woman struggling to define herself apart from the white people in her life who are all too ready to speak and act on her behalf. Emira Tucker knows that the one thing she's unequivocally good at is taking care of children, specifically the two young daughters, Briar and Catherine, of her part-time employer, Alix Chamberlain. However, about to turn 26 and lose her parents' health insurance, and while watching her friends snatch up serious boyfriends and enviable promotions, Temple grad Emira starts to feel ashamed about "still" babysitting. This humiliation is stoked after she's harassed by security personnel at an upscale Philadelphia grocery store where she'd taken three-year-old Briar. Emira later develops a romantic relationship with Kelley, the young white man who captured cellphone video of the altercation, only to discover that Kelley and Alix have a shared and uncomfortable past, one that traps Emira in the middle despite assertions that everyone has her best interests at heart. Reid excels at depicting subtle variations and manifestations of self-doubt, and astutely illustrates how, when coupled with unrecognized white privilege, this emotional and professional insecurity can result in unintended—as well as willfully unseen—consequences. This is an impressive, memorable first outing. Agent: Claudia Ballard, WME Entertainment. (Jan.)
---
Library Journal
(c) Copyright Library Journals LLC, a wholly owned subsidiary of Media Source, Inc. No redistribution permitted.

DEBUT Say you're a white, professional woman in the midst of a late-evening crisis. Would you call your African American babysitter, catching her at a friend's birthday party, and ask her to come tend to your toddler? Say you're that African American babysitter. After taking your charge to the local market, wouldn't you be annoyed, then humiliated, then downright scared and angry when a security guard accuses you of kidnapping? Say you're that white woman, wanting to right this wrong, and giving the sitter a raise or an edible arrangement isn't quite the right path. Would you go crusading with self-righteous, even self-serving zeal, not really checking in with what your babysitter wants or needs? If you were that babysitter, what would be your next move? Especially if you loved that toddler and thought you were good at your job? Aren't you curious to find out how put-upon Emira deals with her clueless brand-marketer boss? VERDICT In her debut novel, Reid illuminates difficult truths about race, society, and power with a fresh, light hand. We're all familiar with the phrases white privilege and race relations, but rarely has a book vivified these terms in such a lucid, absorbing, graceful, forceful, but unforced way. [See Prepub Alert, 7/1/19.]—Barbara Hoffert, Library Journal