by C.J. Box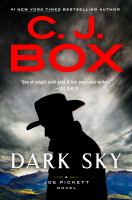 Publishers Weekly
(c) Copyright PWxyz, LLC. All rights reserved

Joe Pickett gets a miserable assignment in bestseller Box's well-paced 21st novel featuring the Wyoming game warden (after 2020's Long Range): to guide Steve Price, the multibillionaire CEO of Aloft, a social media company, on an elk hunting trip. The executive wants an "actual experience," albeit one he can flog on social media. But Price gets more than he bargained for when a local man, Earl Thomas, and his thuggish sons seek vengeance on him; Thomas blames his daughter's suicide on the trolling culture of social media and Aloft's platform. A suspenseful conflict between hunter and hunted in the rugged, unforgiving mountains ensues, along with an intense battle between man and nature. A subplot involving Pickett's daughter, Sheridan, and Joe's sidekick, Nate Romanowski, a zealous falconer trying to figure out who's stealing valuable birds of prey, feels tacked on, and Price, an entitled entrepreneur who will remind readers of Facebook's Mark Zuckerberg, comes across as something of a caricature. Still, this is another page-turner for Box, who writes lyrically about big sky country. Agent: Ann Rittenberg, Ann Rittenberg Literary. (Mar.)Correction: An earlier version of this review misidentified the character Nate Romanowski as the boyfriend of the protagonist's daughter.
---
Book list
From Booklist, Copyright © American Library Association. Used with permission.

Wyoming is basically one big plateau where the Great Plains meet the Rocky Mountains, and if you have never been there, it is hard to imagine the imposing landscape, but Box makes you feel in the middle of it, sometimes uncomfortably so, in this twenty-first entry in his series, starring game warden Joe Pickett (after Long Range, 2020). Joe is asked by the governor to accompany a Silicon Valley CEO on an elk-hunting trip. The sky is dark, the snow won't stop, and the cold is unrelenting as the outing rapidly transforms into a manhunt, with Joe and his party the prey, hunted by three mountain men determined to avenge a family member driven to suicide by the CEO's social-media site. Joe's closest friend, Nate Romanowski, and his own daughter, Sheridan, eventually come to the rescue, and the story ends in a cliff-hanger, with Nate headed out to seek revenge of his own. A strong entry in this long-running and wildly popular series. HIGH-DEMAND BACKSTORY: Box's novels have been translated into 27 languages and regularly appear on best-seller lists, a testament to the strength of his writing and the popularity of the melding of western and crime genres.