by Malcolm Gladwell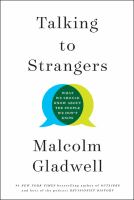 Library Journal
(c) Copyright Library Journals LLC, a wholly owned subsidiary of Media Source, Inc. No redistribution permitted.

The prolific, best-selling Gladwell (David and Goliath; The Tipping Point) presents an intriguing analysis of what far too often goes wrong when strangers meet, diving deeply into relatively well-known controversial public incidents thoroughly covered by the mass media to cast doubt on how the general public has come to understand these events. The deceptions of Bernie Madoff, the trial of Amanda Knox, the suicide of Sylvia Plath, the Jerry Sandusky pedophilia scandal at Pennsylvania State University, and the death of Sandra Bland highlight the premise that ordinary tools and techniques used to make sense of people we don't know have failed society. The result of this failure is further conflict and misunderstanding that impact international relations and even threaten world order. Many of the examples exemplify how race, gender, age, language, country of origin, perceived threat, challenge to authority, contextual setting, and other variables can dominate impulsive behavior that shuns connections among people. VERDICT This work should stimulate further research that could serve as control for these variables and more directly link how the factor of strangeness might influence certain reactions, providing a valuable contribution to psychology and psychiatry collections in larger university libraries.—Dale Farris, Groves, TX
---
Book list
From Booklist, Copyright © American Library Association. Used with permission.

Like his New Yorker articles and previous books, Gladwell's newest is chock-full of gripping anecdotes from the recent and forgotten past, from Amanda Knox's overturned murder conviction to the double agents who sunk the CIA's spying efforts in 1980s Cuba. He uses these riveting stories to offer up bite-size observations about how we engage with strangers. For example, we think of ourselves as complex but of strangers as straightforward. Not so, Gladwell insists. The stranger is not easy; she is never as transparent as we believe. Gladwell's case studies are thrilling, but their relevance to everyday encounters is frequently obtuse, and the takeaways from them are often buried or provocative. Ultimately, Gladwell argues that it's essential to give strangers the benefit of the doubt, even in very different situations, such as when Penn State president Graham Spanier accepted reports of Jerry Sandusky's suspicious behavior with a minor as horseplay and when Texas state trooper Brian Encinia pulled Sandra Bland over after a minor traffic infraction. Readers may find that Gladwell's alluringly simple lesson dangerously oversimplifies power dynamics in twenty-first-century America.--Maggie Taft Copyright 2010 Booklist
---
Publishers Weekly
(c) Copyright PWxyz, LLC. All rights reserved

In this thoughtful treatise spurred by the 2015 death of African-American academic Sandra Bland in jail after a traffic stop, New Yorker writer Gladwell (The Tipping Point) aims to figure out the strategies people use to assess strangers-to "analyze [those strategies], critique them, figure out where they came from, figure out how to fix them," in other words: to understand how to balance trust and safety. He uses a variety of examples from history and recent headlines to illustrate that people size up the motivations, emotions, and trustworthiness of those they don't know both wrongly and with misplaced confidence. He relates, for example, the story of a whole cadre of American spies in Cuba who were carefully handpicked by American intelligence operatives, all of whom turned out to be pro-Castro double agents. Gladwell writes in his signature colorful, fluid, and accessible prose, though he occasionally fails to make fully clear the connection between a seemingly tangential topic such as suicide risk and the book's main questions. In addition to providing an analysis of human mental habits and interactions, Gladwell pleas for more thoughtful ways of behaving and advocates for people to embrace trust, rather than defaulting to distrust, and not to "blame the stranger." Readers will find this both fascinating and topical. Agent: Tina Bennett, William Morris Endeavor. (Sept.) © Copyright PWxyz, LLC. All rights reserved.
---
Kirkus
Copyright © Kirkus Reviews, used with permission.

The latest intellectually stimulating book from the acclaimed author.Every few years, journalist Gladwell (David and Goliath: Underdogs, Misfits, and the Art of Battling Giants, 2013, etc.) assembles serious scientific research on oddball yet relevant subjects and then writes a bestseller. Readers expecting another everything-you-think-you-know-is-wrong page-turner will not be disappointed, but they will also encounter some unsettling truths. The author begins with a few accounts of black Americans who died at the hands of police, using the incidents to show how most of us are incompetent at judging strangers. Countless psychological studies demonstrate that humans are terrible at detecting lying. Experts such as FBI agents don't perform better. Judges interview suspects to determine if they deserve bail; they believe it helps, but the opposite is true. Computers, using only hard data, do much better. Many people had qualms about Bernie Madoff, but interviewers found him completely open and honest; "he was a sociopath dressed up as a mensch." This, Gladwell emphasizes, is the transparency problem. We believe that someone's demeanor reflects their thoughts and emotions, but it often doesn't. Gladwell's second bombshell is what he calls "default to truth." It seems like a university president resigns in disgrace every few months for the same reason: They hear accusations of abusive behavior by an employeee.g., Larry Nassar at Michigan State, Jerry Sandusky at Penn Stateconduct an investigation, but then take no action, often claiming that they did not have enough evidence of deceit. Ultimately, everyone agrees that they were criminally negligent. Another example is CIA official James Angleton, who was convinced that there was a Soviet mole in the agency; his decades of suspicion and search ruined careers and crippled American intelligence. Gladwell emphasizes that society could not function if we did not give everyone the benefit of the doubt. "To assume the best of another is the trait that has created modern society," he writes. "Those occasions when our trusting nature is violated are tragic. But the alternativeto abandon trust as a defense against predation and deceptionis worse."Another Gladwell tour de force but perhaps his most disturbing. Copyright Kirkus Reviews, used with permission.