by Robert Galbraith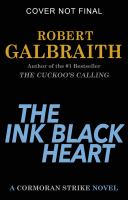 Kirkus
Copyright © Kirkus Reviews, used with permission.

An overblown whodunit by Galbraith, nom de plume of one J.K. Rowling, pitting Robin Ellacott and Cormoran Strike against a murderous online troll. On the internet, everyone can hear you scream. To boot, as a very bad actor named Anomie puts it, "nobody's who they say they are." Robin and Cormoran have quite the task on their hands when Edie Ledwell, a cartoonist whose show, The Ink Black Heart, is a hit on YouTube and has just been bought by Netflix, turns up to ask for help in chasing down an online group, Anomie at its helm, that has built an online game around her show. Grumbles Anomie, "She's shitting all over the fans, saying they're thick for liking our game." Edie doesn't last long; conveniently, she winds up in London's Highgate Cemetery, ready for planting. All suspicion in what's now a murder case points to Anomie, a slippery character. Is he (or she) a criminal mastermind or just some creepy kid living in mom's basement? It takes Robin and Cormoran reams of online chat–thick prose to discover the truth, sussing out the identities of characters with noms de net like Paperwhite and Fiendly1. Online identities are fluid, of course, which doesn't help when the problem is how to lay down a coherent storyline, but it soon becomes apparent that, indeed, no one is quite who they say they are. One more thing is sure: Rowling, the subject of recent controversy, plays out her current preoccupations against an up-to-the-minute backdrop: Edie is accused of "multiple alleged transgressions, particularly against the disabled," while a contemporary comes under the gun for having " 'misgendered' a prominent trans woman," minor plot points in a belabored narrative dotted with appearances by pedophiles, neo-Nazi cultists, "beta males," incels, an obnoxious pickup artist, and a young woman who ends her sentences on a "rising inflection." Who did the dastardly deed? After a thousand pages of this, the reader is likely to no longer care. Long, loose, and lax. Copyright © Kirkus Reviews, used with permission.
---
Library Journal
(c) Copyright Library Journals LLC, a wholly owned subsidiary of Media Source, Inc. No redistribution permitted.

Last-minute news: Galbraith (the pseudonymous J.K. Rowling) returns on August 30 with the sixth book in the "Cormoran Strike" series. With a 500,000-copy first printing.