by Holly Black ; with illustrations by Eliza Wheeler.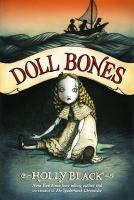 Horn Book
(c) Copyright The Horn Book, Inc., a wholly owned subsidiary of Media Source, Inc. No redistribution permitted.

Twelve-year-old Zach and his friends Poppy and Alice play an elaborate game with their dolls. When Poppy is haunted by dreams of a girl whose ashes are inside the game's queen doll, they embark on an adventure to lay the girl's ghost to rest. The story contains ample thrills, but it also takes on the changes adolescence brings and the tests friendships face. (c) Copyright 2013. The Horn Book, Inc., a wholly owned subsidiary of Media Source, Inc. No redistribution permitted.
---
Kirkus
Copyright © Kirkus Reviews, used with permission.

A middle-grade fantasy dons the cloak of a creepy ghost tale to deliver bittersweet meditations on the nature of friendship, the price of growing up and the power of storytelling. The lifelong friendship of Zach, Poppy and Alice revolves around their joint creation, an epic role-playing saga of pirates and perils, queens and quests. But now they are 12, and their interests are changing along with their bodies; when Zach's father trashes his action figures and commands him to "grow up," Zach abruptly quits the game. Poppy begs him to join her and Alice on one last adventure: a road trip to bring peace to the ghost possessing her antique porcelain doll. As they travel by bus and boat (with a fateful stop at the public library), the ghost seems to take charge of their journey--and the distinctions between fantasy and reality, between play and obligation, begin to dissolve....Veteran Black packs both heft and depth into a deceptively simple (and convincingly uncanny) narrative. From Zach's bitter relationship with his father to Anna's chafing at her overprotective grandmother to Poppy's resignation with her ramshackle relations, Black skillfully sketches their varied backgrounds and unique contributions to their relationship. A few rich metaphors--rivers, pottery, breath--are woven throughout the story, as every encounter redraws the blurry lines between childishness and maturity, truth and lies, secrecy and honesty, magic and madness. Spooky, melancholy, elegiac and ultimately hopeful; a small gem. (Fantasy. 10-14)]] Copyright Kirkus Reviews, used with permission.