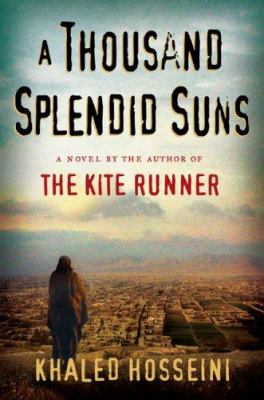 A thousand splendid suns
by Khaled Hosseini
Publishers Weekly Afghan-American novelist Hosseini follows up his bestselling The Kite Runner with another searing epic of Afghanistan in turmoil. The story covers three decades of anti-Soviet jihad, civil war and Taliban tyranny through the lives of two women. Mariam is the scorned illegitimate daughter of a wealthy businessman, forced at age 15 into marrying the 40-year-old Rasheed, who grows increasingly brutal as she fails to produce a child. Eighteen later, Rasheed takes another wife, 14-year-old Laila, a smart and spirited girl whose only other options, after her parents are killed by rocket fire, are prostitution or starvation. Against a backdrop of unending war, Mariam and Laila become allies in an asymmetrical battle with Rasheed, whose violent misogyny-There was no cursing, no screaming, no pleading, no surprised yelps, only the systematic business of beating and being beaten-is endorsed by custom and law. Hosseini gives a forceful but nuanced portrait of a patriarchal despotism where women are agonizingly dependent on fathers, husbands and especially sons, the bearing of male children being their sole path to social status. His tale is a powerful, harrowing depiction of Afghanistan, but also a lyrical evocation of the lives and enduring hopes of its resilient characters. (May) Copyright 2007 Reed Business Information.
(c) Copyright PWxyz, LLC. All rights reserved
Library Journal Raised in poverty by her unwed epileptic mother and married off early by the rich, elegant father who has always kept her at arm's length, Mariam would seem to have little in common with well-educated and comfortably raised young Laila. Yet their lives intertwine dramatically in this affecting new novel from the author of The Kite Runner, who proves that one can write a successful follow-up after debuting with a phenomenal best seller. As Mariam settles in Kabul with her abusive cobbler husband, smart student Laila falls in love with friend Tariq. But she loses her brothers in the resistance to Soviet dominion and her parents in a bombing just as the family prepares to flee the awful violence. Simply to survive, she becomes the second wife of Mariam's husband and is bitterly resented by the older woman until they are able to form the bond that serves as the heart of this novel. Then the Taliban arrive. Hosseini deftly sketches the history of his native land in the late 20th century while also delivering a sensitive and utterly persuasive dual portrait. His writing is simple and unadorned, but his story is heartbreaking. Highly recommended. [See Prepub Alert, LJ 1/07.]--Barbara Hoffert, Library Journal Copyright 2007 Reed Business Information.
(c) Copyright 2010. Library Journals LLC, a wholly owned subsidiary of Media Source, Inc. No redistribution permitted.
Book list Hosseini's follow-up to his best-selling debut, The Kite Runner (2003) views the plight of Afghanistan during the last half-century through the eyes of two women. Mariam is the illegitimate daughter of a maid and a businessman, who is given away in marriage at 15 to Rasheed, a man three times her age; their union is not a loving one. Laila is born to educated, liberal parents in Kabul the night the Communists take over Afghanistan. Adored by her father but neglected in favor of her older brothers by her mother, Laila finds her true love early on in Tariq, a thoughtful, chivalrous boy who lost a leg in an explosion. But when tensions between the Communists and the mujahideen make the city unsafe, Tariq and his family flee to Pakistan. A devastating tragedy brings Laila to the house of Rasheed and Mariam, where she is forced to make a horrific choice to secure her future. At the heart of the novel is the bond between Mariam and Laila, two very different women brought together by dire circumstances. Unimaginably tragic, Hosseini's magnificent second novel is a sad and beautiful testament to both Afghani suffering and strength. Readers who lost themselves in The Kite Runner will not want to miss this unforgettable follow-up. --Kristine Huntley Copyright 2007 Booklist
From Booklist, Copyright © American Library Association. Used with permission.